Does Allstate homeowners insurance have dog breed restrictions?
Allstate writes policies based on a specific dog's demeanor and bite history rather than refusing coverage for homeowners who have certain high-risk dog breeds.
There are a lot of factors to weigh when thinking of adding a dog to your family. What breed will be the best fit for your lifestyle? How much will annual vet visits cost? Do you need pet insurance? Would you prefer to train your dog yourself or bring them to obedience training?
With so much to consider, many potential dog owners don't realize the effect their furry friends will have on their homeowners insurance coverage.
Allstate is a great option for homeowners whose dogs are considered high-risk breeds but don't have a history of aggression.
Whether you're looking for home insurance coverage with a high-risk dog breed or for a new dog and want to make sure your insurer won't blacklist you from coverage, the more you know about your policy (and your dog), the better.
If your current insurer just isn't cutting it, Insurify can help you compare your coverage options and insurance quotes in just a few minutes. Keep reading to learn more about Allstate homeowners insurance dog breed restrictions, then check out Insurify's comparison tools to make sure you're getting the best coverage at the best cost.
Dog Breed Restrictions: Why?
It's well-known that your homeowners insurance policy protects your home from property damage caused by natural disasters and theft. But it also provides liability coverage to protect your family in case someone is hurt on your property.
Roughly 4.5 million people are bitten by dogs each year, and nearly 900,000 of these dog bites require medical attention, according to the Centers for Disease Control and Prevention. Because of this, insurance carriers paid out $854 million for dog-related insurance claims in 2020, according to the Insurance Information Institute, even though the number of dog bite claims dropped by over four percent from 2019.
Insurers have to make sure that protecting your home from risks won't significantly increase the company's risk. And with medical and liability costs for dog bites rising each year, some insurance providers simply aren't willing to take on the potential costs.
So to you, your dog is a member of the family, but to your insurance provider, your dog is an increased risk for future liability claims.
The liability insurance portion of your homeowners insurance covers dog attacks, but each insurance provider will cover dog bites and high-risk breeds differently. Policyholders who own certain breeds of dogs could face higher premiums, require separate liability insurance for their dog, or even not qualify for homeowners coverage, depending on their insurance provider.
Breed Restrictions
Some insurance carriers will raise your insurance premiums or even cancel your coverage based solely on the type of dog you have, even if your pit bull terrier is more docile than your neighbor's Chihuahua.
Insurers with dog restrictions typically exclude the following breeds:
Akitas

Alaskan Malamutes

chow chows

Doberman pinschers

German shepherds

Great Danes

pit bulls

Presa Canarios

Rottweilers

Siberian huskies

Staffordshire terriers

Wolf hybrids
Many of these types of dogs, like A kitas and chow chows, have historically been bred for hunting and protection, so it makes sense that insurers would be wary of their predisposed behaviors. Still, most of these breeds can be well-behaved and even make great family dogs if trained well. But they can quickly and even mistakenly become aggressive without proper training due to their size, strength, and breed history.
Not all insurers restrict coverage based on dog breeds, and some insurers only choose to restrict a selection of these breeds. This list can change, too, depending on the number and type of dog attacks each year, so be sure to ask your insurer if the company excludes certain breeds if you're considering adding a high-risk dog to your family.
Compare Car Insurance Quotes Instantly
Personalized quotes in 5 minutes or less
No signup required
How to Get Home Insurance with a High-Risk Breed
Every insurance company has different rules and regulations regarding dog breed restrictions, so there are options for homeowners with stereotypically aggressive dogs. In general, homeowners with high-risk breeds or mixed breeds face three hurdles when obtaining homeowners coverage: high premiums, policy exclusions, and policy cancellations.
High Premiums
If you recently adopted a dog and found your insurance premiums increased, you aren't alone. This is because insurance providers typically increase rates for homeowners who have aggressive dogs in anticipation of future attacks and liability claims.
The best way to avoid premium increases is to find an insurer that doesn't have dog breed restrictions or that determines coverage eligibility on a case-by-case basis. Some insurers and insurance agents will also accept temperament letters from your dog's vet or confirmation of certified obedience training, like the American Kennel Club's Canine Good Citizen program, to exempt high-risk dogs from these restrictions.
Policy Exclusions
Rather than boosting premiums or refusing to cover homeowners with aggressive dogs, some insurers will simply exclude dog attacks or specifically exclude your dog from your policy's liability coverage.
If your insurer will cover your home but won't cover your dog, you can purchase additional liability coverage or even buy a specific pet liability policy to cover your bases. Insuring your dog can help cover medical costs as well as potential liability claims. And some insurers offer bundling discounts for home and pet insurance, so make sure to shop around to see what option is best for you and your dog.
Policy Cancellations
In some cases, aggressive breeds and dogs with bite histories can prevent their owners from qualifying for insurance coverage at all.
If you're having trouble finding an insurer to issue you a homeowners insurance policy or your previous insurer canceled your coverage due to your high-risk dog, your best bet will be finding an insurance provider that doesn't take dog breeds into consideration or one that determines coverage based on your dog's behavioral history.
Allstate determines home insurance eligibility for homeowners with aggressive dogs on a case-by-case basis. This means if you own a typically aggressive breed but your pup has never bitten or attacked people or other animals, you can still get the coverage you need.
Companies with flexible dog breed restrictions:
Allstate

Amica

Chubb

Fireman's

Liberty Mutual

Nationwide

State Farm

USAA
Allstate Dog Breed Restriction FAQs
Yes. While Michigan and Pennsylvania have outlawed insurance nonrenewal on the sole basis of a policyholder's dog breed, it is still legal for insurance companies in other states to refuse coverage for this reason.

The same dog breed restrictions apply to Allstate home insurance policies and renters insurance policies—if your dog has no history of aggression, you're in the clear.

Umbrella policies provide higher liability limits, so opting for the comprehensive coverage option will help you secure proper dog bite protection.
Allstate Dog Breed Restrictions: The Bottom Line
Your home insurance policy is meant to protect your home and family, dogs included. High-risk dog breeds can make their owners' search for homeowners coverage difficult, but not impossible. If your dog doesn't have a history of violence, Allstate is a great option for your home, your belongings, and your precious pup.
Allstate determines insurance eligibility for homeowners with aggressive dogs on a case-by-case basis, so you can still get the coverage you need as long as your pup doesn't have a history of violence.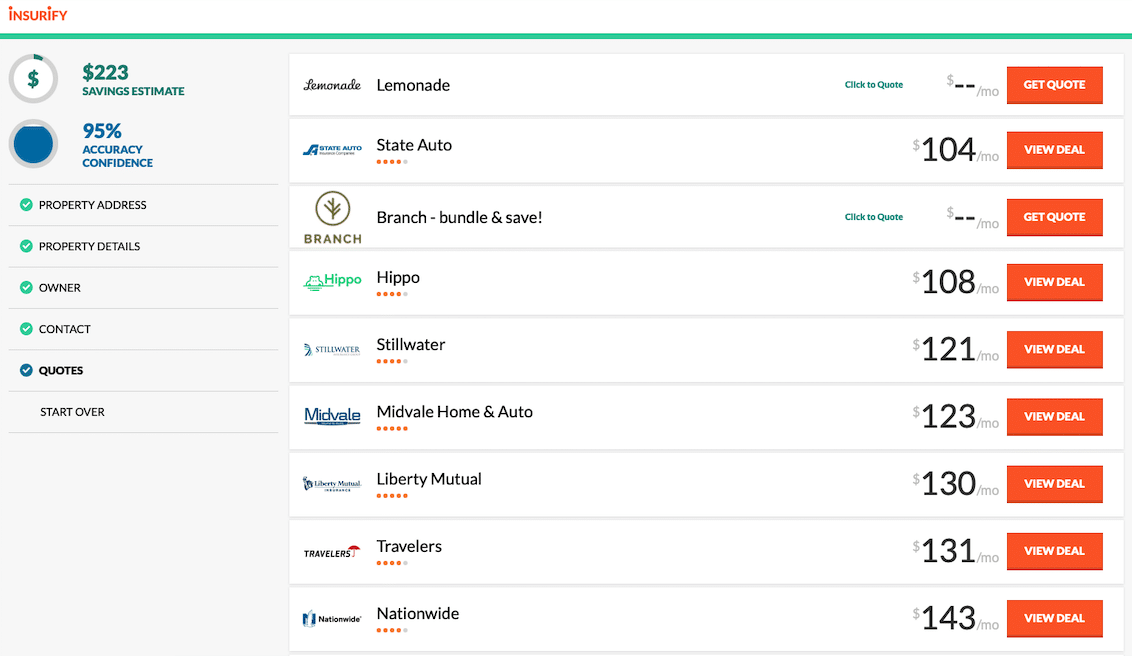 Compare Car Insurance Quotes Instantly
Personalized quotes in 5 minutes or less
No signup required
Data scientists at Insurify analyzed over 40 million auto insurance rates across the United States to compile the car insurance quotes, statistics, and data visualizations displayed on this page. The car insurance data includes coverage analysis and details on drivers' vehicles, driving records, and demographic information. With these insights, Insurify is able to offer drivers insight into how their car insurance premiums are priced by companies.