Why you can trust Insurify
There are hundreds of Medicare plans in the United States. So how do you choose the right one when plan options abound?
It's no secret that healthcare costs can bankrupt seniors. That's why new healthcare options hit the insurance market every year. Enrolling is easy. But it's bewildering to choose between Original Medicare with Medigap or Medicare Advantage.
You can't have both, and often you'll have to choose among dozens of options. But, with a little effort, you can uncover which plan is right for you.
This article will discuss the key differences between each type of plan. Plus, how to assess the right plan for your needs. By the end, you'll be ready to make an informed decision on your Medicare coverage. Let's jump right into it.
Searching for affordable Medicare? Make it easy with the Insurify Medicare comparison tool! Just enter your ZIP code to learn about plans available in your area. Try it today!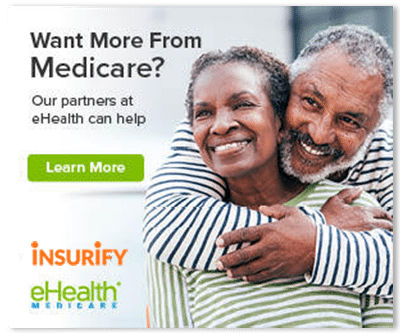 How Does Medigap Work?
Medigap, also known as Medicare Supplement Insurance, works in tandem with Original Medicare. Original Medicare is also known as Medicare Parts A and B.
Medigap is regulated by the Centers for Medicare & Medicaid Services (CMS). But it's administered by a private health insurance company. Medigap is accepted anywhere Medicare is accepted.
Original Medicare only covers 80 percent of costs. That leaves Medicare beneficiaries with 20 percent of the bill paid through coinsurance. And remember, that does not include the cost of copays. This may not matter much for low-cost visits. But, surgery and other high-priced care can bankrupt seniors with out-of-pocket expenses. Medigap helps Medicare beneficiaries cover that 20 percent gap. There are many types of Medigap insurance plans. These vary by coverage terms and costs. Luckily, the number of healthcare companies means a wide range of choices. These companies compete on premium costs, customer service, and technology.
How Does Medicare Advantage Work?
Medicare Advantage is also known as Medicare Part C. It's a Medicare health plan regulated by the CMS but administered by a private health insurance company. Medicare Advantage more or less replaces an Original Medicare plan. Medicare Advantage Plans must cover at least everything Original Medicare covers. To stay competitive, many Medicare Advantage Plans offer extra benefits. This could mean vision, hearing, and dental coverage. These plans may also include prescription drug coverage. That means beneficiaries won't have to buy a stand-alone Medicare Part D Plan. Often, Medicare beneficiaries find Medicare Advantage to be a more affordable healthcare option. But, Medicare Advantage beneficiaries must see doctors in their healthcare network. With a MA HMO plan, beneficiaries get no coverage for out-of-network care. While MA PPO plan beneficiaries pay higher rates for out-of-network care. Medicare Advantage beneficiaries usually pay a monthly premium. Premium-free plans exist in some areas. Many Medicare Advantage Plans offer a broader range of health coverage. This can mean:
Offering more covered healthcare services, such as chiropractic treatment for non-spinal subluxation issues.

Extending covered healthcare treatment, such as 24 chiropractic visits per year rather than the standard 12.
Is It Better To Have Medicare Advantage Or Medigap in 2021?
That depends upon your preferences and the availability of health plans in your area. To make your decision, be sure to consider which advantages and disadvantages are most important to you. More on this below.
Advantages and Disadvantages of Medigap
Medigap enrollees generally have access to a large group of in-network providers. Furthermore, Medigap enrollees don't need referrals to get Medicare to cover treatment. During your initial enrollment period, you'll have guaranteed-issue rights. That means you can buy a Medigap policy without medical underwriting. Thereby avoiding any penalty for a pre-existing condition. Yet, Medigap can easily be more expensive compared to a Medicare Advantage Plan. Basic Supplement plans may offer less coverage than comprehensive Medicare Advantage plans. That makes the cost of care more expensive when you need it. Most Medigap plans do not extend your covered services. To get additional coverage, you'll likely need to buy a stand-alone plan. For example, stand-alone vision, dental, or prescription coverage. Finally, Medigap and Original Medicare rarely cover medical expenses abroad.
Advantages and Disadvantages of Medicare Advantage
The main advantage of Medicare Advantage is the breadth of coverage. The typical Medicare Advantage plan provides additional benefits beyond minimum requirements. Some Medicare Advantage plans may also cover medical care for beneficiaries abroad.
Medicare Advantage plans often have premiums in addition to the Medicare Part B premium. But not always. The rate of coverage is usually higher, making the plan cheaper to use. Where Original Medicare covers 80 percent of costs, Medicare Advantage often covers more. Many plans have maximum out-of-pocket cost limits. This protects seniors from going bankrupt due to expensive medical treatment.
But Medicare Advantage plans only cover health providers within the plan's network. So, Medicare Advantage beneficiaries typically have a smaller provider network than the Medicare network. For people in areas with fewer providers, a Medicare Advantage plan can be limiting.
Medicare plans typically come as Health Maintenance Organizations. And less often as Preferred Provider Organizations. Medicare Advantage HMO plan beneficiaries need a referral to see a specialist. That means you'll need a primary care physician. Medicare Advantage PPO Plans offer a little more flexibility. But both types have smaller networks than Original Medicare.
Finally, there is a type of Medicare Advantage plan known as a Special Needs Plan. These are designed for people with certain health conditions like end-stage-renal disease. They're also made for people enrolled in Medicaid. If you think you might be eligible, give our licensed insurance agents a  call to discuss the advantages of enrolling.
Important Factors You Should Consider
Everyone has different needs, health profiles, and preferences. Before you search, you may find it useful to make a list of your specific needs:
Do you have specific medications you need covered?

What kinds of special care do you need for your health conditions?

Do you plan on keeping your doctor?

Do you prefer accessing your healthcare information online?

How much can you afford to cover in premiums every month?

What kind of Medicare benefits are most important to you?
Knowing your priorities will help you weed out options. It'll also make tough decisions between similar health insurance plans easier.
FAQ: Medigap vs Medicare Advantage
Medigap plans—a.k.a. Medicare Supplement Insurance—have a range of price tags. Your premium cost is influenced by your age, location, and the policies of the company.

If you're signing up for Medigap outside of your initial sign up period, you can end up paying more. During your initial enrollment period, you can sign up for any Medigap program available without being subject to medical underwriting. That means you can't be charged more or denied coverage due to the state of your health.

However, when that initial enrollment period ends, you lose that added protection. Insurers can deny you coverage and charge you more due to medical underwriting.

Because Original Medicare premiums are automatically deducted from your Social Security benefits (if you're drawing Social Security), you might think that Medigap premiums would be too. However, the premiums for your Medigap plan will usually be collected monthly by the private insurance company administering the plan.

Medicare Part D coverage, better known as a Medicare Prescription Drug Plan, helps you cover the costs of medications and pharmaceutical costs. If you have Medicare Advantage, your plan may already include prescription drug coverage.

If you have Original Medicare, you should add a prescription drug plan to your health plan—especially if you regularly take medication.

Review the plan's formulary carefully to ensure your medications are covered.

The deductible for Medicare Part A is $1,484 in 2021. Medicare Part A covers inpatient services, like hospital stays and skilled nursing facilities.

The deductible for Medicare Part B is $203 in 2020. Medicare Part B covers medical services, like doctor's visits and outpatient procedures.

In either case, after the deductible is met, you're responsible for co-payments plus 20 percent of all other costs. That is unless you have a Medigap policy.
Conclusion: Compare Your Options Before You Buy
The best way to know whether Medigap or Medicare Advantage is right for you? Uncover what's available in your service area and compare your coverage options. The most important factors for choosing a plan are:
Your health

Your preferences

You budget
Be sure to get clear on what you need before you even start looking.
Finally, know that you're not stuck (forever) with what you choose. You'll be granted a full 12-month trial period if you switch to a Medicare Advantage Plan. If you decide that plan isn't right for you, you can switch back to Original Medicare. You'll even keep your right to a Medigap plan without medical underwriting.
If you decide you're not ready to try Medicare Advantage, you not stuck forever either. You'll have the opportunity to switch at least once per year. You can switch during the fall open enrollment period (OEP). This is often also called your "Annual Election Period," or AEP.
And don't forget that the Insurify Medicare comparison tool is always here to help you find the best Medicare plan at the best price. With just your ZIP code, you can uncover plan options and compare them side-by-side. Try it today!
Data scientists at Insurify analyzed over 40 million auto insurance rates across the United States to compile the car insurance quotes, statistics, and data visualizations displayed on this page. The car insurance data includes coverage analysis and details on drivers' vehicles, driving records, and demographic information. With these insights, Insurify is able to offer drivers insight into how their car insurance premiums are priced by companies.