Why you can trust Insurify
Getting the right Medicare plan shouldn't be left to luck.
The state of Nevada is becoming more and more popular for retirees. Natural beauty and nightlife abound—not to mention favorable tax rates and Las Vegas nightlife. So it's no wonder so many Medicare options and combinations of options have recently emerged on the healthcare scene in Nevada.
But with so many options, choosing the right insurance plan can easily feel overwhelming. That's why we created this easy-to-use guide to help all Nevada residents understand their options and make the right choice. Let's get started.
Searching for affordable Medicare? Make it easy with the Insurify Medicare comparison tool! Just enter your ZIP code to learn about plans available in your area. Try it today!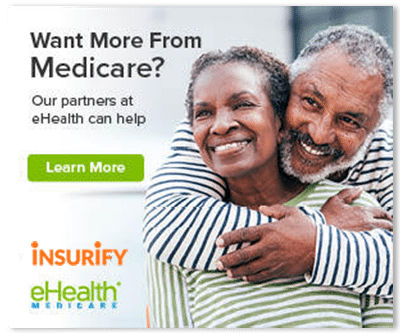 How Much Does Medicare Cost in Nevada?
What can a Medicare beneficiary expect to pay for health care coverage? That depends. Medicare has a range of costs in Nevada depending on:
The type of plan you choose

The private insurance company (insurer) you choose, if applicable
Cost of Original Medicare in Nevada
Medicare Parts A and B— Original Medicare —have set costs. Every year, the CMS adjusts those costs to reflect changes in the market. The Medicare Part A premium is free for beneficiaries who qualify by earning 40 work credits.
If you don't qualify, you can still get Medicare Part A. You'll just need to pay for it. Beneficiaries with 30 to 39 work credits pay $259 per month. Beneficiaries with fewer than 30 work credits pay $471.
The Medicare Part B premium is $148.50 for beneficiaries with income less than $87,000 for singles and $174,000 for couples. Those who make more than these thresholds will pay a little more for Part B on a sliding scale. The Medicare Part B premium 's maximum cost is $491.60 for beneficiaries making more than $500,000 for singles and $750,000 for couples.
Your deductible comes in two pieces when you choose Original Medicare. The Medicare Part A deductible is $1,484. The Medicare Part B deductible is $203. But remember that you'll also pay for:
Co-payments

Coinsurance (at 20 percent)
Cost of Medigap Plans in Nevada
Medicare Supplement Plans, more commonly called Medigap plans, are supplemental insurance plans that help you control your out-of-pocket costs.
The cost of your Medigap plan can vary in a few ways. First, it varies depending on the plan you choose— there are 10 types of Medigap plans. Next, the cost varies depending on the private health insurance company administering the plan.
Keep in mind that any Medigap plan offers the same coverage as any other Medigap plan of the same type. For example, Medigap Plan J at Company Q covers the same thing that Medigap Plan J at Company R covers.
However, equal coverage does not mean the plans are the same. Plans still vary depending on:
Monthly cost

Website design and usability

Website mobile-friendliness

Mobile app

Customer service team

Customer service availability
Learn More: Can Medigap Plan G Save You Money?
Cost of Medicare Advantage in Nevada
Dental How much does it cost for Medicare Advantage per month? That depends on the plan you choose. The average monthly premium is around $60, but some plans are as low as $0 a month, and others are several hundred dollars a month. More expensive plans do tend to include additional coverage options like:
Vision

Hearing

Prescription drugs
But that doesn't mean that all costly plans have better coverage for you than all inexpensive options. And a low monthly premium does not necessarily imply cheap coverage. In practice, a low-cost plan could be more expensive if it has higher out-of-pocket limits, for example.
Be sure to keep all costs in mind when choosing the right Medicare Advantage plan for your budget. Coinsurance rates, co-pays, and deductibles are just as important as premiums.
Cost of Prescription Drug Plans in Nevada
By private health insurance company administering the plan Also called Medicare Part D, your prescription drug coverage is meant to cover the costs of medicine. Plans vary:
By deductible

By formulary
The difference in company will affect the customer service quality, technology, and other ways of doing business. If you have preferences—for example, you prefer a 24/7 customer service line—you should verify that the company administering your plans meets your needs.
Your deductible should be set at an affordable level, balancing the costs of the monthly premium and the deductible. Remember that once the deductible is met, you will still be responsible for coinsurance and co-payments.
Finally, and most importantly, you will need a formulary that fits your needs. A prescription drug plan's formulary is the tiered system by which medications are priced. Formularies are broken into four tiers:
Tier I is for inexpensive generics. This is the most affordable tier of medications.

Tier II is for expensive generics or inexpensive name brands.

Tier III is for expensive name-brand medications.

Tier IV is for specialty drugs and is the most expensive tier of medications.
If you're already taking medications regularly, you should verify that those medications are priced favorably in the formulary.
Cost of Special Needs Plans in Nevada
Chronic heart failure Medicare Special Needs Plans (SNPs) are designed for people with specific illnesses, for example:
Dementia

End-stage renal disease

HIV/AIDS
However, SNPs also cover people with certain characteristics, like:
People living in institutions like nursing homes and skilled nursing facilities.

People eligible for Medicare and Medicaid (Dual-Eligible Beneficiaries).

People with certain long-term care needs like HIV or Chronic Heart Failure.
Special Needs Plans are a type of Medicare Advantage plan and work like an HMO or PPO. Members of SNPs must seek care from doctors within the SNP network. All SNPs include prescription drug coverage.
What Is Medicare?
Medicare is a federal health insurance program. It was created in 1965 to serve people over the age of 65 across the United States who could not get healthcare through an employer. It is regulated by the federal government through the Centers for Medicare & Medicaid Services ( CMS ).
Medicare is broken down into several parts that function separately or in tandem and offer a variety of Medicare benefits. These parts are:
Medicare Parts A and B, often called Original Medicare, are the most common plans for seniors. Medicare Part A covers your inpatient care—hence why it is often referred to as you hospital insurance. Medicare Part B covers your outpatient care like an annual exam, and it is often referred to as your medical insurance.

Medicare Part C, often called Medicare Advantage, is a Medicare plan regulated by the U.S. government but fulfilled by a private health insurance company. Medicare Part C plans must cover everything that Original Medicare covers.

Medicare Part D, often called a Medicare prescription drug plan, is meant to cover the cost of medications. Part D plans can be used in tandem with Original Medicare or Medicare Advantage.

Medicare Supplement Insurance, often called Medigap, is meant to cover the costs of co-pays, coinsurance, and deductibles associated with Original Medicare. It cannot be used in tandem with Medicare Advantage.
Who Qualifies for Medicare in Nevada?
Eligibility for the federal Medicare program depends on a few factors. M edicare beneficiaries must meet at least one of the following qualifications:
Be 65 years of age or older

Be diagnosed with end-stage renal disease (ESRD)

Be diagnosed with amyotrophic lateral sclerosis (ALS)

Be drawing from disability for at least 24 months
How Do I Choose Between Original Medicare and Medicare Advantage?
Choosing between the public and private options for Medicare is a tough decision. There are advantages and disadvantages on both sides. To make things easier for you, we've created a side-by-side comparison chart:
Plan Type
Advantages
Disadvantages
Original Medicare

Extensive network of providers
Large service area across the U.S.
Low monthly premiums
Many Medigap plan options to help cover costs

No caps on out-of-pocket coverage
Must purchase add-ons like Medigap, prescription drug coverage, and stand-alone dental, vision, and hearing

Medicare Advantage

Can purchase a comprehensive plan to cover medical, medication, vision, dental, and hearing
Many plan options, including types of plans like HMO or PPO

A smaller network of providers
Small service area restricted to your state or a region within your state
Premiums can be more expensive
Switching and Switching Back
Luckily, your decision doesn't mean you're stuck forever. You are allowed to make changes to your Medicare plan at least once a year (sometimes more depending on your situation).
When you first switch from Original Medicare with Medigap to a Medicare Advantage plan, you are granted trial rights. Those rights give you 12 months to switch back to Original Medicare and Medigap without being subject to medical underwriting.
You make changes to your Medicare coverage during the Fall Open Enrollment Period (OEP) from October 15 to December 7 every year. You can also switch if you qualify for a Special Enrollment Period.
How Do I Apply for Original Medicare in Nevada?
Medicare enrollment is easy. There are three ways to apply for Original Medicare in Nevada:
Online

Over the phone

In-person
You can apply online either through your Social Security account or by creating an account at medicare.gov. Enrolling is easy: simply fill out the application and submit it.
If the internet isn't your favorite option, you can apply over the phone by calling 1 (800) MEDICARE— TTY users can call 1 (877) 486-2048. Using that phone number, you'll speak to a Medicare specialist. That person can help you apply.
Finally, you can always apply in person at your local Social Security office. However, during the COVID-19 pandemic, we advise avoiding an in-person contact if possible until a coronavirus vaccine is available to you.
How Do I Apply for Medicare Advantage in Nevada?
Applying for Medicare Advantage is easy in Nevada. You can often do so completely online. Simply find the plan of your choice and apply through the company's website. You can often also apply over the phone with a customer service agent.
What's the Best Medicare Advantage Plan in Nevada?
The best Medicare Advantage plan in Nevada really depends on the person using the plan. That's right: you are the ultimate factor when finding the right plan. Your healthcare needs, preferences, and budget will all play a factor in determining the right plan.
Be sure to look for a plan that offers generous coverage for care you receive regularly. If the plan includes prescription drug coverage, make sure that any medications you take are covered.
Finally, when considering your budget, choose a plan that's affordable both in its monthly premium and its cost for coverage. Remember that some plans may have a low monthly premium but cost a lot when it comes to getting care. You should find a plan that strikes a manageable balance between premiums and costs for coinsurance, co-pays, and deductibles.
Learn More: Best & Worst Medicare Advantage Plans
FAQ: Nevada Medicare
When it comes to Original Medicare, there are no out-of-pocket maximum cost limits. Typically, beneficiaries cover 20 percent of costs for service or more. However, beneficiaries can purchase a Medigap plan to help cover the additional costs of medical service—like the cost of deductibles, co-pays, and coinsurance.  Most Medicare Advantage plans come with out-of-pocket limits. These limits are particular to individual plans, and the amount varies.

With Original Medicare, you can check the status of your claims by logging into your account at MyMedicare.gov. If you're checking your Medicare enrollment status, you can verify that at the same website. Remember that any doctor accepting Medicare can offer you covered service. With Medicare Advantage plans, you'll need to contact the insurance company administering your plan. Remember that your care will need to be provided by in-network providers for it to be covered.

To qualify for Medicaid in Nevada, you must first be a citizen, permanent resident, or legal alien. Beyond that, you will need to meet certain low-income requirements—Medicaid often works on a sliding scale, with more coverage offered to people with the lowest incomes. People with incomes of 138 percent of the Federal Poverty Level (FPL) or lower qualify.

The maximum income level does depend on the size of your family—the larger the family, the higher the income limit. The Federal Poverty Level is $12,760 for individuals, $17,240 for a family of two, and $44,120 for a family of eight. But remember that you can still qualify for Medicaid if you make over the FPL—up to 138 percent of the FPL. That means that the maximum income to qualify is $17,608 for individuals, $23,791 for a family of two, and $60,885 for a family of eight.

You should sign up for Medicare during your Open Enrollment Period—that's when you are first eligible. For most people, open enrollment begins three months before their 65th birthday and ends three months after their 65th birthday.

SHIP is a state-based program that offers free, unbiased Medicare counseling to Nevada Medicare beneficiaries. To speak to a counselor, you can call one of the hotlines: Southern Nevada Toll-Free Hotline: 1 (800) 307-4444 Northern Nevada Toll-Free Hotline: 1 (844) 826-2085

As the name implies, Medicare for All is intended to be a federal Medicare program made available to all Americans regardless of age. But there are several proposals for a Medicare for All national health plan, so the particulars will depend on which proposal you're looking at.  Progressive Medicare for All plans are tax-funded, premium-free plans meant to replace the current private healthcare system. More moderate proposals work off the existing ACA structure by adding a public option to the choices that already exist.  Either way, Medicare for All is meant to function similarly to the current Medicare system, but with public and private options offered to all—not just people over 65 or with certain health conditions.
Conclusion: Compare Nevada Medicare Plans Before You Buy
Whatever your healthcare needs, there is only one surefire way to get the right plan for you: comparison shopping. Remember to start by asking yourself questions about your healthcare:
Do you have any special health conditions?

What medications do you need covered?

Do you travel out of state often or for long periods of time?

Do you prefer online access and a mobile app?

Do you need a 24/7 customer service line?

Do you want to keep your current doctor(s)?
Once you understand what you need, please head over to the Insurify health plan comparison tool. Just enter your ZIP code, and you'll find the best options for comparing plans in your area! It's fast and easy to make the right choice. Try it today!
Data scientists at Insurify analyzed over 40 million auto insurance rates across the United States to compile the car insurance quotes, statistics, and data visualizations displayed on this page. The car insurance data includes coverage analysis and details on drivers' vehicles, driving records, and demographic information. With these insights, Insurify is able to offer drivers insight into how their car insurance premiums are priced by companies.