Why you can trust Insurify
When a hot bath is all you need, can Medicare help you soak safely?
Taking a warm bath has many benefits, including stress relief. Add some whirlpool jets, and you've got some serious muscle relief as well. But as we age, getting in and out of bathtubs gets tricky. Even dangerous. Walk-in bathtubs have become a popular way for seniors to stay safe while bathing. But the cost of a walk -in bath can be too expensive for most seniors to get on their own.
In this article, we will go over the expenses of getting a walk-in tub, the likelihood of getting the expense covered by Medicare, and other options to consider when looking for safe bathing alternatives. Let's go.
Did you know that you can use the Insurify Medicare comparison tool to save big on Medicare? Start with your ZIP code, and you'll be comparing plans in your area in just 60 seconds. Fast, easy, and confidential!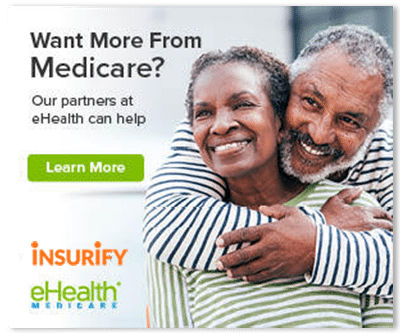 Does Medicare Cove r Walk-in Tubs?
Most seniors want walk-in tubs for safety reasons, as well as therapeutic reasons. But, it is unlikely that Original Medicare (Medicare Part A and Part B) will cover the expense of getting a new walk-in tub installed in your home. This is because, as of March 2021, walk-in tubs are not considered durable medical equipment (DME) under Medicare rules.
Will Medicare Pay For A Walk In Tub?
Even though Original Medicare doesn't typically cover these costs, you can still submit the expenses for reimbursement. If your doctor has recommended a walk-in tub to help you treat a health condition with a medical diagnosis, it is possible to get some of the costs covered.
Bear in mind that your doctor cannot give you a written prescription for a walk-in tub, only a recommendation. Be sure to submit your doctor's recommendation, and be sure that your doctor explains that the tub would have substantial therapeutic benefits for a specific medical condition.
Medicare Advantage
Also known as Medicare Part C or MA plan, a Medicare Advantage plan is regulated by Medicare but serviced by a private insurance company. At a minimum, an MA plan must offer at least the same Medicare coverage that Original Medicare does. But most MA plans provide additional services and coverages.
As of 2020, Medicare Advantage plans can offer more supplemental coverage to help people treat and cope with chronic conditions. Because of these changes, some Medicare Advantage plans may cover some, though probably not all, costs associated with walk-in tubs.
Be sure to speak with your insurance company and review your plan information carefully before you purchase a tub. That way, you can estimate costs adequately.
How Much Does a Walk-in Tub Cost?
The purchase price for a walk-in tub is anywhere from $2,000 to $5,000. Some higher-end bathtubs can cost much more. Baths made for wheelchair accessibility are also more expensive, usually, double the cost of regular tubs.
However, the cost of the tub alone isn't the only cost involved. Installation costs, including labor, can tack on several hundred to a few thousand dollars to the price tag. Prices for the installation of a walk-in bathtub vary depending on your location, type of home, and other factors.
When researching a tub, look for companies that offer free, non-binding quotes. We recommend gathering quotes from multiple sources if available in your area.
Other Ways to Cover the Expenses of Getting a Walk-in Tub
Even if you can't get help from Medicare, you may be able to offset costs in a few ways. First, your tub installation is likely tax-deductible, especially if you can prove that it was installed for medical necessity. In this case, you can make the deduction through the medical expense deduction.
If you live with an adult child or other caretaker, the person who owns your home may be able to deduct the expense on their taxes. This is done through the Dependent Care Tax credit. Depending on your state, additional deductions or credits may be possible. Be sure to speak with your tax advisor about your options.
In addition to a tax credit, you can also consider payment plans to help you spread the cost of installation over many months. You can speak with your supplier about financing options. Just be sure to choose a monthly payment that fits your budget.
USDA Rural Repair and Rehabilitation Grants
A home modification grant might be available to you. If you: **
**
Have a low-income, and

Are at least 62 years of age, and

Live in a rural area
You may be eligible for financial assistance to help cover the costs of installation. These grants are provided through the U.S. Department of Agriculture and available across the country. For this grant, a rural area is defined as having a population of fewer than 10,000 people. However, some states may have stricter requirements.
The maximum grant is $7,500 and can only be used once. In addition to grants, the USDA also makes low-interest loans available to homeowners who don't qualify for grants.
In Arizona, California, New Mexico, and Texas, specific grants are available specifically for making bathing more accessible. The maximum award is $5,000. Some states also offer waivers or reimbursements for "environmental accessibility adaptations," which are home modifications to improve accessibility for people with mobility issues.
In addition to federal and state grants, there may be community-based services to help you cover expenses. Even your loved ones might be able to offer some financial support for your tub.
FAQ: Medicare and Walk-in Bathtubs
If you can't afford a walk-in tub, consider a low-threshold or no-threshold shower. Most low- or no-threshold showers can be installed for far less money than a walk-in tub. A no-threshold shower is an excellent option for people who use a wheelchair for mobility.

While you can't soak in a shower, the ease of use may be more beneficial to you, depending on your needs. For example, with a walk-in tub, you need to sit inside while it fills up and while it empties.

Original Medicare will likely cover shower chairs to help make your bath safer. However, other bathroom safety equipment, like grab bars, anti-slip mats, and special showerheads, is often not covered by Original Medicare.

Some of this equipment may be covered under a Medicare Advantage plan. Be sure to speak with your health care provider about your options.

Lastly, some home modifications can be tax-deductible as medical equipment.

Health care through the Department of Veterans Affairs may help you cover some of the costs of installing a walk-in tub. This is more likely to happen if you can prove the tub is an absolute medical necessity. If you have mobility issues and a chronic pain condition, you may be reimbursed for some costs.

The Home Improvements and Structural Alterations (HISA) benefit is unlikely to cover costs for a walk-in tub because it may be considered a "jacuzzi." However, it may cover other alterations to your bath to make things safer.

Walk-in tubs offer many therapeutic benefits, including relief of joint pain, muscle pain, and stiffness. Baths can help you relax, and some studies suggest that baths may lower blood pressure. Most walk-in baths come with massaging jets to aid in relaxation and comfort. Finally, a walk-in tub installed stylishly is a significant home improvement and can add to the resale value of your home.

Even so, some people are not "bath people." If you aren't a fan of baths now, you may not find a walk-in tub as useful. In that case, a low-threshold shower with grab bars and a sturdy bathing stool may be all you need to be safe.

Some Medicaid programs may offer assistance for environmental accessibility modifications. That is modifications to your home to improve your accessibility. While your purchase of a walk-in tub may not be covered entirely, it is possible to receive some financial assistance.

Home and community-based services (HCBS) may provide you with additional assistance or services to meet your needs. You might not be able to get a walk-in tub paid for, but you may be able to get an alternative covered.

Finally, don't forget to look into financial assistance programs to help cover costs. And low-interest financing can help you cover expenses on your own.
Conclusion: Don't Count on Medicare to Cover It
Unfortunately, Medicare has no standard for covering therapeutic equipment like walk-in tubs. Even so, you may find financial support through tax credits or grants. And even if you can't find financial support, a walk-in tub and its less-expensive alternatives are worth the expense if it adds to the quality of your life.
And don't forget: you can save money on Medicare with the Insurify comparison tool. Those savings can go a long way getting that new bathtub!
Data scientists at Insurify analyzed over 40 million auto insurance rates across the United States to compile the car insurance quotes, statistics, and data visualizations displayed on this page. The car insurance data includes coverage analysis and details on drivers' vehicles, driving records, and demographic information. With these insights, Insurify is able to offer drivers insight into how their car insurance premiums are priced by companies.