Why you can trust Insurify
After much needling, the CMS is going to cover you—but for how much?
Acupuncture has been around for so long that it's probably more apt to call Western medicine " alternative medicine." Despite acupuncture's long history, Medicare has long left it outside the scope of covered treatment. But in January of 2020, things changed. The Centers for Medicare & Medicaid Services ( CMS ) announced that it would include acupuncture as a covered treatment for chronic low back pain.
In this article, we will discuss what's covered and what's not covered by Medicare. We will also discuss acupuncture alternatives for those less comfortable with needles. Let's start.
Ready for a Medicare plan that works for you? Use the Insurify Medicare comparison tool to find Medicare plans near you. Start with your ZIP code, and you'll be comparing plans in less than two minutes. Try it today!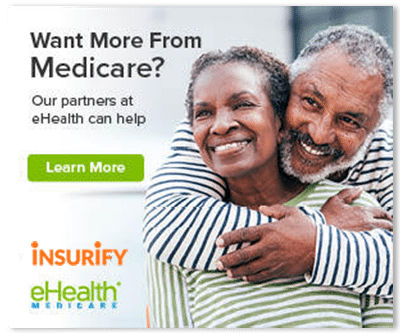 What Is Acupuncture?
Acupuncture comes from Traditional Chinese Medicine (TCM) and is the practice of manipulating the energy channels of the body to relieve health conditions. The goal is to balance the body's energy and promote self-healing. Acupuncturists accomplish this by inserting thin needles at specific points and various depths along the body's energy channels. Other forms of manipulation include using heat, cupping, and pressure.
While it may seem odd to Westerners, many Western studies have shown that acupuncture can relieve pain. Some scientists believe that acupuncture is beneficial because of how it interacts with the nervous system. Even with many studies on the books, no one knows for sure how acupuncture works.
Despite its mysterious nature, acupuncture is finally becoming mainstream in the United States. The FDA approved it in 1996 when it designated acupuncture needles as "medical devices." It has gained popularity in the last few decades, especially as an alternative treatment to using prescription drugs to manage pain. This has been a welcomed relief in respect to the still-growing opioid crisis.
How Is an Acupuncturist Accredited?
In most states, your acupuncture practitioner has to attend an accredited acupuncture program—approved by the Accreditation Commission on Acupuncture and Oriental Medicine (ACAOM). Afterward, they can sit for various exams, as determined by state laws. These exams are carried out through the National Center for Complementary and Integrative Health.
In addition to a master's degree, some acupuncturists complete a doctoral-level degree. While this doesn't affect the coverage of acupuncture, it can mean more effective care.
Does Medicare Cover Acupuncture?
Medicare does cover acupuncture, but not all acupuncture services. As of January 2020, Original Medicare, also known as Medicare Part A and B, will cover up to 12 treatment sessions of acupuncture for chronic low back pain. These 12 treatments must be made within a 90-day window. Should you respond to pain treatment, you can get an additional eight sessions that year.
Medicare covers up to 20 sessions each year, so long as you're responding to treatment. Bear in mind that you'll need to cover some costs, too. You'll need to reach your out-of-pocket deductible before Medicare kicks in. After that, you're covered for 80 percent of your expenses.
Acupuncture treatments must be carried out by an approved professional. This includes:
A state-licensed acupuncturist who has completed acupuncturist training to at least a master's degree

A doctor

A nurse practitioner

A physician assistant
Acupuncture treatment is covered under Medicare Part B of your plan. That means you'll also need to cover your Part B deductible before Medicare coverage kicks in.
Although chronic lower back pain is currently the only ailment covered by Medicare, your practitioner may help you with more. For example, chronic neck pain is often related to lower back issues. As part of your lower back treatment, your practitioner may also address pain in your neck or other areas of your body.
Acupuncture and Medicare Advantage Plans
Medicare Advantage Plans, also called MA plans or Medicare Part C, must also cover acupuncture treatment of lower back pain. Any Medicare Advantage plan must cover everything that Original Medicare includes.
Many Medicare Advantage plans cover more than Original Medicare. Some may offer better coverage for acupuncture in multiple ways:
Treatment approval for a broader range of conditions

Extended coverage to more acupuncture sessions

More generous coverage through lower copayment or coinsurance
Whatever the plan difference, you may still have to cover some part of the service through a copayment or coinsurance. Be sure to speak with your chiropractor and your health insurance company about your expected contribution.
Acupuncture Alternatives
While it may be covered, acupuncture isn't for everyone. Some people have a fear of needles, while others may respond better to other forms of treatment. In the world of medicine, there is never a one-size-fits-all solution. Consider the following alternatives if acupuncture isn't for you.
Medicare Coverage and Chiropractic Care
If your spine is out of alignment—a condition called spinal subluxation—you can now receive chiropractic care for covered treatment. Once you meet your deductible, Medicare covers treatment costs up to 80 percent, with your coinsurance covering the rest. Bear in mind that Medicare does not provide coverage for all chiropractic services.
Read more about Medicare and chiropractic care here.
Medicare Coverage and Physical Therapy
Like chiropractic care, physical therapy is covered up to 80 percent of costs once you reach your deductible. There is a cap on coverage, however. Once physical therapy costs exceed $2,080, you will need to prove that further treatment is medically necessary.
Pain Management Treatment Options Not Covered by Medicare
There are two pain management practices that you can use to ease back pain. However, these are generally not covered by Medicare. These are:
As of this writing, massage therapy is still not covered for Medicare beneficiaries —despite the well-documented benefits of massage therapy for pain management. Though your costs will come out of pocket, you should still consider incorporating massage therapy into your treatment plan. Look around for senior discounts or packaged sessions to keep costs low.
Yoga is a safe exercise practice that has been shown to relieve stress and pain and to improve range of motion. However, your yoga practice is not covered by Original Medicare.
And remember that you may find a Medicare Advantage plan that will help you cover massage therapy costs. Furthermore, your plan may reimburse you for the costs of yoga if you practice at a gym. Some plans, including Medigap or Medicare Supplement plans, offer financial assistance for gym memberships.
If you already have Medicare Advantage, be sure to speak with your health care provider to learn more about your options.
FAQ: Medicare and Acupuncture
Acupuncture is most well documented for its effective pain treatment. Studies have shown that acupuncture can help relieve back pain, neck pain, shoulder pain, and chronic headaches. Many studies postulate that acupuncture is useful for any chronic pain condition, even pain associated with degenerative diseases like osteoporosis.

Another benefit of acupuncture is that it helps Medicare beneficiaries avoid taking painkillers. This helps an individual save on the costs of prescription drug coverage and side effects of prescription drug treatments, but it also means fewer people will be prescribed opioids.

According to members of the Trump Administration, a significant reason behind this expansion of coverage is in response to the opioid crisis.

According to Thumbtack.com, an acupuncture treatment typically costs $80 to $100. You should prepare to pay $16 to $20 out of pocket once you meet your deductible.

In 2020, the annual deductible for Medicare recipients is $198.

Because acupuncture is a hands-on medical practice, it is not possible to socially distance during the entire session. However, acupuncturists should follow strict cleanliness guidelines as set by the CDC. Be sure to speak with your acupuncturist about steps they're taking to protect you.

Interestingly, several Chinese studies from organizations like the Beijing Health Commission and the National Administration of Traditional Chinese Medicine have shown acupuncture to be a useful part of coronavirus disease treatment.
Conclusion: Look for Insurance Plans with Comprehensive Acupuncture Coverage
Acupuncture is a proven treatment for chronic pain, and can serve an important role in your wellness program. But it's not for everyone. If you don't respond to treatment, there's no reason to extend sessions. Talk to your doctor and your acupuncturist about other ways to get your needs met.
If you find that acupuncture works for your pain management plan, be sure to shop around for Medicare plans more suited to your needs. There may be a plan available in your area that makes it easier for you to get treated and pay for treatment.
Not happy with your current Medicare plan? Try the Insurify Medicare comparison tool. Using just your ZIP code you can compare your Medicare options side-by-side. Be sure you're getting the best plan at the best price, try it today!
Data scientists at Insurify analyzed over 40 million auto insurance rates across the United States to compile the car insurance quotes, statistics, and data visualizations displayed on this page. The car insurance data includes coverage analysis and details on drivers' vehicles, driving records, and demographic information. With these insights, Insurify is able to offer drivers insight into how their car insurance premiums are priced by companies.