Why you can trust Insurify
Great healthcare is the real spice of life in the Nutmeg State.
Connecticut residents have a lot to love. Though the cost of living is higher than the national average, so is the quality of life. From a fantastic library system and top-tier universities bringing in speakers from around the world to a highly accessible and robust healthcare system, Connecticut is the place to be.
Connecticut residents have lots of options when it comes to Medicare health plans. With so many options, though, making the right choice can become overwhelming. This guide will take you through Medicare basics to Connecticut specifics so that by the end, you'll be able to choose your Medicare plan with confidence!
Ready for a Medicare plan that works for you? Use the Insurify Medicare comparison tool to find Medicare plans near you. Start with your ZIP code, and you'll be comparing plans in less than two minutes. Try it today!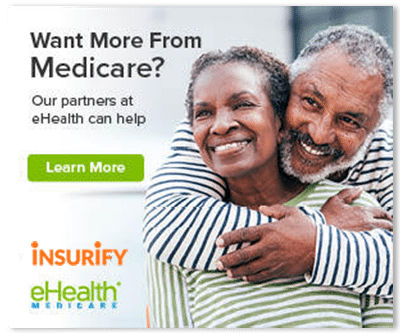 How Much Does Medicare Cost in Connecticut?
While some costs for Medicare are standard, your costs can fluctuate depending on several factors:
How you set up your Medicare coverage

Private health insurance company pricing and coverage

Co-pay and coinsurance rates

Deductible amount

Out-of-pocket maximum limits (or lack thereof)
The Cost of Original Medicare in Connecticut
Several types of costs contribute to the total cost of Original Medicare. Premiums are fairly low, with most beneficiaries qualifying for premium-free Medicare Part A. The Medicare Part B premium is $148.50 in 2021. However, those costs are on a sliding scale.
To qualify for premium-free P art A, you'll need to have earned 40 work credits. With at least 30 work credits, you'll pay $259 a month. Fewer than 30 and you'll pay $471. The Part A deductible is $1,484.
Medicare Part B premiums depend on your income, with the standard cost ($148.50) applying to people making less than $87,000 a year and couples making less than $174,000 a year in income. If you make more, you'll pay a little more by income bracket. If you make much less, you may qualify for additional assistance through your state Medicaid program.
The Part B deductible is $203, and the coinsurance rate is 20 percent for Medicare Part B services. Medicare Part A is a little more complicated, as the rate depends on the length of your stay, the facility you use, and the level of care you receive. You should expect to pay a co-pay anywhere from $60 to over $300 per day.
Original Medicare does not provide you with out-of-pocket maximum limits. If you receive expensive care, you can find yourself on the hook for tens of thousands of dollars. For this reason, many people choose to purchase Medigap plans —to cover the "'gaps"' in coverage with Medicare.
The Cost of Medigap Plans in Connecticut
Medicare Supplement plans, most often called Medigap, help you cover the costs of care when you are enrolled in Original Medicare. This can include the cost of deductibles, co-payments, and coinsurance. Some Medigap plans—Plan K and Plan L—offer out-of-pocket maximums.
There are 10 types of Medigap plans, designated by letters. Each plan offers different advantages and comes with different costs. Medigap plans are standardized by the CMS, though administered by private insurance companies. While Medigap plans are the same on paper, the cost of Medigap policies can vary from company to company.
Remember that the level of customer satisfaction and accessibility can differ greatly as well.
Learn More: Can Medigap Plan G Save You Money?
The Cost of Medicare Advantage in Connecticut
Connecticut Medicare Advantage plans at a glance:
Medicare Advantage is an alternative to Original Medicare that's administered by a private insurance company. Each company must meet certain qualifications in order to offer Medicare Advantage plans—essentially winning a contract with the federal government.
Medicare Advantage plans must stick to strict guidelines as far as minimum coverage. However, many plans offer more than the minimum, including dental, hearing, and vision coverage. Plans often also offer competitive copay rates for primary, specialist, and preventive care. Many plans also include prescription drug coverage, making it unnecessary to purchase an additional individual plan.
These add-ons do tend to raise the cost of premiums but lower the cost of care. You should look for a balance between the two costs. Remember that paying more on the premium often saves you money in the long run, so long as you're getting very favorable coverage rates.
To learn more about choosing the right Medicare Advantage plan, please read our article The Best Medicare Advantage Plans in Connecticut.
The Cost of Prescription Drug Plans in Connecticut
Connecticut prescription drug plans at a glance:
Prescription drug plans are relatively new to the Medicare market. These plans came about at the turn of the century in order to make the cost of medications affordable for more Medicare beneficiaries. Stand-alone plans can be purchased to supplement your Original Medicare plan. But they can also supplement a Medicare Advantage plan—so long as that plan does not include prescription drug coverage.
Each plan will have its own formulary. The formulary is essentially the pricing structure the company uses to determine the costs to you. You should look for a plan that prices your medications favorably.
The formulary is broken down into four tiers, arranged from least to most expensive:
Tier I covers cheap generics.

Tier II covers expensive generics and cheap name brands.

Tier III covers regular name brands and expensive name brands.

Tier IV covers specialty or experimental drugs.
Cost of Special Needs Plans in Connecticut
Connecticut Special Needs Plans at a glance:
Special Needs Plans (SNPs ) are meant for people who would not otherwise be able to afford Medicare. This could be due to income or a health condition. These plans work like Medicare Advantage plans in that they are regulated by the U.S. government, but administered by a private insurance company. These companies win contracts with the CMS and must comply with strict rules and procedures.
The advantage of these plans is that they are very affordable. Not everyone will qualify for an SNP. To qualify, you must meet one of the following criteria:
You live in a facility like a nursing home, skilled nursing facility, or other institution.

You have been diagnosed and are living with HIV/AIDS, dementia, chronic heart failure, end-stage renal disease (ESRD), or amyotrophic lateral sclerosis (ALS).

You are dual-eligible for Medicare and Medicaid, typically for people with low income who meet asset requirements.
If you are a Qualified Medicare Benificiary (QMB) or qualify for any Medicare Savings Program, you can likely enroll in a Special Needs Plan. If you have low income, but don't qualify for SNP, you still have resources. You may still qualify for the Extra Help program that helps you cover the cost of prescriptions. You should also talk to the Connective Department of Social Services to learn more about your options.
What Is Medicare?
Medicare is a federal health insurance program that started in 1966. At the time, millions of Americans couldn't afford healthcare, mainly people over 65 and people with certain health conditions. Since its inception, many changes and updates have been made to Medicare by its governing body, the Centers for Medicare & Medicaid Services (CMS).
Medicare is divided into several parts that offer various degrees of coverage. Some parts can be used with others—with separate costs of course. These parts are:
Original Medicare (Medicare Parts A and B)

Medicare Advantage (Medicare Part C)

Medicare prescription drug coverage (Medicare Part D)

Medigap (Medicare Supplement Insurance)
Original Medicare is the most common plan, and it's divided into two parts. Medicare Part A covers inpatient care—you'll likely hear it called "Hospital Insurance," but it covers other inpatient care, such as at skilled nursing facilities. Medicare Part B covers outpatient care, and it's often called "Medical Insurance." It covers services like your annual checkup.
Medicare Advantage is an alternative to Original Medicare. It is regulated by the CMS but fulfilled by a private health insurance company. These private insurance companies must win a contract with the U.S. government and comply with rules from the CMS. Medicare Advantage plans must cover at least everything that Original Medicare covers and they often offer additional coverage.
Medicare Part D prescription drug plans cover your medications. These are relatively new plans, created at the turn of the century. They can be used in conjunction with Original Medicare or Medicare Advantage. Some Medicare Advantage plans include prescription drug coverage.
Medigap is a supplemental insurance plan that can be used in conjunction with Original Medicare. It covers part of costs like your deductible, co-payments, and coinsurance.
Who Qualifies for Medicare in Connecticut?
To qualify for Medicare in Connecticut you must meet specific eligibility criteria. First, you need to be either a citizen or a permanent resident who's had that status for at least five years. Second, you must be able to answer "yes" to one of the following questions:
Are you 65 years of age or older?

Have you been drawing on disability (SSDI) for at least 24 months?

Have you been diagnosed with amyotrophic lateral sclerosis (ALS)?

Have you been diagnosed with end-stage renal disease (ESRD)?
So long as you meet these requirements, you should be eligible for Medicare. If you are unsure, you can contact Medicare to learn more about your options. You can call 1 (800) MEDICARE or TTY 1 (877) 486-2048.
How Do I Choose Between Original Medicare and Medicare Advantage?
Making the choice between Medicare Advantage and Original Medicare is a tough one. For some people, Original Medicare is the best fit. For others, Medicare Advantage is more advantageous.
To help you decide, we've made this table to outline the basic advantages and disadvantages of each plan type:
Plan Type
Advantages
Disadvantages
Original Medicare

Extensive network of providers
Large service area across the U.S.
Low monthly premiums
Many Medigap plan options to help cover costs

No caps on out-of-pocket coverage
Must purchase add-ons like Medigap, prescription drug coverage, and stand-alone dental, vision, and hearing

Medicare Advantage

Can purchase a comprehensive plan to cover medical, medication, vision, dental, and hearing
Many plan options, including types of plans like HMO, PPO, or PFFS (private fee-for-service)

A smaller network of providers
Small service area restricted to your state or a region within your state
Premiums can be more expensive
Remember that choosing once isn't choosing for life. You'll have the chance to make changes to your Medicre plans at least once a year. This happens during the Fall Open Enrollment Period (OEP), running from October 15 to December 7 every year. You can also make changes if you qualify for a Special Enrollment Period (SEP).
How Do I Apply for Original Medicare in Connecticut?
You can apply quickly and easily for Medicare in Connecticut. Once your application is accepted, you'll receive your Medicare card and other information quickly. The easiest way to apply is online by logging into your account at SSA.gov/myaccount. You can also create an account at Medicare.gov.
If you prefer talking to someone, simply call 1 (800) MEDICARE, or, for TTY users,  1 (877) 486-2048. You may need to mail or fax in parts of your application. This can delay the process by a few days but may be easier for people who prefer talking to a Medicare expert.
Finally, you can apply in person—though we recommend avoiding this option during the COVID -19 pandemic until you have received a coronavirus vaccine. To apply in person, you'll need to visit your local Social Security office.
But again, avoid this option unless you have received the coronavirus vaccine.
How Do I Apply for Medicare Advantage in Connecticut?
Applying for Medicare Advantage is pretty easy. The only thing is that you'll need to first apply for Medicare. Once you're enrolled and have your Medicare number, you'll be able to enroll in Medicare Advantage plans.
You enroll in Medicare Advantage through the insurance company 's website. You may also be able to speak with one of their insurance agents over the phone to submit your application. You should be prepared to share your Medicare number and other information.
What's the Best Medicare Advantage Plan in Connecticut?
Unfortunately, Medicare Advantage is not one-size-fits-all. There is no universally best plan. How good a plan depends on the suitability of the plan to the person using it. Everyone has different health needs, preferences, and budgets.
The key is to start with yourself: your needs, preferences, and budget. From there, you should get a bird's eye view of all your options. Eliminate options that don't fit. Be sure to consider the overall costs of a plan—not just the monthly premium.
Learn More: Best & Worst Medicare Advantage Plans
FAQ: Connecticut Medicare
Yes, so long as you are a U.S. citizen or permanent resident of at least five years. However, just because you should get Medicare automatically, doesn't mean you will. Only people who are already drawing on Social Security benefits or people with certain health conditions will be automatically enrolled. But even then, mistakes can happen.  That's why you should pay attention to your Iinitial Eenrollment Pperiod—that's when you're first allowed to enroll. For most people, this period begins three months before the month of your 65th birthday and extends threeto the end of the third months after the month of your 65th birthday.  You should enroll during this period or, if qualified, postpone your Medicare enrollment properly. Failure to comply with enrollment rules may result in a permanently applied late-enrollment fee. That's a fee added to your monthly premiums for life!

The Connecticut Medicare Savings Program is a financial assistance program meant to help Medcicare beneficiaries afford their health plans. It is run by the Connecticut Department of Social Services (DSS) and traditionally helps seniors with low -income. Assistance can cover the costs of the Medicare Part B premium, deductibles, and coinsurance. The income limits are higher than that of Medicaid, and services are sliding-scale, with people getting help appropriate to their income bracket. You can qualify as a Qualified Medicare Beneficiary (QMB), Specified Low-Income Medicare Beneficiary (SLMB), or Additional Low-Income Medicare Beneficiary (ALMB). The highest income you can make and still qualify is $2,245.04 for a single person or $3,032.07 for a couple.

The income limit for a single person accessing regular Medicaid is $984.49 in southwest Connecticut and $874.38 in the rest of the state. The asset limit is $1,600. For married couples, the income limit is $1,507.09 in southwest Connecticut and $1,398.41 in the rest of the state. The asset limit is $2,400.  Income can come from any source—your wages, pension, SSDI, or alimony, for example. Your assets, however, have some beneficial exemptions. Your primary residence, personal belongings, car (up to one), burial plot, and prepaid funeral contract won't be counted towards your "assets."
Conclusion: Compare Connecticut Medicare Plans Before You Buy
In the state of Connecticut, you're going to have options. Having options is a good thing. You're more likely to find a plan that feels tailored to your needs. But having lots of options can be overwhelming, and wading through those options can be a cumbersome process.
That's why we recommend starting with your needs before you start looking for plans. We also recommend trying the Insurify Medicare plan comparison tool—just enter your ZIP, and you'll discover all the ways to compare each type of Medicare plan available in your area.
Data scientists at Insurify analyzed over 40 million auto insurance rates across the United States to compile the car insurance quotes, statistics, and data visualizations displayed on this page. The car insurance data includes coverage analysis and details on drivers' vehicles, driving records, and demographic information. With these insights, Insurify is able to offer drivers insight into how their car insurance premiums are priced by companies.