Why you can trust Insurify
There are so many ways to compare Medicare plans— which is best for you?
Depending on where you live, you could have hundreds of options for Medicare plans. Understanding and sorting through your options is how you get the best from Medicare. But that's easier said than done.
No wonder so many comparison tools have hit the internet in recent years. Medicare plan comparison tools make it easier to view and compare your options. But, not all plans are created equal. In this article, we will discuss the best Medicare comparison tools in 2021.
Ready to shop plans now? Use the Insurify Medicare comparison tool to find the right Medicare plan for you. Start with your ZIP code to compare plans for:
Filter by coverage options and compare options side-by-side. You can even compare plans with Original Medicare, Try it today!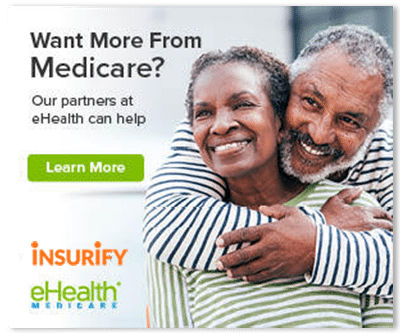 The Best Medicare Plan Comparison Sites
The field of Medicare comparison sites is new but growing. The government-run site now has a comparison search element. And several private businesses joined the competition to serve Medicare beneficiaries.
Below are the best Medicare comparison sites.
Compare with Medicare.gov
Key Insights:
- The official site of the U.S. government.

- Library of important information about Medicare rules, planning, and costs.

- Extensive comparison options.

MedicareAdvocacy.org has discovered several issues with the Medicare Plan Finder. Including inaccuracies and signs of bias in favor of Medicare Advantage plans.

Clunky website and hard to read articles. This makes it difficult to understand important information.
A significant advantage of the Medicare.gov website is that you can find a lot on the site. But, one disadvantage is that navigating through the information is difficult. For example, you can find Medigap plans available in your area on a search results page that's easy to read.
Each result has a confusing "compare to other plans" button. When you click the button, you're only offered a chart of standard Medigap plans. You won't find state-specific plans. And you can't compare real Medigap plans side-by-side.
Finding insurance companies that fulfill the Medigap plan is also clunky. You'll get a directory of providers, without price estimates. The site does provide a phone number and a link that brings you to that provider's Medicare home page. There, you can start your application.
Medicare Advantage searches garner better results. It's easy to read. The comparison tool offers side-by-side comparisons for up to three plans. And you'll get detailed information.
Unfortunately, you can't compare the Medicare Advantage options to Original Medicare. We believe comparing plans with basic Medicare is essential.
Compare with eHealth Medicare
Key Insights:
- Compare Medicare Advantage, Medigap, and Prescription Drug plans

- Compare Medicare Advantage plans with Original Medicare

Side-by-side comparison charts not as easy to use on a mobile screen

Disclosure: we partner with eHealth Medicare
There is a reason we partner with eHealth. The eHealth Medicare plan finder tool is the best in the private market. The tool checks all the boxes:
It's easy to use and easy to read.

It lets you compare Original Medicare with Medicare Advantage plans.

You can sign up online or over the phone.
To use the tool, enter only your ZIP code. From there, you'll receive a list of results for your area. Bear in mind, the prices quoted may not be accurate without more of your personal information. Even if you opt-out of sharing, the results page is useful and easy to use.
Each result comes with easy-to-read co-pay costs and plan features. You can also compare plans of interest to one another—and to Original Medicare. This is key. Choosing between Medicare Advantage and Original Medicare is a big decision. The biggest decision you'll make as a Medicare beneficiary.
We must note one small drawback: the comparison chart doesn't work as well on a mobile screen as on a desktop. Some smaller computer screens may also have trouble with crowding on the screen. Some pop-up features can get in the way of text.
Compare with Select Quote
Key Insights:
- Compare Medicare Advantage, Medigap, and Prescription Drug plans

- No online results page—you must speak with a customer service agent to learn about plan options

- Easy form, but it takes a while to get that phone call. Not fast, though same-day sign up is possible
First, you'll fill out a short questionnaire with Select Quote. Next, you'll need to provide contact information to get your results. Finally, your results are delivered over the phone by a licensed agent.
But, you won't receive a list of plan results. You won't receive a visual aid to help you understand your options. And you'll be completely reliant on the agent to choose your option.
For people who need a visual aid for clarity, Select Quote won't be a great option. Agents will tell you to search for plan options through the Medicare.gov site. And that comes with the limitations (and benefits) named above.
On a positive note, the agents and operators are kind, professional, and straightforward.
Compare with AARP Medicare Plans
Key Insights:
Useful icons make it easy to interpret results

Compare Medicare Advantage, Medigap, Medicare prescription drug coverage, and Special Needs Plans

- Can't compare the MA plans to Original Medicare

- Affiliated with United Healthcare, only shows United Healthcare plans

- Sign up online or over the phone
While AARP is one of the most trusted names in the over-65 community, it may not be the best search tool for Medicare. But not all is lost. The tool is easy-to-use and understand. Small icons designate coverage like vision, preventive dental, and hearing.
The design makes it easy to scan results. Plus, the tool also allows you to compare plan options side by side. This is especially useful when comparing Medigap plans.
A disadvantage of this finder tool is it only shows plans offered by United Healthcare. UnitedHealthcare is an excellent private insurance company. Even so, it's essential to get a full view of your options when shopping for Medicare.
Compare with Medicare USA
Key Insights:
Sorting options make it easy to find cost-effective plans

Fast and easy to use

- Seems to favor United Healthcare

- Can't compare Medigap plans or Prescription Drug plans

- Can't compare Medicare Advantage to Original Medicare
The results page is easy to read and has several useful features. You'll find Medicare coverage options you can use to drill down on your results on the left of your screen. For example, you can look at only Health Maintenance Organization ( HMO) plans.
In the right-hand corner, you'll find a drop-down menu to sort your options. You can sort plans based on:
Monthly premium

Estimated annual costs

Company name

Online enrollment
These features make using the plan finder very easy. But, the integrity of the finder is hard to discern. For every ZIP code I entered, a United Healthcare plan held the top three positions in the results. The tool automatically sorts options by estimated annual costs. Yet, they do not disclose their methodology for calculating estimates.
Finally, you can't compare Medicare Advantage plans to Original Medicare with this tool. That leaves out some critical information. Furthermore, it only shows results for Medicare Advantage. There is no comparison of Medigap plans or stand-alone prescription drug plans.
Medicare Basics
The Medicare health insurance program made up of several parts. Citizens and permanent residents of five or more years can enroll in Medicare:
If they are 65 years or older.

If they have been on disability for 24 months.

If they are diagnosed with end-stage renal disease (ESRD).

If they are diagnosed with amyotrophic lateral sclerosis (ALS).
There are a few types of Medicare:
Original Medicare is made up of two parts. Medicare Part A, often called Hospital Insurance, covers part of your care in a hospital or skilled nursing facility. Medicare Part B, often called Medical Insurance, covers outpatient care like your annual exam.

Medicare Advantage, a.k.a. Medicare Part C, is an alternative to Original Medicare. It must cover everything that Original Medicare does. But it may offer extra benefits. That could include dental, vision, prescription drugs, or hearing coverage.

Medicare Prescription Drug Plans, or Medicare Part D plans, covers drug costs.

Medicare Supplement Insurance, or Medigap, covers some of the costs of Original Medicare. That could include Part B coinsurance, Part B deductible, Part A deductible, and so on.
All Medicare plans come with co-payments, coinsurance, and deductibles. This is in addition to the monthly premium.
How to Compare Medicare Plans
Comparing Medicare plans comes down to two crucial things:
Knowing yourself: your healthcare needs, your preferences, and your budget.

Knowing the product: understanding the differences between your plan options. Plus, the risks and benefits of these options.
Becoming an expert in Medicare doesn't happen overnight. And it certainly isn't set-it-and-forget-it. Every year, the Centers for Medicare & Medicaid Services (CMS) tweaks Medicare rules. These changes can be related to cost, coverage, or something else.
You'll get a disclosure of these changes every year to help you stay on top of things. Having a firm foundation of Medicare knowledge will make reviewing plan changes easier.
How Many Medicare Plans Are There?
There is only one type of Original Medicare plan, but there are 10 types of Medigap plans. Medicare Advantage plans must meet basic requirements but vary from company to company. Prescription drug plans also vary depending on the company.
Your Medicare plan will come in one of two forms:
Original Medicare (Parts A and B), with or without a Medigap plan and a prescription drug plan

Medicare Advantage with or without a prescription drug plan
Medicare Advantage plans may include coverage for vision, dental, or hearing. That's something you won't find if you choose Original Medicare. But, you can add stand-alone vision, dental, or hearing plan(s) to Original Medicare. You can also add them to a Medicare Advantage plan so long as it doesn't already offer that coverage.
With just these two plan options, you have access to many combinations. Making things a little more complicated, private health insurance companies fulfill Medigap. They also fulfill Medicare Advantage and Medicare prescription drug plans.
Each private insurance company may even have multiple options for the same type of plan. For example, one company may offer options like "basic," "intermediate," and "comprehensive" plans.
Learn More: Best & Worst Medicare Advantage Plans
Types of Medicare Side by Side
| Plan Option | What It Covers | Pros | Cons |
| --- | --- | --- | --- |
| Original Medicare | Inpatient and outpatient health services, as outlined in the CMS | Extensive network of healthcare providers, administered by the government so you won't have to change companies ever | No vision, dental, hearing, or prescription coverage. Only covers a maximum of 80 percent of costs (after deductible) if you don't purchase Medigap |
| Medigap | High coinsurance and deductibles found in Original Medicare plans | Makes Original Medicare affordable, protects you from large financial losses; Out-of- pocket cost limits | Plan options come and go—if you have a plan that is no longer available to new enrollees, switching out means you can't switch back |
| Medicare Advantage | Everything that Original Medicare covers; MA plans are alternatives to Original Medicare; comes in the form of a PPO, HMO, or PFFS | May offer additional coverage options not available to Original Medicare enrollees; out-of- pocket cost limits; often has lower deductible amounts | Insurance company administering the plan could lose its contract or decide not to offer Medicare products; may have excess charges; coverage limited to one service area |
| Prescription Drug | Specific medications as laid out in the plan's formulary | Helps cover the cost of medications, which saves seniors lots of money; many low-cost options available | Not as valuable to people who don't take medications; formularies can change or drop a medication you take |
What Are the Top 5 Medicare Plan Providers?
Most Medicare beneficiaries enroll in Original Medicare than Medicare Advantage. Most Orginal Medicare enrollees add a Medigap plan to lower costs. But, Medicare Advantage plans have been rising in popularity since the late 2010s.
Either way, there are providers with a history of providing excellent care. These providers include:
Highmark

Humana

Kaiser Permanente

UnitedHealthcare

Blue Cross Blue Shield
FAQ: Best and Worst Sites to Compare Medicare Plans
The best way to compare Medicare plans is by using a plan comparison tool like the one offered by Insurify . However, before you start comparing, you should begin with your needs first. Make a list of your needs, preferences, medications, and budget. Getting clear about what you want from your Medicare plan will make it easier to choose between your many options.

The best Medicare plan will depend on you. Medicare planning is not one size fits all, and you should look for options tailored to your needs. That being said, there are Medicare providers that are regularly recognized as good providers. This includes: Highmark, Kaiser Foundation, Humana, UnitedHealthcare, and Blue Cross Blue Shield. These providers may or may not be available in your area. You can use the Insurif Medicare plan finder to uncover your options.

If you take medications, then you should have a prescription drug plan. Make a list of your medications. Be sure to verify that any prescription drug plan you compare covers the medicines you need. A plan's "formulary" will have this information.

The best supplement, a.k.a. Medigap, plan will depend on you and your budget. Medigap plans with less expensive monthly premiums tend to cover less at use of service. At the same time, plans with more expensive premiums tend to have lower costs at the use of service.

When you decide on the right Medigap plan, be sure to consider which company is best at fulfilling your plan. For example, if you like accessing a mobile app, be sure to pick a company that offers one.

You should sign up for Medicare as soon as you are eligible. If you want to postpone your Medicare enrollment, verify that you can with the CMS. You can simply call 1 (800) MEDICARE to speak with a Medicare agent who can walk you through the process and determine if you're eligible to postpone enrollment.

You can make changes every year during the Annual Election Period (AEP), sometimes called Fall Open Enrollment. That occurs from October 15 to December 7 every year.

If you have Medicare Advantage, you can also make changes during the Medicare Advantage Open Enrolment. That occurs from January 1 to March 31 every year.

Medicare Part A does cover some of the costs of staying at a nursing home or skilled nursing facility. How much your plan covers will depend on your Medigap plan. Different plans follow different Medigap policies, making some plans more generous than others when it comes to nursing home bills.

If you need assistance finding the right nursing home or assisted living facility, you can verify the facility against the CMS star rating system. The rating is based on the staff, health inspections, and quality of life measurements. The star rating system shouldn't be your only factor of consideration. However, it can help you weed out your options.
Conclusion: Comparing Plans Saves You Time and Money
Comparing health plans may sound like a nuisance, but it will make your healthcare more affordable. The additional benefits of taking a hands-on approach to your Medicare program are that you'll better understand how Medicare works.
When you compare plans, always begin with you:
Your health needs

Your preferences

Your budget
Understanding this will guide you through the decision-making process. And they'll help you choose a plan with the Medicare benefits you need.
And don't forget that the Insurify Medicare comparison tool is always here to help! With it, you can be confident you found the best Medicare plan at the best price. Using just your ZIP code, you can uncover plan options and compare them side-by-side. Try it today!
Data scientists at Insurify analyzed over 40 million auto insurance rates across the United States to compile the car insurance quotes, statistics, and data visualizations displayed on this page. The car insurance data includes coverage analysis and details on drivers' vehicles, driving records, and demographic information. With these insights, Insurify is able to offer drivers insight into how their car insurance premiums are priced by companies.