Let's say a disaster strikes, and your home becomes uninhabitable. What would you do? Where would you stay? Are you prepared? There may be a time when your home is undergoing repair or has to be rebuilt. If you have home insurance, loss of use coverage pays for extra living expenses while in a temporary living situation. From hotel bills to groceries to parking fees, you will have coverage.
Insurify helps you find the right coverage in case of the unknown. Compare home insurance policies from top insurance companies. You can get a free quote delivered to you in seconds. Try it out now!
How Does Loss of Use Coverage Work for Home Insurance?
Home insurance provides property and personal property protection against fire, theft, vandalism, and natural disasters. Let's say a wildfire burns your home, and there's enough property damage that your home must be partially or entirely rebuilt. Now you have to live somewhere else for a while. Loss of use coverage, known as additional living expenses (ALE) coverage, is baked into a standard policy. Loss of use insurance pays for the extra expenses that pop up every day. And if you rent out your home, a loss of use policy covers your rental property. It will help you recoup lost rental income in case your tenants must live somewhere else. Additionally, if your tenants have nowhere to go, they may also be covered.
Insurance companies can't magically guess how much you'll need for covered expenses. But there are steps you can take to recover your monetary losses. Keep receipts and note any additional living expenses. You will have to submit these records to be reimbursed for your loss of use claim.
Dwelling coverage is tricky to pick apart. Without looking at your policy, you may not know your coverage limits. Insurers usually set coverage limits at around 20 to 30 percent of your home's insured value. This is also known as the "dwelling amount." Let's say your home's insured value is $500,000. Your loss of use coverage limit will be anywhere from $100,000 to $150,000. Your normal living expenses may go up due to being forced to stay somewhere else and eat takeout or similar reasons. And if you go over your loss of use coverage limit, your insurance carrier will probably tell you to pay the extra money out of pocket. The reason is that homeowners insurance policies are calculated for additional living expenses coverage. Insurance companies predetermine these expenses. Insurance companies know that your normal living expenses will go up in the event of having to temporarily relocate. Should your additional living expenses continue to increase over time, your insurance carrier will notice. Some insurers now offer unlimited loss of use coverage, which would avoid this problem.
Either way, it's essential to talk to your insurance agent when purchasing home insurance. Your agent will make sure everything is covered correctly. If you already have a home insurance policy, you can look at the declaration page under "Coverage D." There, you will see your loss of use coverage limits.
Are you looking for a new home insurance policy? Whether you're new to homeownership or not, you need the best coverage options for your lifestyle. Insurify lets you compare the best homeowners insurance companies to fit your needs. Try us out now!
What's Included in Loss of Use Homeowners Insurance?
The provisions in your policy that allow you to use loss of use coverage can sometimes be challenging to navigate. Let's say your home gets infested with mice—lots of mice. It becomes almost uninhabitable, so you stay in a hotel for an extended period. In this case, temporary housing and exterminators are not covered in a standard home or renters policy.
Your standard home insurance policy will cover your personal property, home, and attachments, including a garage or guest house. The policy protects against specific perils (or hazards) associated with your property. For example, a standard policy will cover if your home is damaged or burglarized. Loss of use covers certain personal liabilities, like accidents on your property. The covered perils will be listed on your policy, and the exact limits will be listed on the associated declarations page. Below are some examples of what may be included in your loss of use coverage.
Compare Car Insurance Quotes Instantly
Personalized quotes in 5 minutes or less
No signup required
Additional Living Expenses Examples
Let's say your house burns down, and you have to live in a hotel or rental for an extended period. Your living expenses will be higher than usual. Maybe you spend $400 a month on groceries for your small family. If you and your family have to live in an extended-stay hotel, you will be eating out more and might spend $500 a month. Insurance companies know that restaurant bills add up. Additional living expenses are standard in your policy for cases like this.
During your time away, your insurer will reimburse you. They pay for the difference between ordinary living expenses and your stay outside your home. In this case, the insurer would owe you $100 or more for the difference between restaurant bills and normal living expenses.
It's important to remember that you cannot spend money freely while expecting your insurer to reimburse you. So, if you thought you could take your partner out to the movies and get reimbursed, you're wrong. Policies have limitations on what insurers will pay for and not. If your expenses are not deemed necessary, your insurer will deny certain reimbursements.
There may also be dollar limits on specific necessary expenses. You can't expect your insurer to pay for a month-long stay at the Four Seasons. However, they will provide a list of covered lodging and rental homes that are within your budget.
You may be surprised at the different additional living expenses insurers cover. Some expenses that the typical insurance company reimburse you for include:
Hotels

Temporary apartment rent

Pet boarding if your rental or hotel does not allow pets

Mileage or fuel

Additional food expenses for the grocery store and restaurants

Car rentals

Public transportation (like bus or train commutes) and parking fees

Clothing expenses (if you are without clothing)

Storage space and moving costs
Fair Rental Value for Landlords
Landlords sometimes face the same perils as single-family homeowners. If you own a rental and your property becomes destroyed, you will be covered if you cannot collect rent. Insurers typically reimburse fair rental to landlords for up to 12 months of rental income after a covered loss.
There is a section of your policy that will cover additional living expenses and fair rental values. This section is called "prohibited use." The section pays out for a certain number of days if your rental property is not accessible to you or your tenants. This may be due to physical restrictions or if local ordinances deem the property inaccessible. This is most common with natural disasters like tornadoes. Often, the roads and areas surrounding your property are inaccessible or hazardous.
Local authorities may tell you you cannot enter your property. Or, in some cases, you may not want to return if the damaged property seems hazardous or needs cleanup. Any similar cases that would cause you or your tenants to be away for up to 30 days would cause a prohibited use claim.
Loss of Use Coverage for Renters
Renters may also face similar situations if the rental property becomes unlivable. For this reason, it's always worthwhile for renters to purchase separate renters insurance. Renters insurance is usually offered by the same insurance carriers providing home insurance. Plus, renters insurance is usually less expensive than homeowners insurance. Renters insurance offers loss of use coverage and can be adjusted to fit your needs. Many insurers provide bundling, which combines auto insurance with renters insurance. Bundling usually comes with a discount. Talk to your local agent for more information.
How Much Coverage Is Enough?
Understanding Dwelling Coverage Limits
The reason to have home insurance is dwelling coverage. Dwelling coverage is found under "Coverage A" in your policy. Dwelling coverage pays for rebuilding and repairing your home if your home is destroyed or damaged in a covered peril. Minimum dwelling coverage limits tend to be $100,000. However, coverage limits will depend on your home's insured value and range anywhere from $300,000 to $400,000. Speak to your local agent to determine if you have the most accurate dwelling coverage limits for your home.
Personal Property Coverage Options
Personal property coverage pays for your personal belongings if destroyed or damaged due to a covered peril. Personal property coverage is often standard in a home insurance policy. Personal property limits can range anywhere from 20 to 50 percent of your home coverage. It's always wise to look at your policy under "Coverage C" to see if your personal property limits fit your needs. Otherwise, you can discuss additional coverage for expensive items. Coverage on expensive belongings is known as a floater or endorsement.
How much loss of use coverage do you need?
Home insurance loss of use coverage amounts will depend on your and your family's needs. Consider the scenario that puts you and your family out of your home for an extended period. What percentage of your home's insured value would cover the added expenses of living elsewhere? Remember, these are the additional expenses you'd have to pay on top of your ordinary living expenses. There's no need to inflate your costs if it's not necessary. Consider what your options would be. Needs vary from person to person. It's always wise to speak with your agent for additional questions on coverage limits.
No property is the same as another, and this goes for home insurance coverage, too. Your search starts with finding the best home insurance companies around. Start your search today, and see how easy it is to save!
How to Get Reimbursed for a Loss of Use Claim
Loss of use claims for reimbursement are pretty straightforward. Remember to hold onto receipts or documentation to identify how much you paid for reasonable living expenses. Your insurer will need proof of your claim, so without receipts, your claim is useless.
Remember that the reimbursement money usually comes after your expenses have been paid. You may be short on cash or need to make a large deposit. In rare cases like these, your insurance company may provide the reimbursement check ahead of time. The standard reimbursement for rentals and food expenses typically comes every month to cover the previous month.
How to Submit a Loss of Use Claim
There are a few ways to submit a loss of use claim, and it's straightforward. To submit a claim, contact your home insurance agent directly. Otherwise, you can look up the claims section on your insurer's website. Or you can call the customer claims department listed by your insurance company.
There's no wrong way to submit a claim as long as you have your receipts. Insurers design the process to cut down on unnecessary waiting periods. All you have to do is fill out a form with detailed normal living expenses. These will include the typical costs for groceries, food, rent, gas, and other necessary costs. Your normal expenses get deducted from the additional living expenses you incur. For instance, you usually spend $1,000 on necessities, but living elsewhere forces you to pay $1,500. You will then receive a $500 reimbursement check from your insurance provider.
Landlords claiming lost rental income will go about filing loss of use claims another way. Your insurer will require you to submit bank information, tax forms, and lease agreements. These documents prove that your uninhabitable property provided income. Monthly fair rental value is typically reimbursed during the time your property is being rebuilt.
Frequently Asked Questions
Standard home insurance loss of use coverage limits can be anywhere from 10 percent to 20 percent of your dwelling coverage. Some insurance carriers offer more or no limits on loss of use. Some insurance carriers provide the bare minimum. Thankfully, you can set coverage limits in most insurance policies. Talk to your local agent to find out your current limits and if you can make any changes to your policy.

Yes, renters insurance typically has loss of use coverage in the policy. Usually, the loss of use policy limit is a flat fee. The fee can be anywhere from $3,000 to $5,000, depending on your coverage amounts.

Home insurance loss of use coverage is standard in your policy. You're already paying a premium, which pays for coverage. A separate deductible for loss of use coverage is not typically included in a home insurance policy.
The Bottom Line: Loss of Use Coverage is Necessary
If your home is in a worst-case scenario, you will be thankful you have the right loss of use coverage. You'll be protected from the added stress from the rebuild or repair of your destroyed home. You'll be able to pay for the necessary additional living expenses that come with temporarily relocating. With the right home insurance, loss of use coverage won't let you down.
Use Insurify to help you find the right coverage for you and your family. You can easily compare homeowners insurance. As a bonus, you get free quotes delivered to your email fast. Try it out now, and start saving.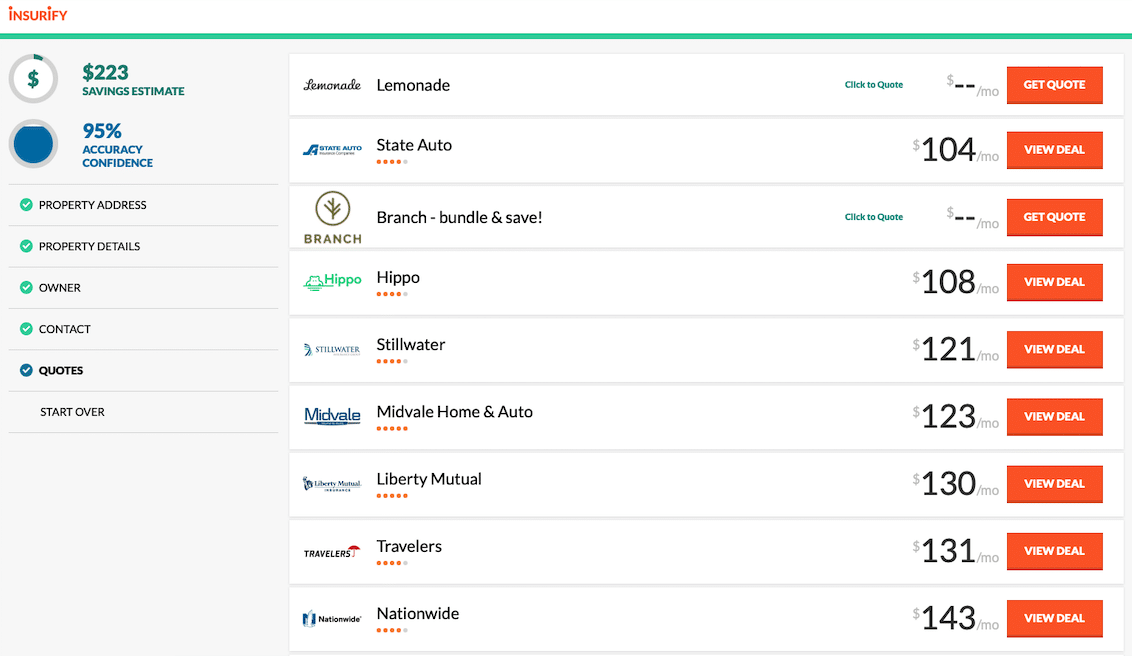 Compare Car Insurance Quotes Instantly
Personalized quotes in 5 minutes or less
No signup required
Data scientists at Insurify analyzed over 40 million auto insurance rates across the United States to compile the car insurance quotes, statistics, and data visualizations displayed on this page. The car insurance data includes coverage analysis and details on drivers' vehicles, driving records, and demographic information. With these insights, Insurify is able to offer drivers insight into how their car insurance premiums are priced by companies.