When shopping for insurance, a car insurance comparison tool can save you both time and money. But not all comparison sites offer the same features, and some are more trustworthy than others. DMV.org is one site you can use to find car insurance, but you won't be able to compare live quotes directly from the website. Instead, DMV.org will direct you to one or more car insurance providers for a quote.
Insurify, on the other hand, will let you view customized quotes from a handful of providers in one place so that you can easily compare your options for both liability and full-coverage insurance. Like DMV.org, Insurify only requires that you answer a few questions about your vehicle and driving history, but unlike DMV.org, Insurify will show you multiple quotes to choose from.
What is DMV.org?
DMV.org is a website designed to help people with all their vehicle needs, including providing forms for registration and driver's license renewal and directing users to their state government websites. DMV.org also has a car insurance search feature, which directs you to one or more auto insurance providers based on the information you provide.
How does DMV.org work?
DMV.org directs you to car insurance providers based on the details you provide about yourself, your vehicle, and your driving history. The process is anonymous, meaning you won't need to enter your contact information on DMV.org. However, once directed to an insurance provider's website, you may need to enter your contact information there.
More: Auto and Home Insurance Quotes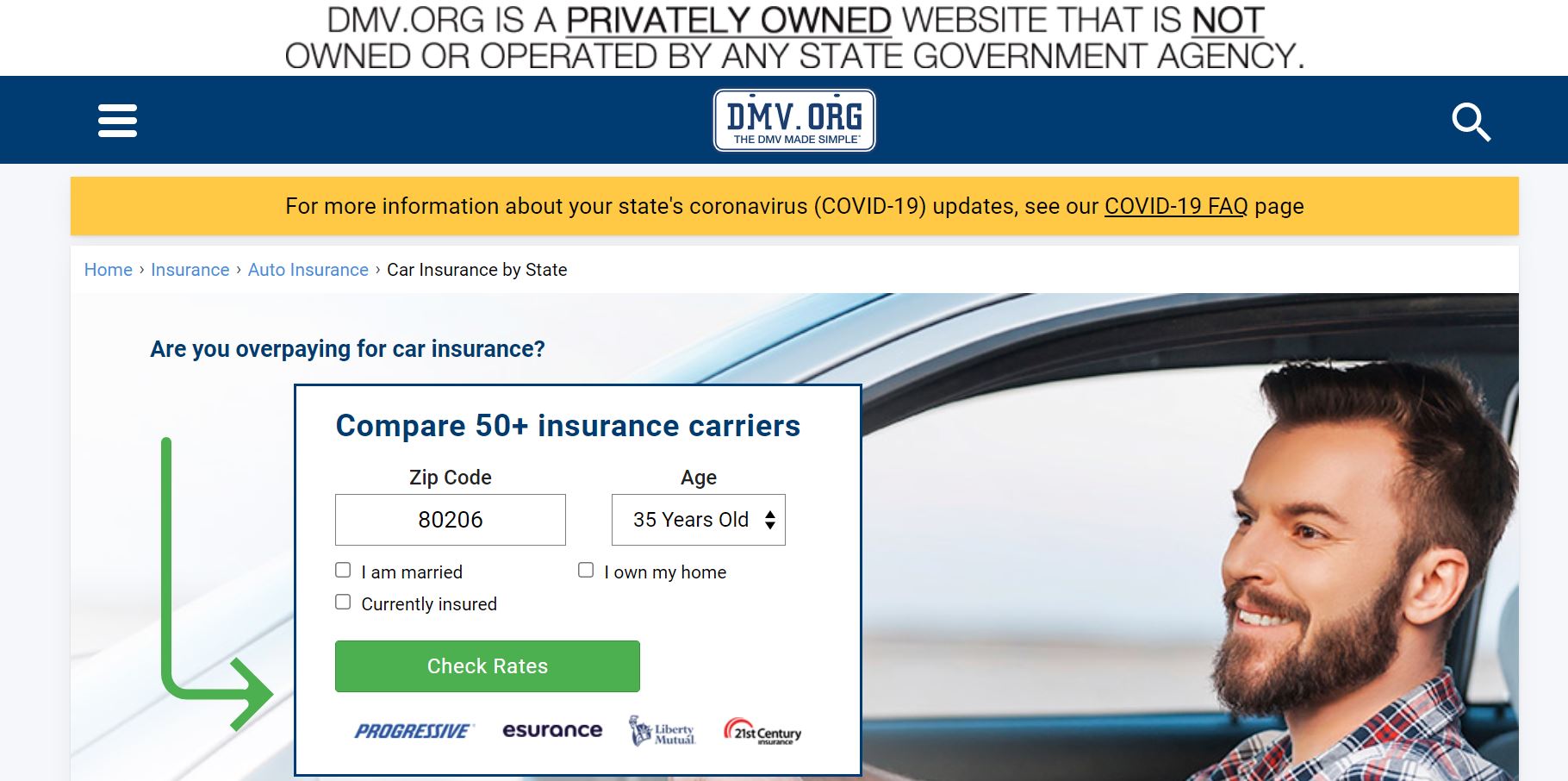 You'll start by entering your age, ZIP code, marital status, homeownership status, and insured status. When you click "Check Rates," DMV.org will ask you some more questions about your vehicle and driving history.
The form is brief, and when you're finished, you'll get your "results." DMV.org will direct you to an insurance provider's website to get your quote. Depending on where you live, you may get a few links to different insurers' web pages.

Is DMV.org a scam?
DMV.org is a legitimate website that doesn't collect any credit card information from users. Their insurance search tool doesn't collect any of your personal information, so you don't have to worry about identity theft. The website contains a disclaimer at the top of the page that informs users of the website's privately owned status since some people mistake DMV.org for a.gov website.
Although DMV.org is not a scam website, there have been past complaints from users with the Better Business Bureau (BBB) about external links on DMV.org. These links lead to other sites that collect credit card information in exchange for online services typically offered free or at a lower cost by a state's department of motor vehicles.
More: Car insurance quotes
More: Cheap car insurance
Compare Car Insurance Quotes Instantly
Personalized quotes in 5 minutes or less
No signup required
DMV.org Reviews: Here's what customers are saying…
On third-party review websites like Trustpilot and the BBB, many reviewers mistake DMV.org for their local DMV, so star ratings are unreliable. However, there were some relevant complaints with the BBB about the advertisements on DMV.org.
As an example, DMV.org partners with TruthFinder, a membership service you can use to access public records for yourself and others. However, if you're just trying to access your driving record, you can usually get a copy for a few dollars from your state DMV website. TruthFinder charges $28 per month.
DMV.org vs. Insurify: The Facts
If you're shopping for insurance, both DMV.org and Insurify can help you find a provider. However, DMV.org will direct you to individual insurers' websites for quotes. That means you'll have to enter your information multiple times, and you may have difficulty comparing your options apples-to-apples.
Insurify, on the other hand, provides live quotes for car insurance. You just need to enter your information once, and you'll be able to see what your monthly premium would be at several different companies. You can even toggle between coverage limits and deductible amounts until you find a policy that meets your needs.
DMV.org vs. DMV.com
Many people confuse DMV.org and DMV.com for the department of motor vehicles in their state. Neither website is a government agency. While both are legitimate websites, advertisements for disreputable websites are much more rampant on DMV.com. For example, while DMV.org guides you through the process of applying for your license or registration with your DMV office, DMV.com immediately directs you to concierge service websites. These websites charge unnecessary fees on top of what your local DMV would charge.
Furthermore, DMV.com doesn't have its own quote-comparison tool. Instead, the website directs you to QuoteWizard for your auto insurance quotes, which requires that you provide your contact information.
If you have DMV business, you should navigate directly to your local DMV website, which will end in.gov. For example, California's website is www.dmv.ca.gov. The New York DMV website is www.dmv.ny.gov. This will help you avoid scammers and disreputable websites. And if you have insurance needs, you should use a trusted comparison tool like Insurify.
DMV.org vs. Jerry Insurance
To get a quote with Jerry, you'll need to provide contact information, such as your phone number. DMV.org allows you to search anonymously, but you also won't get live quotes. Jerry will pull quotes from several different companies, but be prepared to receive text messages from the company if you use the tool.
With Jerry, you can receive quotes from up to 45 insurers. Jerry also automatically shops for new insurance plans before your renewal and gives you three options to choose from.
Jerry is similar to Insurify, but there are some key differences between the two. Insurify makes it easier to adjust the factors affecting your premium, such as your coverage limits and deductible amount. And Insurify allows you to compare term life insurance quotes, while Jerry does not.
How to Save on Car Insurance
Take advantage of discounts: Many insurance companies offer loyalty discounts, payment discounts, safe driving discounts, good student discounts, and more. Some discounts will be automatically reflected in your quotes when you use Insurify, but you may need to ask your insurance provider about others.
Improve your credit: In most states, your credit score will affect how much you pay for auto insurance. Work on paying down debt to improve your credit score and access better rates.
Maintain a clean driving record: Accidents and speeding tickets will raise your insurance rates, so do your best to drive safely and avoid any violations.
Bundle your policies: Multi-policy discounts are some of the most lucrative, so you may want to get home and auto insurance with the same company.
Compare quotes with Insurify: Insurify users save an average of $585 per year just by comparing quotes and switching providers.
More about DMV.org
DMV.org was founded in 1999 and is headquartered in the greater San Diego area. The company's mission is to make it easier for consumers to conduct DMV business. DMV.org is also platinum Green Business Certified. DMV.org does not have a customer service phone number, but you can submit an inquiry through the online form.
Frequently Asked Questions
Yes. While some users cry "scam alert" on third-party websites, DMV.org isn't a phishing scam. The company won't ask for your credit card information or Social Security number. However, you may be directed to partner websites that do collect credit card information in exchange for unnecessary services.

DMV.org can only compare car insurance. If you want to check your rates for home or life insurance, you can use Insurify.

DMV.org is a website that can direct you to insurance companies in your area, but it doesn't allow you to compare premiums side by side like Insurify. While DMV.org users complain about disreputable advertisers, Insurify only partners with insurance companies and is the top-rated comparison tool online.
Compare Car Insurance Quotes Instantly
Personalized quotes in 5 minutes or less
No signup required
Data scientists at Insurify analyzed over 40 million auto insurance rates across the United States to compile the car insurance quotes, statistics, and data visualizations displayed on this page. The car insurance data includes coverage analysis and details on drivers' vehicles, driving records, and demographic information. With these insights, Insurify is able to offer drivers insight into how their car insurance premiums are priced by companies.