Why you can trust Insurify
The coronavirus pandemic has caused a lot of financial setbacks. Renters are especially vulnerable even with an eviction moratorium . If you're worried about paying rent, this article will walk you through your options and best bets. We're sorry you're going through a tough time right now. But we promise you there are more options out there than you think.
Did you know? Insurify helps you compare auto insurance and home insurance rates fast. Finding affordable, full coverage insurance is what we're about. Start with your ZIP code; end with the right insurance policy for you.
Can't Pay Rent? Take These First Steps
Before you panic, take a deep breath. Things like this happen all the time, so you're not alone. There are options for you, just be sure to take action as soon as possible. If you can contact your landlord before you miss a payment, you'll be much better off.
Consider What You Can Reasonably Afford
Before taking any measures, you really need to know what financial shape you're in. You'll need to know what your income looks like now and for the next few months. Can you expect a steady income from unemployment benefits ? How much do you have in savings?
Clearly defining your financial picture will help you speak honestly with your landlord. And you'll know what kind of plan can work for you, and which will be too much for you to afford. Don't wait—the earlier you act, the easier it will be to keep things under control and avoid extra fees.
Don't forget to consider what you can cut from your budget before your rent and food, which should be the top of your priorities. Lowering your phone bill, finding cheaper auto insurance, and going vegetarian for a few weeks may make a big difference to your rent deficit.
Contact Your Landlord
Once you know your financial situation, you should prepare to speak with your landlord as soon as possible. Getting ahead of the issue will help you avoid an eviction notice and a mark on your renting record. You may want to have ready:
Proof of financial hardship such as your notice from your employer
A statement to describe what's happened and what you're doing to get things back on track
A list of options that would work for you
You may not need everything during the call. You certainly don't have to hand your landlord a list of options to choose from. The idea here is to be prepared enough to be able to:
Answer your landlord's questions accurately
Stay calm during a difficult conversation
By contacting your landlord early and providing transparency, you're showing that you're a good tenant . Remember that landlords have to pay taxes, insurance, mortgages, and more. Do your best to approach them with compassion.
Your landlord may be willing to work with you by setting up a payment plan . Be sure whatever rent payments you agree to is feasible. You'll still be responsible for the rent you owe. You don't want to dig yourself into a hole.
Lastly, get any new arrangements in writing. An email where you both agree to the new terms works.
What if a Payment Plan Doesn't Work?
If you don't have a reliable income coming in for the foreseeable future, you may need to consider rent relief alternatives. You will still need to speak with your landlord, but you should be upfront about your inability to pay. Talk to your landlord about the early termination of your lease.
Of course, you need a safe home. Consider moving in with a trusted friend or relative. There may be someone in your family or religious community who needs some help, too.
On that note, don't forget to check out resources for financial assistance :
Department of Housing and Urban Development
Your city's Tenant Association
Ways To Work (for low-income families with children)
United Way
Salvation Army
Society of St. Vincent de Paul
Catholic Charities
Local Churches, Synagogues, Mosques
Next Steps: Be Proactive
Even with moratoriums on evictions and late fees thanks to the Cares Act , renters need a plan to get ahead of expenses. After making a rent plan with your landlord, you need to see it through. The rent will not pay itself, and more than likely you'll need to cover everything you miss.
Uncover your options and opportunities. Revamp your resume, reach out to contacts for job leads. Many businesses are hiring (like us) and even more are looking for freelancers and contractors who can work from home. If you don't have a big network, try reaching out to alumni of your college or high school. Your alma mater may also have employment services.
Don't forget to keep up-to-date on relief programs. The federal government has additional relief packages in the works. Your local and state governments may also provide relief in the near future. Take advantage of any assistance you can.
See the Big Picture
It may seem like everything is falling apart, but this setback is temporary. The economy recovered from every other recession. People who lost their jobs in previous years have found work again. And people who move home with their parents eventually move out.
Do your best to stay positive. Times of financial hardship aren't wholly terrible and useless. Many successful people experienced big financial setbacks, and many cite those setbacks as a turning point. A new idea, a new career, a new insight.
Practice gratitude and stress management to help you through.
Final Steps: You Can Do This!
Once you see that light appear at the end of the tunnel, you're going to feel a big sigh of relief. Enjoy that because you worked hard to get there. Without diminishing that success, you do need to consider some financial planning goals like:
Redoing your budget
Saving an emergency fund
Paying down debt
These three things will help you outlast future setbacks, which, by the way, is virtually guaranteed.
Frequently Asked Questions When You Can't Pay Rent
That depends on your situation. If you have unemployment benefits coming in to cover your food bills and other basic necessities, then yes. However, if you're struggling with feeding your family, then food should be your top priority. Food banks and other programs are available for food assistance to help you stretch your new income further.

That's ultimately up to you. Some cities, like New York and Los Angeles, are organizing rent strikes. You may want to consider how you can access legal services should your landlord take you to court. However, bear in mind that many landlords own just one or two rental properties. They're like mom-and-pop shops. Before deciding not to pay, consider if you'd be better off working with them.
Conclusion: How Renters Can Save Big on Expenses
Sometimes life throws us big, scary roadblocks. But that doesn't mean the game is over. A little help from resources, friends, and family is just the ticket to get back on track. While things may not move as quickly as we'd like them to, be assured that this too shall pass. In a few years, you'll have new financial and career goals, and you'll be looking back on this period as tough, but knowledge-inducing.
Of course, be safe out there. Job loss is a big deal on its own. In the middle of COVID-19 , it's an even bigger deal. If you're having trouble staying positive, please reach out to your local crisis center hotline to talk to someone who can help.
And when you need to save on car insurance, we're here to help! Insurify lets you shop, compare, and buy car insurance fast. One form gets you 6+ quotes in just two minutes. Find your best rate today!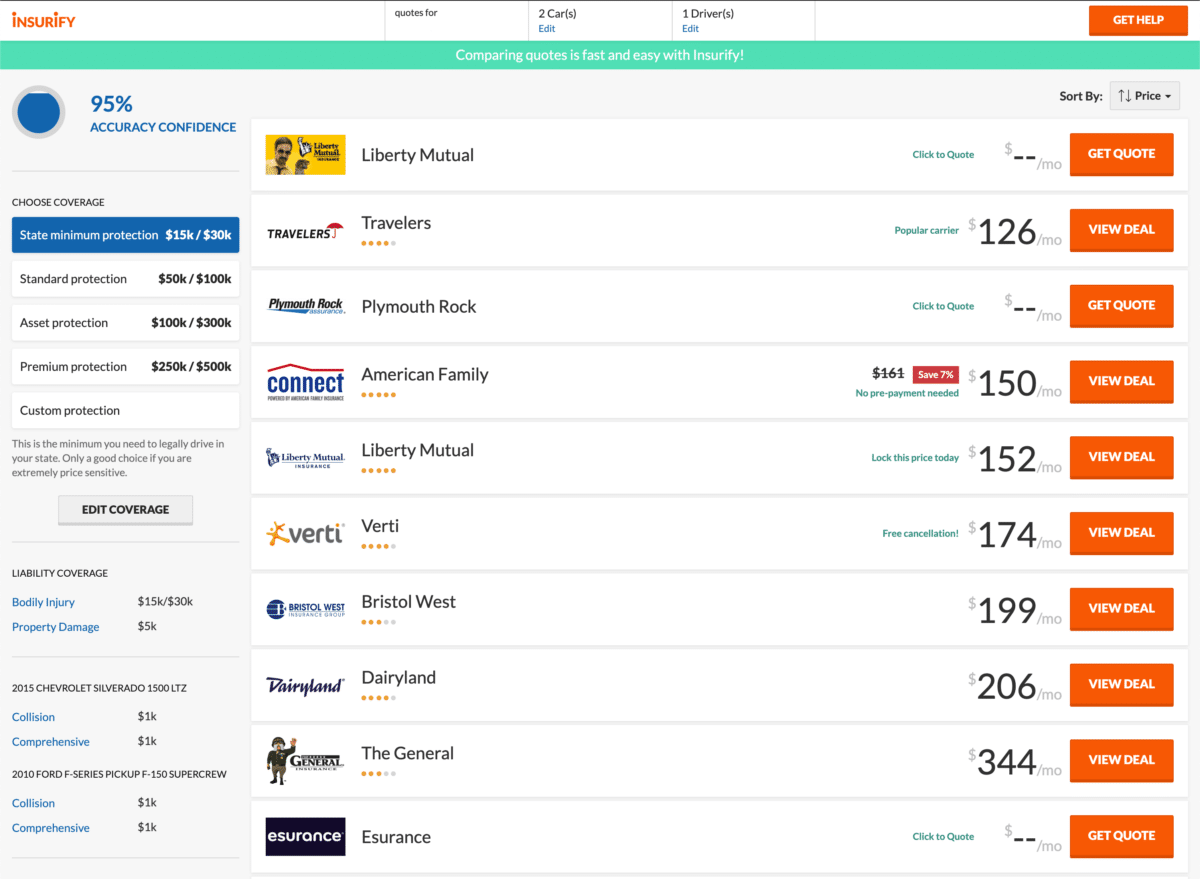 Compare Car Insurance Quotes Instantly
Personalized quotes in 5 minutes or less
No signup required
Methodology
The car insurance quotes displayed are based on an analysis of Insurify's database of over 40 million quotes from 500 ZIP codes nationwide. To obtain representative rates, Insurify's data science team performs frequent comprehensive analyses of the factors car insurance providers weigh to calculate rates including driver demographics, driving record, credit score, desired coverage level, and more.
Insurify's analysis also incorporates the Insurify Composite Score (ICS) assigned to each insurance provider. The ICS is a proprietary rating that weighs multiple factors reflecting the quality, reliability, and health of an insurance company. Ratings used to calculate the ICS include Financial Strength Ratings from A.M. Best, Standard & Poor's, Moody's, and Fitch; J.D. Power ratings; Consumer Reports customer satisfaction surveys and customer complaints; mobile app reviews; and user-generated company reviews.
With the above insights and ranking methods, Insurify is able to offer car insurance shoppers insight into how various insurance providers compare to one another in terms of both cost and quality. Note, actual quotes will vary based on unique attributes including the policyholder's driver history and their garaging address.