Why you can trust Insurify
Everyone knows that saving for retirement is essential, but few people have a solid investment strategy to hit their financial goals by retirement age.
Blooom aims to change that by providing retirement portfolio management and rebalancing strategies for 401(k) investments. Given that 79 percent of Americans have a 401(k) plan and few investment advisors provide 401(k) account management, Blooom (that's "Bloom" with three Os!) could meet a significant financial planning need.
While you're planning for retirement, don't forget that cutting expenses can make a significant difference in how far your savings will stretch, and reducing your insurance premiums is a great place to start. Consult Insurify's quote comparison tool to make sure you're not overpaying for insurance.
How Does Blooom Work?
Blooom is a robo-advisor explicitly designed for 401(k) investment planning. The process starts with a free investment analysis: clients link their retirement accounts to their Blooom accounts, and the robo-advisor reviews the current investments, fees, and asset allocations and suggests a strategy. This strategy aims to pick the most suitable investment options while minimizing fees.
Blooom Pricing and Service Tiers
Blooom clients can choose from three different service tiers:
Essentials , which provides ongoing investment advice and rebalancing for a single retirement account;
Standard , which also automatically places trades, provides withdrawal alerts, and grants email access to a human investment advisor; and
Unlimited , which extends these services to any number of retirement accounts and also includes live chat with investment advisors.
All three tiers have a flat annual fee. At the time of this writing:
The Essentials service costs $45 per year;
The Standard service costs $120 per year; and
The Unlimited service costs $250 per year.
Retirement Accounts
Blooom's primary focus is 401(k) investing , but it also works with other types of retirement accounts.
401(k)
A 401(k) account is the most common type of workplace retirement account, meaning your employer provides the account for you. However, with Blooom, neither the employer nor the trustee (the company holding the investments for your 401(k)) will manage the account for you—Blooom will.
Other workplace retirement accounts
Blooom also supports several less common employer-sponsored retirement plans, including:
401(a)
403(b)
457
TSP (Thrift Savings Plan)
Non-workplace retirement accounts
If your employer doesn't offer a 401(k), you probably have your retirement savings in an Individual Retirement Account (IRA) instead. At this time, Blooom only supports IRAs from Fidelity and Vanguard.
Does Blooom offer promo codes?
Blooom sometimes offers special promotions and discounts, including a referral program that pays a bonus for referring new clients.
Is Blooom legit?
Blooom is a fiduciary , meaning that the company is required by law to put its clients' best interests ahead of its own. It's also a Registered Investment Advisor firm. Because Blooom charges a flat fee rather than earning commissions from investment companies, it doesn't have a conflict of interest when recommending the best investments you should choose.
What is Blooom's online reputation?
Blooom is a reasonably new company, so there isn't a great deal of customer feedback online. The Better Business Bureau reports only two complaints and gives Blooom an A- rating based on its length of operation.
Blooom Reviews on Reddit
Reddit users are mostly silent on the subject of Blooom. One poster reports that using Blooom resulted in low and even negative returns on his 401(k).
Blooom vs. Competitors
Blooom is the only robo-advisor to specialize in 401(k)s. Still, plenty of other robo-advisor companies are happy to help with financial advice in general and retirement accounts in particular. Here's how Blooom stacks up in comparison.
Blooom vs. FutureAdvisor
FutureAdvisor offers two different levels of service. The first is a basic, free analysis. FutureAdvisor's robot will analyze any investment portfolio and provide suggestions, which you can then implement (or not). The second service is a full-scale investment management program and is only available for TD Ameritrade or Fidelity accounts. The investment management program charges an account management fee of 0.5 percent of the total portfolio value. That means FutureAdvisor will be cheaper than Blooom for small portfolios but will quickly become more expensive on larger ones.
Like Blooom, FutureAdvisor's free portfolio analysis tool gives rebalancing advice but doesn't help with tax-loss harvesting (a strategy to minimize capital gains taxes). FutureAdvisor's premium service does include tax-loss harvesting strategies. Also, while Blooom only advises on retirement accounts, FutureAdvisor can help with both standard investment accounts and retirement accounts.
Blooom vs. Betterment
Betterment provides investment advice and acts as a bank, offering checking, savings, investment, and retirement accounts. There is no monthly service fee for Betterment's checking or savings accounts. The basic robo-advisor service costs 0.25 percent of the total portfolio value for both standard investment accounts and retirement accounts. Betterment also has a premium service for accounts with balances of $100,000 or above; this service's investment fee is 0.4 percent of the portfolio balance. The main difference between the two plans is that the basic plan is strictly a robo-advisor service, while the premium plan includes access to human CFPs (certified financial planners).
Betterment has several different investment strategies to choose from, based on your investment goals. The robo-advisor automatically rebalances accounts held at Betterment, but unlike Blooom, it can't perform trades on your accounts held elsewhere (although it still provides advice for those accounts). Betterment's percentage-based fee means it will be cheaper than Blooom for small accounts but will become more expensive as your account balances grow.
Blooom vs. Personal Capital
Unlike the previous two firms, Personal Capital puts its emphasis on human advisors. However, it also includes an impressive suite of free robo-advisor-driven tools, including a retirement planning tool, a fee analyzer, and an investment checkup for rebalancing to hit your allocation goals.
Given its emphasis on personalized human advice, it's not surprising that Personal Capital is more expensive than Blooom's other competitors. Personal Capital charges a 0.89 percent account management fee on portfolios under $1 million in size. The fee drops for bigger accounts, eventually reaching 0.49 percent on portfolios over $10 million. Personal Capital will manage standard investment accounts, a variety of IRA accounts, and trusts. The company will provide advice on 401(k)s but won't actually manage the accounts for you.
How to Cancel Your Blooom Account
If you've tried out Blooom and decide you don't like it, canceling your account is relatively easy. First, sign in to your Blooom account online. Click the menu in the upper right-hand corner and choose Account Settings. Then, click the three dots on the account you want to cancel and click Cancel Management. You may get a prorated refund when you cancel if you have sufficient time left on your subscription.
Blooom FAQ
Blooom is a robo-advisor specializing in 401(k) investment advice and management services, although it will also advise on other types of retirement accounts. The two higher-tier service plans also give you access to human financial advisors.

Canceling Blooom is a matter of signing in to your Blooom account, going into Account Settings in the menu, then clicking on the three dots next to your account and choosing Cancel Management. If you have any trouble, use Blooom's contact form to reach out for help.

Insurify provides a free quote comparison tool that you can use to compare different insurance policies that have the same features. That means you can easily see whether you're paying the right price for your insurance.
Conclusion: How to get the best and cheapest insurance
Want to be able to contribute more to your retirement goals?
Use Insurify to identify the best possible deal on your insurance policies, and you can put the extra money you've saved into your 401(k) or IRA. Insurify's quote comparison tool is free and easy to use, so why not give it a shot?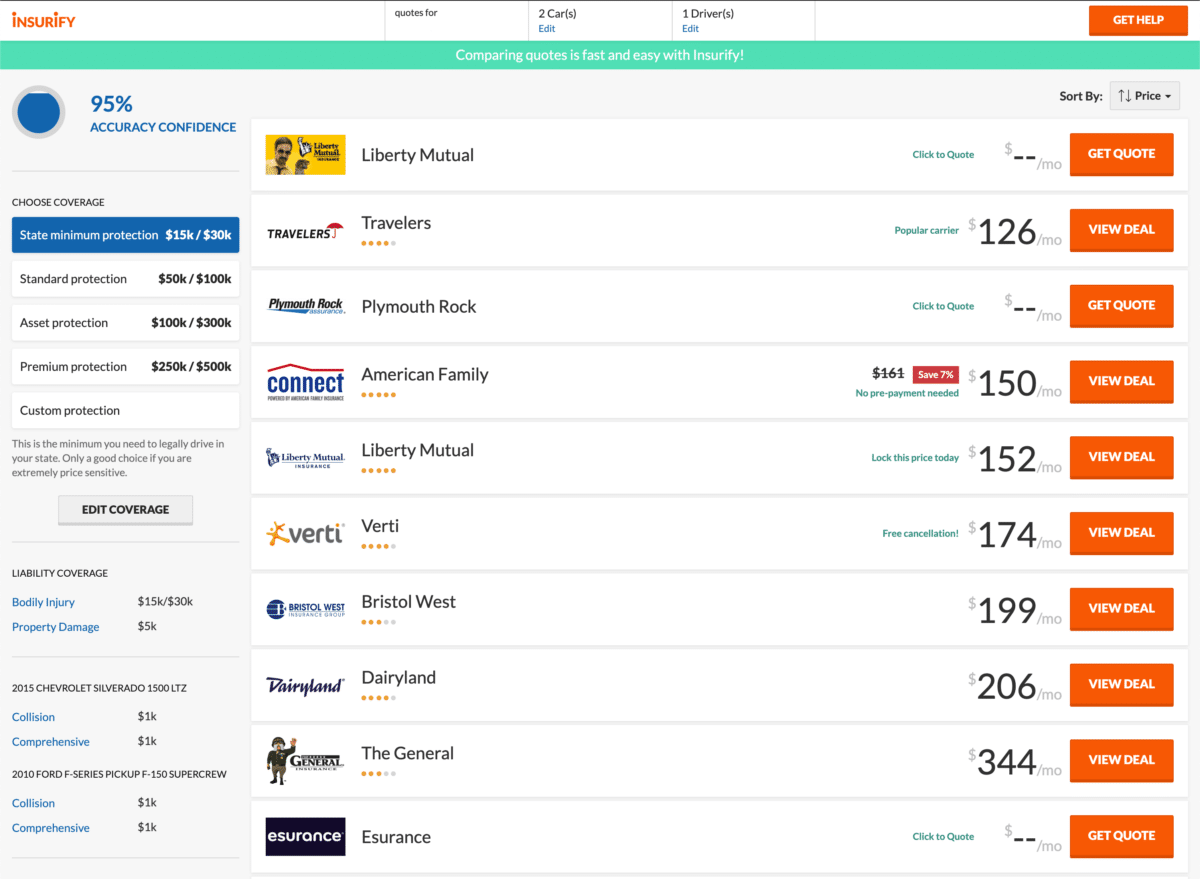 Compare Car Insurance Quotes Instantly
Personalized quotes in 5 minutes or less
No signup required
Methodology
The car insurance quotes displayed are based on an analysis of Insurify's database of over 40 million quotes from 500 ZIP codes nationwide. To obtain representative rates, Insurify's data science team performs frequent comprehensive analyses of the factors car insurance providers weigh to calculate rates including driver demographics, driving record, credit score, desired coverage level, and more.
Insurify's analysis also incorporates the Insurify Composite Score (ICS) assigned to each insurance provider. The ICS is a proprietary rating that weighs multiple factors reflecting the quality, reliability, and health of an insurance company. Ratings used to calculate the ICS include Financial Strength Ratings from A.M. Best, Standard & Poor's, Moody's, and Fitch; J.D. Power ratings; Consumer Reports customer satisfaction surveys and customer complaints; mobile app reviews; and user-generated company reviews.
With the above insights and ranking methods, Insurify is able to offer car insurance shoppers insight into how various insurance providers compare to one another in terms of both cost and quality. Note, actual quotes will vary based on unique attributes including the policyholder's driver history and their garaging address.