Why you can trust Insurify
The ability to bank remotely is one of the great conveniences of the 21st century. No wonder it's been so widely adopted. Statista reports that there were 57 million mobile banking users in the U.S. in 2019.
Online banking is generally available from two different types of financial institutions. First, almost all traditional banks (with brick-and-mortar branches) offer an online banking option, be it through a website, a mobile app, or both. Second, a growing number of online-only banks have been changing the financial landscape in recent years. These banks have no brick-and-mortar presence at all. While that means you can't dash down to the local branch to buy a cashier's check, the upside is that the money these banks save from not having to maintain physical branches generally translates to low fees and higher interest rates for customers.
Between online-only and traditional banks with some online presence, you've got plenty of options available to you. We've pulled together information on a wide range of online bank possibilities to help you pick the best online bank for you.
And while you're reviewing your financial options, don't forget to stop by Insurify's quote comparison tool to check out your insurance situation. By comparing quotes from various insurers, you can confirm whether your existing policy is the best deal.
8 Best Online Banks for 2020: Bank Reviews
Nearly all banks these days have some form of online banking, and many have released full-scale apps that allow you to do almost anything online that you could do in a branch. However, certain banks have pushed the envelope by scaling way back or eliminating their brick-and-mortar bank branches. Because they have few or no physical locations, these banks can often afford to extend perks that physical banks can't—particularly, improved interest rates. Here's a sampling of the best online banks.
Chime
Chime is an online-only bank that's fully FDIC insured. This bank is willing to open accounts regardless of a customer's credit or banking history, and it offers checking, savings, and Visa debit cards. Chime offers some nice perks to account holders, including early direct deposit, no overdraft fees for qualified customers, and an automated savings system. The interest rate on the online savings account is quite a competitive rate, sitting at 1 percent APY (annual percentage yield) as of this writing. Chime has a 38,000-strong fee-free ATM network.
Chime's banking app is available for both Android and Apple devices. The app is well received, with an average score of 4.5 stars on the Google Play Store and 4.8 stars on the App Store.
For more information, see our full Chime review .
MoneyLion
MoneyLion is a combination online bank and online brokerage. The checking account includes perks like direct deposit advance and a debit card that includes a nice rewards program. MoneyLion's no-fee investment account emphasizes an automatic investment program that wire transfers a preset amount from the checking account to purchase investments picked by the bank's robo-adviser. Finally, MoneyLion offers a Credit Builder Loan for catching up on late debt payments. There is no interest-bearing savings account available at this bank. MoneyLion has a 55,000-strong fee-free ATM network.
MoneyLion's app is available for both Android and Apple devices. Several users commented on technical issues related to the app, but otherwise, reviews are quite positive. It has an average score of 4.3 stars on the Google Play Store and 4.7 stars on the App Store.
For more information, see our full MoneyLion review .
Ally Bank
Ally Bank is one of the bigger online-only banks. It offers checking and savings accounts and CDs, brokerage and IRA accounts, home loans, auto loans, and personal loans. Perks include commission-free investments, free robo-adviser services, and 24/7 customer service via phone or online chat. If you're looking for an online bank that's also a one-stop-shop, Ally Bank may be a good choice for you. The interest rate on Ally Bank's savings account is a reasonable 0.6 percent, while the money market account rate is 0.5 percent at the time of this writing. The bank's checking account also pays interest to the tune of 0.1 percent APY for account balances under $15,000 or 0.25 percent APY for balances of $15,000 or more, which is excellent for an online checking account. Ally Bank has a 43,000-strong fee-free ATM network.
The bank's app, Ally Mobile, is available for both Android and Apple devices. Users complain of technical issues like frequent updates, but most approve of the app's user interface. Ally Mobile has an average score of 4.3 stars on the Google Play Store and 4.7 stars on the App Store.
Radius Bank
Radius Bank is a relatively large Boston-based online bank, holding over $1.4 billion in assets. Radius offers a fairly comprehensive slate of banking products, including checking, savings, CDs, credit cards, various loan products, and even trust accounts. In addition to typical bank perks like overdraft protection, Radius Bank account holders can get unlimited cashback, refunds on ATM fees, an interest-bearing checking account, and early direct deposit. Debit cardholders earn 1 percent cash back on signed purchases using the card. The interest rate on Radius Bank's savings account is a relatively low 0.15 percent APY on balances under $25,000 and 0.25 percent APY on balances over that at the time of this writing. On the other hand, the Rewards checking account pays a generous (for a checking account) 0.10 percent APY on balances below $100,000. Radius Bank has an enormous 325,000-strong fee-free ATM network and also offers unlimited ATM fee rebates, meaning that if you use an out-of-network ATM and get charged a fee by the other bank, Radius will reimburse you for the fee.
Radius Bank's app, Radius Mobile, is available for both Android and Apple devices. Users note some issues with app crashes when using the transfer and pay function, but they are otherwise mostly pleased with how it works. Radius Mobile has an average score of 4.2 stars on the Google Play Store and 4.5 stars on the App Store.
Simple
Simple is an online bank that emphasizes saving and budgeting. The bank offers a spending account, or checking account for day-to-day spending, and a high-yield savings account optimized for setting and meeting financial goals. Other Simple products include debit cards, CDs, and personal loans. The Simple checking account comes with a built-in expense tracker that helps you build an accurate budget, while the savings account lets you set money aside for different financial goals within a single account. You can also use features like Round-up Rules that round up every purchase and put the spare change in your savings account so that you can painlessly build up a cash cushion. The interest rate on the high-yield "Goals" account is a decent 0.5 percent APY at the time of this writing. Simple has a 40,000-strong fee-free ATM network.
Simple's app is available for both Android and Apple devices. It received decent overall reviews from users, with the primary complaint being the difficulty of reaching someone in customer service. The app has an average score of 4.3 stars on the Google Play Store and 4.6 stars on the App Store.
Update : On Jan. 7, 2021, Simple announced that it would be shutting down in 2021. If you're a current Simple customer, you needn't worry since your debit card, online banking, and mobile app will continue to work, and you can access your account as normal. Simple deposits will remain FDIC-insured through its parent company, BBVA, so your money will remain safe. Eventually, all your account management systems will also switch over to BBVA's online banking system, but BBVA has not yet provided a timeline for this transition.
Stash
Stash is a combination bank and investment program. All subscribers get a checking account, a debit card, an investment account, and the opportunity to purchase fractional shares (meaning you can put in just a few dollars at a time and gradually build up your stock portfolio). Subscribers to the higher tier plans get additional perks, such as an IRA and investment accounts for your kids. A basic subscription to Stash is currently $1 per month, and the most expensive tier is $9 per month. There's no interest-bearing account available at Stash, so you'd need to keep your savings elsewhere. One of the nicer perks at Stash is the Stock Back debit card rewards program, which gifts you with stock in the companies from which you make purchases. Stash has a 19,000-strong fee-free ATM network.
The Stash app is available for both Android and Apple devices. It's moderately well-received by reviewers, with an average score of 4.1 stars on the Google Play Store and 4.7 stars on the App Store.
M1Finance
M1Finance is an online banking platform that combines a checking account and debit card with an investment account. A basic subscription is free but comes with few perks. The M1 Plus subscription costs $125 per year but includes a high-interest checking account with an interest rate of 1 percent APY, 1 percent cash back on that debit card, and four ATM fee reimbursements per month. Both subscription tiers come with an integrated investment account that can take the form of a traditional brokerage account, IRA, or trust account. You can set up automatic investments in this account using money pulled from the checking account. Finally, M1Finance lets you borrow on margin (meaning you're borrowing against the funds in your investment account) and use the money for anything you like. Note that this kind of borrowing is risky because if you can't repay the loan, you'll lose those funds you've invested. M1Finance does not appear to have any fee-free ATMs.
The M1Finance app is available for both Android and Apple devices. Users complain that the it takes a very long time to transfer funds, but otherwise, this app receives mostly positive reviews. The M1Finance app has an average score of 4.5 stars on the Google Play Store and 4.6 stars on the App Store.
Acorns
Acorns is based on the theory that "from acorns, mighty oaks do grow." It's a micro-investing program that lets you round up purchases and use the change to fund your investment account. Buying from certain brands can also earn you rewards on your debit card purchases. The basic tier includes a checking account and Visa debit card, plus a commission-free brokerage account, and costs a $1 monthly fee. The next tier up costs $3 per month and adds in a retirement account, while the top "Family" tier costs $5 per month and includes an investment account for your kids. Acorns' most unusual feature is the Acorns Earn program, which helps you earn more money through identifying brands that offer rewards and even helps you find a new job or side gig. Acorns has a 55,000-strong fee-free ATM network.
The Acorns app is available for both Android and Apple devices. Most users are happy with it, though a few complain of various technical issues. The app has an average score of 4.4 stars on the Google Play Store and 4.7 stars on the App Store.
Best Online Financial Providers That Don't Have Banking Services
Banking isn't the only financial need that the internet can help you meet. The following companies specialize in helping you achieve your financial goals in different ways.
Public
Public combines social media with investing. It's an app that aims to make investing painless by removing the traditional challenges of high share prices and lack of in-depth understanding of the stock market. You can see how other people choose to invest and use that information to help you choose an investment strategy. Public also sorts different investments by Themes, which are groups of stocks classed under a particular category—for example, environment-friendly companies. And unlike most brokerages, Public lets you buy fractions of shares commission-free, meaning you can get started with as little as $5 to invest.
Public's app is free to download and use. The app is available for both Android and Apple devices. It received several negative reviews related to various glitches but overall, is fairly well received. It has an average score of 4.5 stars on the Google Play Store and 4.7 stars on the App Store.
An example of Public's mobile app interface.
Robinhood
Robinhood was one of the first online fractional-share investment systems, allowing users to purchase stocks a few dollars at a time. The Cash Management account works similarly to a checking account. Briefly, money left in your Robinhood brokerage account gets swept over to one or more banks that are part of Robinhood's network, earning you 0.3 percent APY on the money because you're essentially lending it to those banks. Account holders get a debit card that they can use to make purchases funded by the Cash Management account, with no-fee ATM access. And they can also pay bills and accept direct deposits (including paychecks) into the account. However, the main focus of Robinhood is investing: you can choose from stocks and mutual funds, options, and even crypto. The basic Robinhood account is free access, and there's also a Robinhood Gold program that includes access to special perks for $5 per month. Robinhood has a 75,000-strong fee-free ATM network.
The Robinhood app is available for both Android and Apple devices. Some users complain of a lack of live customer service, but overall, the app receives decent reviews. The Robinhood app has an average score of 4.3 stars on the Google Play Store and 4.8 stars on the App Store.
Best Online Banks FAQ
Because different people have different financial needs and preferences, there's no "one-size-fits-all" best online bank for 2020 or any other year. Luckily, there are several excellent online banks that offer a wide range of products, services, features, and perks. Reading through this article's descriptions should help you identify the online bank that's the best fit for your needs.

As of this writing, interest rates are meager—which is great for borrowers but not great for saving money. Online banks typically offer much better savings interest rates than brick-and-mortar banks because they use the money they save from not running physical branches to fund their customers' interest payments. Of the banks featured here, Chime currently has the best savings account APY at 1 percent. Interest rates and bank policies change over time, so it's a good idea to compare rates at different banks regularly.

Speaking of comparing rates, when you're done setting up your accounts at the right online bank, don't forget to take a hard look at your insurance setup as well. Use Insurify to identify your coverage options and find the right insurance provider at the right price.
Conclusion: The best way to compare and buy insurance policies online
Choosing the right types of insurance and insurance carriers will help protect you if something goes wrong, without costing you an arm and a leg today.
Insurify's quote comparison tool makes it quick and easy to compare similar policies from different insurers, so you can be confident you're getting the best deal on the coverage you need. What's more, you can log onto Insurify once or twice a year and run a new quote comparison so you can be sure that your current provider is still the best available option for you.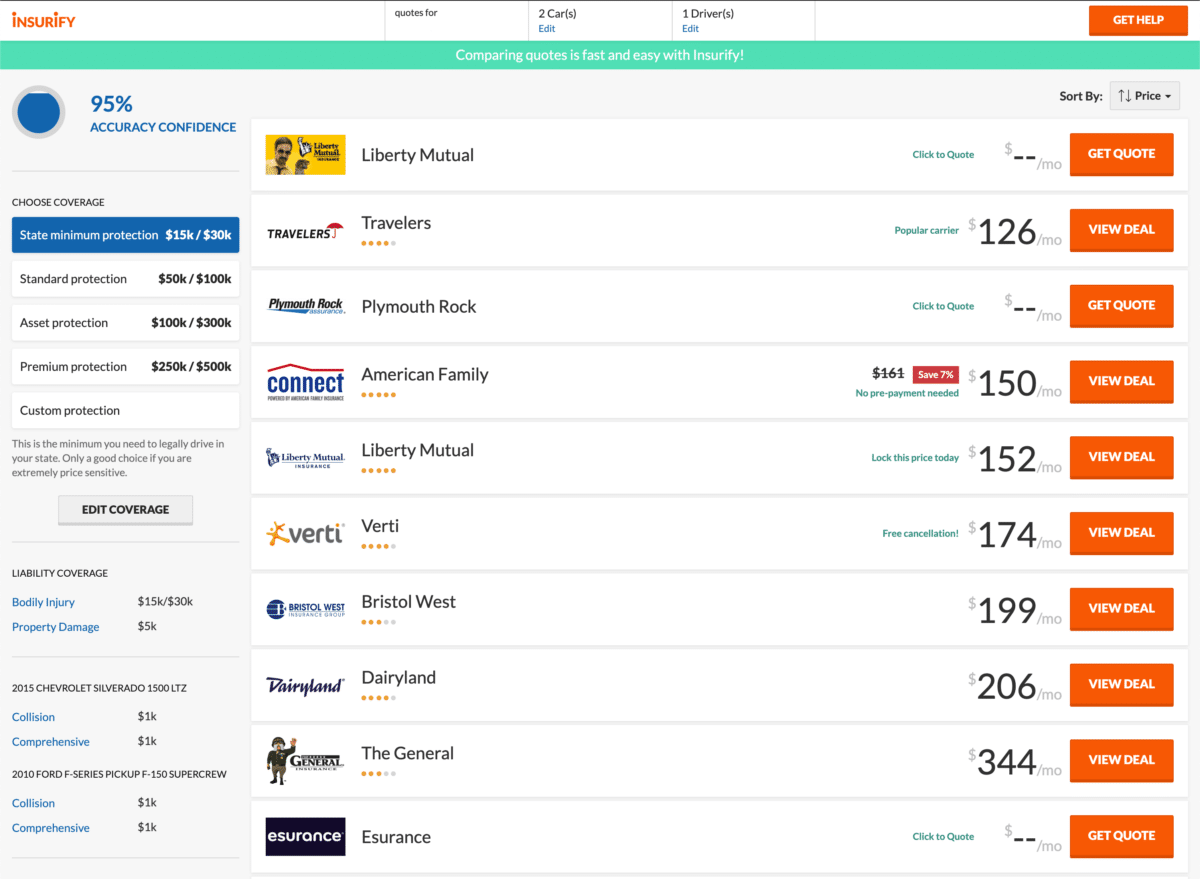 Personal finance is personal again with Insurify!
Compare Car Insurance Quotes Instantly
Personalized quotes in 5 minutes or less
No signup required
Methodology
The car insurance quotes displayed are based on an analysis of Insurify's database of over 40 million quotes from 500 ZIP codes nationwide. To obtain representative rates, Insurify's data science team performs frequent comprehensive analyses of the factors car insurance providers weigh to calculate rates including driver demographics, driving record, credit score, desired coverage level, and more.
Insurify's analysis also incorporates the Insurify Composite Score (ICS) assigned to each insurance provider. The ICS is a proprietary rating that weighs multiple factors reflecting the quality, reliability, and health of an insurance company. Ratings used to calculate the ICS include Financial Strength Ratings from A.M. Best, Standard & Poor's, Moody's, and Fitch; J.D. Power ratings; Consumer Reports customer satisfaction surveys and customer complaints; mobile app reviews; and user-generated company reviews.
With the above insights and ranking methods, Insurify is able to offer car insurance shoppers insight into how various insurance providers compare to one another in terms of both cost and quality. Note, actual quotes will vary based on unique attributes including the policyholder's driver history and their garaging address.