Blog
Home Insurance
Windstorm Insurance How It Works And What It Covers
Why you can trust Insurify
What does windstorm insurance cover?
Windsotrm insurance picks up where your regular homeowners insurance policy ends in terms of damage caused by winds and rains. It is a must for homeowners who live in storm-prone areas.
Many people don't realize that homeowners insurance doesn't cover every single claimable incident. Windstorm damage and flooding are two such events that are not covered by your policy. Your homeowners insurance policy does cover damage by minor weather events, but in coastal areas where storms cause more damage, those coverage limits aren't enough.
Luckily, with windstorm insurance, you're not stuck having to pay for a new roof when 20-mile-per-hour winds take off half of it (along with some siding, too) or cause a tree to fall on your garage. Windstorm policies were created just for situations like this.
In some high-risk areas, wind insurance is mandated by law, so there are plenty of options when it comes to finding the right coverage. Get the best rates on your insurance by using a comparison tool like Insurify to compare and shop rates online with just a few clicks.
How Does Windstorm Insurance Work?
Windstorm insurance is purchased in addition to your homeowners insurance, not in place of it. Your basic policy outlines what is covered by it so you can make an educated decision when purchasing a windstorm insurance policy. Depending on where you live, your state or your mortgage lender may require you to have a windstorm policy in place at all times.
Basic home insurance policies cover incidents like a tree limb falling and breaking your window or damaged siding. Things that can, and do, happen in any season, any day of the year. This coverage usually ends where major weather events—ones that are more spontaneous and far more disastrous—start. Damage that falls outside a typical homeowners insurance policy includes hail, high-speed winds, and hurricane damage.
Before your insurance coverage begins, you'll need to meet the requirements of the insurance company. This is typically easy, but in some situations, you'll need to do some repairs to the house to ensure it meets the insurance company 's minimum requirements.
Making a Windstorm Claim
When you make a claim on windstorm damage, you'll need to pay a windstorm deductible that's specific to your windstorm coverage. This is the amount you pay out of pocket before your insurer starts paying your insurance claim. Your deductible is either a set dollar amount, like you have on your dwelling coverage, or a percentage of your home's value.
If you have a $200,000 house and a 3 percent deductible, your deductible is $6,000. You can find the amount you're responsible for on your declarations page. This deductible only applies when you make a claim for windstorm coverage. You don't need to meet both your home insurance deductible and your wind and hail deductible in order to make a claim on damages from a particularly bad storm.
Typically, there is a time limit on claims made by policyholders, so it's essential that you submit your claim as soon as you can after experiencing storm damage. You'll need to have photos or videos documenting the damage, plus proof of the storm. You can find records from your local television news station or newspaper website. You also need to get at least one inspection to assess the damages.
Once this is done, submit the claim to your insurance company as they request. After they receive it, they'll send out a claims adjuster to look over the damage. Finally, you'll hear back from the insurance company about the next steps you need to take to get the work done as well as reimbursement for the costs of the repairs.
See more: Texas Windstorm Insurance
What Does Windstorm Insurance Cover?
Windstorm insurance policies cover wind damage and hail damage to your home, property, and personal property (your personal belongings like clothing and furniture). It may also cover additional living expenses, such as staying in a hotel until your home is repaired and inhabitable. Additional structures like garages and storage sheds are included.
A few things which aren't covered: floodwater backing up, flood damage, storm surges, and fire caused by the storm. You need separate policies for hurricane insurance and flood insurance to give you complete coverage from tropical storms and hurricanes. Your insurance carrier can help you determine which policies you need in addition to your property insurance.
One caveat about windstorm insurance is that not every part of a claimable incident is covered. Say your picture window is broken by flying debris. The window is covered, but the water damage to your furniture that was a result of rain coming into your house is not.
Compare Car Insurance Quotes Instantly
Personalized quotes in 5 minutes or less
No signup required
Protecting Your Home from Windstorms
It's impossible to predict what damage a storm will do to your home and property, but there are actions you can take to reduce the amount of damage.
Keep the roof in good condition: make repairs and replace shingles as needed.

Ground all appliances to reduce the risk of electrical issues during and after a storm.

Take patio and lawn furniture into your garage when you know a storm is on the way.

Cover your windows and consider installing storm shutters.

Trim trees and remove broken branches as needed.

Seal or caulk holes and cracks where water could get in or cause damage to your home.

Clean out gutters regularly and make sure they drain at least three feet away from the foundation.

Check your sump pump to ensure it's working and that the drainage lines are free of debris.
By keeping up with regular maintenance and going through this pre-storm checklist, you can do everything humanly possible to prevent damage.
FAQ: Windstorm Insurance
Coastal states and central plains states are considered to have the highest risk of wind-related damage. This includes Alabama, Florida, Georgia, Kansas, Louisiana, Mississippi, Nebraska, New York, North Carolina, Oklahoma, Pennsylvania, South Carolina, and Texas.

You can expect about an 11 percent increase in your windstorm insurance premiums after you receive a payout from a claim. You may be able to find a less expensive policy by shopping rates among other insurance companies.

For those who can't find an insurance company that will underwrite windstorm insurance due to past claim history or the location of your home, a last-resort option is the FAIR (Fair Access to Insurance Requirements) Plan. You can find information from your state's insurance commission website.

Yes, when you make a claim, you will have a separate windstorm deductible that you are responsible for paying before your insurance kicks in. It may be a flat rate or a percentage of the value of your home.
Conclusion: Get Windstorm Insurance Quotes Online to Save Time and Money
When extreme weather is a possibility, it's important to have adequate amounts of insurance on your property, including windstorm insurance. It gives you far more protection against named storms, hail, and high winds without adding too much cost.
In addition to getting adequate property and casualty insurance coverage, underwriting is easy to do online. Just answer some simple questions to get your customized quotes in a few minutes. And there's no need to speak to an insurance agent unless you want to!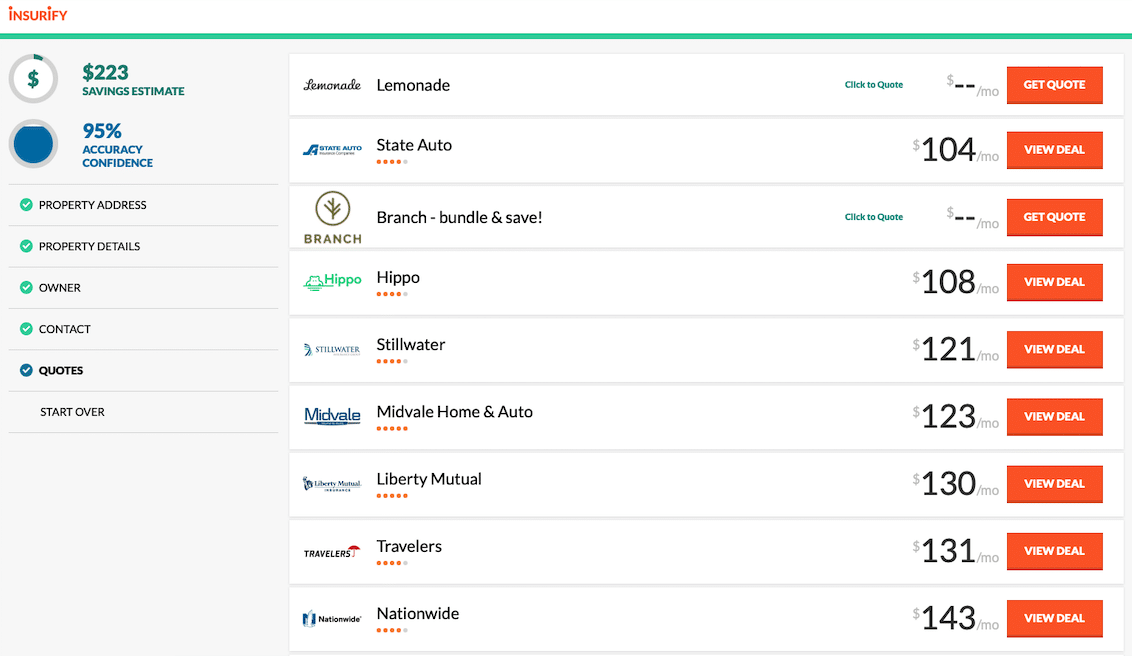 Compare Car Insurance Quotes Instantly
Personalized quotes in 5 minutes or less
No signup required
Data scientists at Insurify analyzed over 40 million auto insurance rates across the United States to compile the car insurance quotes, statistics, and data visualizations displayed on this page. The car insurance data includes coverage analysis and details on drivers' vehicles, driving records, and demographic information. With these insights, Insurify is able to offer drivers insight into how their car insurance premiums are priced by companies.