Where can I keep the money for a down payment on a house?
You can park your down payment in a savings account, CD, or brokerage account. Where to stash your down payment depends on your timeline, total savings, and risk level.
The U.S. housing market has seen an incredible boom during the pandemic. According to the National Association of Realtors, home prices are climbing at record rates—median prices of existing home sales increased 23.4 percent from July 2020 to July 2021.
With homes selling in 17 days on average, frustration is common for house-hunters in this market.
If you don't buy a house this year, you'll need a spot to park your down payment savings until the time is right. Here's what savers should consider to safeguard that hard-earned cash.
How Soon Will You Withdraw the Money?
Everyone's journey to homeownership looks a little different. If you didn't buy a house this year, you might want to take a break—or you may be sitting on the edge of your seat waiting to pounce on the next home you see.
Where you stash your down payment savings depends on your time frame and how soon you want to access it. "The general rule is that the closer you are to a goal, the less risk you want to take," says R.J. Weiss, CFP ® professional and founder of the personal finance site The Ways to Wealth.
"On the other side of the coin, the longer you are away from the goal, the more risk you're able to take."
Weiss suggests would-be homeowners keep the money in a high-interest savings account if they plan to use it within the next two years.
If you hold off on buying a new home for longer, you can take advantage of other ways to stash your savings. Weiss suggests that a low-risk bond fund can start to make sense if your goal is to wait longer than two years but less than five.
"While you still want to be conservative, with the longer time horizon, you're likely able to get an extra percent or two annually on your savings without taking a lot of risk," Weiss says.
What's the Size of Your Down Payment Savings?
Most people believe they need to save 20 percent for a down payment to buy a house. How big is your house savings? It depends on the home loan program you use and the cost of homes in your area.
For example, conventional loans typically require larger down payments from borrowers, while FHA loans have more flexible down payment and credit score requirements.
The median down payment for homebuyers was just 12 percent, according to the 2020 Downpayment Expectations & Hurdles to Homeownership report by the National Association of Realtors Research Group.
The Federal Reserve Bank of St. Louis observed an average house sales price of $434,200 as of July 2021. Using that amount, a 12 percent down payment would be over $52,000—and that isn't counting closing costs, which can average between two and five percent of the home's purchase price.
When it comes to saving money, size matters. Higher balances open up more opportunities to make money while you're waiting for the right house to come along.
But you also don't want to invest in anything that could jeopardize your savings. Buying a house is stressful enough —you want to have the cash available when you're ready to purchase.
Lawrence D. Sprung, CFP ® professional and founder of Mitlin Financial, also recommends storing the funds in a high-interest savings account. "The idea here is not to make a return on your money but make sure you have a return of your money for the purchase," Sprung said.
Compare Car Insurance Quotes Instantly
Personalized quotes in 5 minutes or less
No signup required
How Much Risk Are You Comfortable With?
If you're more comfortable with risk and have a larger sum of money, you may have more options.
You don't want to put all your eggs in one basket, so you might consider splitting up the funds. For example, you could deposit a portion in a savings account and another in investment funds.
Weiss warns that you must understand the trade-offs: "While there's a chance you can reach your goal sooner, there's also a chance you can delay the time it takes you to buy a home."
If you don't mind the gamble, you might put 80 percent of your down payment into a high-yield savings account and 20 percent into investments. "As you get closer to your goal [of buying a house], start rebalancing more toward cash," Weiss says.
Best Places to Keep Your Down Payment
Now that your home-buying journey is on hold, you need a safe place to stash your cash. Here are the best places to keep your down payment.
Savings Account
A savings account can be a simple and easy choice. You likely already have one at your bank or credit union, where you have a checking account.
Because the Federal Deposit Insurance Corporation ( FDIC ) or National Credit Union Association (NCUA) insures your funds, your cash is secure.
Here's a pro tip: Keep your down payment in a separate account from your emergency fund or other savings. You might even choose to open an account at a different bank. That way, you won't be tempted to use it for an emergency or for everyday spending.
The downside of using a savings account is the dismal return on your funds. The FDIC reports an average interest rate of just 0.06 percent for savings accounts in the U.S. as of August 2021.
High-Yield Savings Account
Weiss and Sprung both recommend using a high-yield savings account to store your down payment funds.
"High is relative and maybe the equivalent of 0.50 percent to 1.25 percent," Sprung says. "It may be boring, but making sure the funds are there, all of them when you need it, will hopefully reduce some of the stress that is felt when buying a home."
Money Market Account
You'll have little to no risk if you stash your cash in a money market account. They're almost always FDIC -insured, but make sure to confirm this before you deposit your funds.
A word of caution: Don't confuse a money market account with money market funds. Money market funds are a type of mutual fund investment. While relatively low-risk, money market funds are not FDIC -insured.
CD
A CD, or certificate of deposit, is similar to a savings account with one significant difference—you must commit to depositing your money for a specific period of time. If you withdraw the funds before the end of the term, you usually pay penalties.
It might pay a higher interest rate depending on the minimum deposit amount and how long you want to wait to buy a house. For example, in August 2021, the FDIC reported a meager 0.03 percent interest rate on a one-month CD, while a 36-month CD earned 0.21 percent.
Brokerage Account
If you can tolerate higher risk, you can invest your down payment in a brokerage account. Your account can let you put your cash in stocks and mutual funds that can potentially earn higher returns than a high-yield savings account or a CD.
But investments aren't FDIC -insured, and the stock market can be volatile.
"Investing it in a brokerage account puts you at risk that you will have less money than you do now if your timing does not work out well," Sprung says.
Frequently Asked Questions
Financial planners generally recommend keeping your down payment in a high-yield savings account. You could invest it in a brokerage account, but investments aren't FDIC-insured, and you risk not having the money available when you need it.

Typically, mortgage lenders want you to put 20 percent down. It's a good rule of thumb—you may have to pay private mortgage insurance if you put less down. Such a large amount can be a hurdle for first-time homebuyers. Savers can look for down payment assistance programs to help with their home purchases.

If you're looking for a house, you're likely wondering if now is a good time to buy. Mortgage rates are historically low, but house prices are high. You might have less competition and more homes to choose from if you wait. On the other hand, home prices could continue to increase. No one knows for certain what the real estate market will do. Consider the pros and cons before deciding.
Where to Stash Your Down Payment
Most homebuyers need tens of thousands of dollars for a down payment. With that much money on the line, you'll need a safe place to stash your cash if you didn't buy a house this year.
A savings account is a good choice if you want convenience above all else. Investing your down payment in a brokerage account is a risky move—but it has the potential for the best returns. If you can handle the risk and your timeline is flexible, you may consider this option.
However, financial experts recommend parking your money in a high-yield savings account. It can offer higher returns than a traditional savings account and allow you near-instant access to your cash when the right home comes along.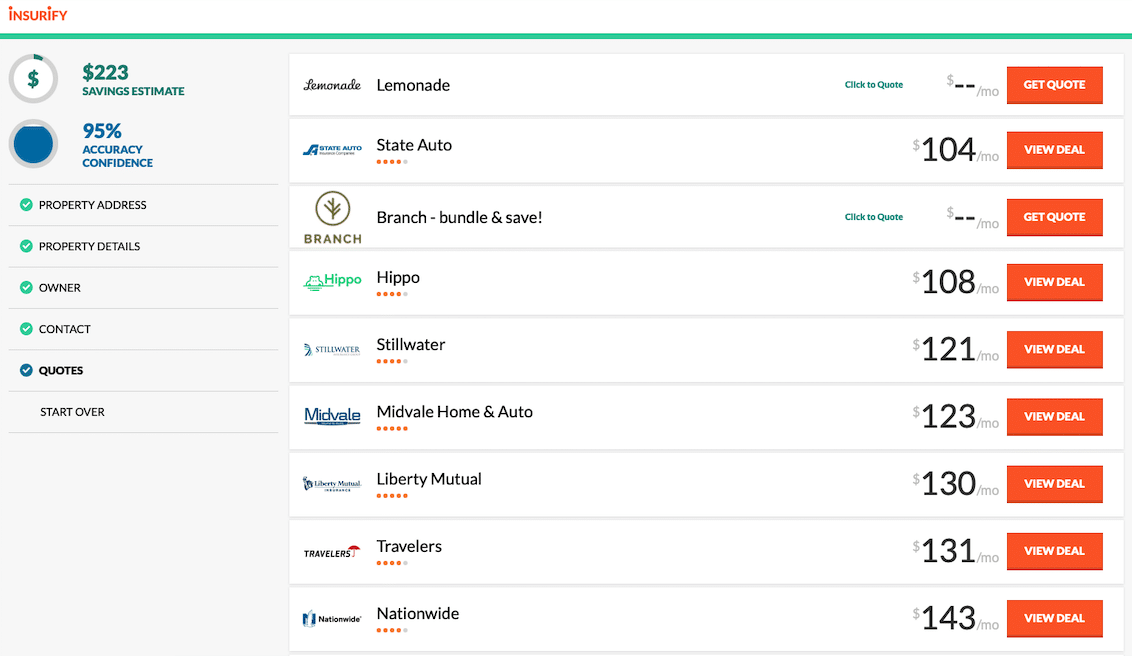 Compare Car Insurance Quotes Instantly
Personalized quotes in 5 minutes or less
No signup required
Data scientists at Insurify analyzed over 40 million auto insurance rates across the United States to compile the car insurance quotes, statistics, and data visualizations displayed on this page. The car insurance data includes coverage analysis and details on drivers' vehicles, driving records, and demographic information. With these insights, Insurify is able to offer drivers insight into how their car insurance premiums are priced by companies.