Where can I buy flood insurance?
You can get flood insurance from private insurers or the National Flood Insurance Program.
Floods can happen anywhere there's rain or snow, even for people who don't live in high-risk flood zones. Just an inch of floodwater can cause up to $25,000 in damage. Are you protected?
You may think your home insurance will cover flood damage, but it won't. Most homeowners insurance specifically excludes flood damage. To protect yourself against floods, you need flood insurance coverage. Flood insurance is a separate policy that covers buildings (namely, your house), the personal belongings inside, or both. It's a great way to protect your most important financial assets.
Learn more with our guide to flood insurance, from the things flood insurance covers to how to get a flood insurance quote.
Need a new homeowners insurance policy to complement your flood insurance? Check out Insurify to get quotes from top insurers.
Why You Need Flood Insurance
Floods are the most common natural disaster in the U.S., even for people who live outside traditional flood zones. Buying flood insurance can be a wise move, even if you don't think you'll ever have to file flood insurance claims, because if a flood does strike, your standard homeowners or renters insurance won't help you. Whether you own or rent, flood coverage can save you from a massive financial setback caused by water damage.
Flood insurance is available for homeowners, renters, and business owners. If you live in a high-risk flood area and have a mortgage with a federally regulated or insured lender, the Federal Emergency Management Agency ( FEMA ) will require you to buy flood insurance. However, even if you live in an area that's considered moderate- or low-risk, your lender might still require you to buy flood insurance—and even if they don't, it can still be a smart buy.
There are two ways you can get flood insurance. You can buy a policy through the National Flood Insurance Program ( NFIP ) if you live in one of the participating communities; these policies are backed by the federal government. Or you can opt for private flood insurance, which is sometimes cheaper but is usually only available in lower-risk areas.
The National Flood Insurance Program ( NFIP )
The NFIP has been around for more than 50 years. It was designed to provide flood insurance to property owners, renters, and businesses that have trouble finding flood insurance elsewhere, and the coverage helps them recover faster after a flood. Participating communities have to adopt and enforce floodplain management regulations that help them mitigate the effects of flooding.
NFIP flood insurance is available to anyone living in one of the 23,000 participating communities. You buy it through a traditional insurance agency just like home or auto insurance, not directly from the government. To find flood insurance providers that write NFIP policies, look online, call the NFIP Referral Call Center at 1 (888) 379-9531 for an insurance agent referral, or visit floodsmart.gov for more information.
NFIP coverage is reliable and available to everyone. However, there are a few drawbacks. The coverage limits are capped at $250,000, which can be a sticking point if your home or belongings are worth more than that. Also, NFIP policyholders aren't covered for additional living expenses if the flood temporarily displaces you from your home—you'll have to shoulder that financial burden yourself.
If you're going with an NFIP policy, you need to plan ahead—there's usually a 30-day waiting period for these policies to go into effect unless it's related to a flood map change or a federally backed lender is requiring you to buy it.
Compare Car Insurance Quotes Instantly
Personalized quotes in 5 minutes or less
No signup required
Private Flood Insurance
You can also buy flood insurance from private insurance companies. Unlike the NFIP, this option isn't available in every state, and the flood insurance premiums can vary greatly.
The main positive is that you can usually buy more coverage than the NFIP would allow. This is a real plus if your home would cost more than $250,000 to rebuild or repair. They also typically have a shorter waiting period, usually 14 days.
However, there are also risks associated with private insurance policies. Like other types of private insurance, the insurer can drop your coverage or decide not to renew it, which could make it hard to find a new policy. If you're dropped, you'll likely have to turn to an NFIP policy, which won't kick in for 30 days and may cost more for people who were previously using private insurers.
Frequently Asked Questions
Flood insurance covers both the structure of your home and the personal property inside in case of water damage from flooding. Flood insurance policies usually include things like appliances, carpeting, flooring, cabinets, electrical and plumbing systems, heating, and air conditioning units.

Private flood policies may vary, but NFIP flood insurance doesn't cover things like additional living expenses, walls and decks, external features like swimming pools, or valuable papers like currency and stock certificates. Read your policy contract to make sure you have a full list of what is and isn't covered.

The average flood insurance rate for a policy through NFIP is about $700 a year, according to FEMA. Rates are higher in regions that are at higher risk for flooding and lower in places that have less risk.
Buy Flood Insurance Sooner Rather Than Later
When it comes to flood insurance, act quickly. There's a waiting period on most flood insurance policies, so you can't wait until a major storm is looming and then buy a policy. Reach out to flood insurance providers today to find a policy that will cover you and your assets in case of flooding.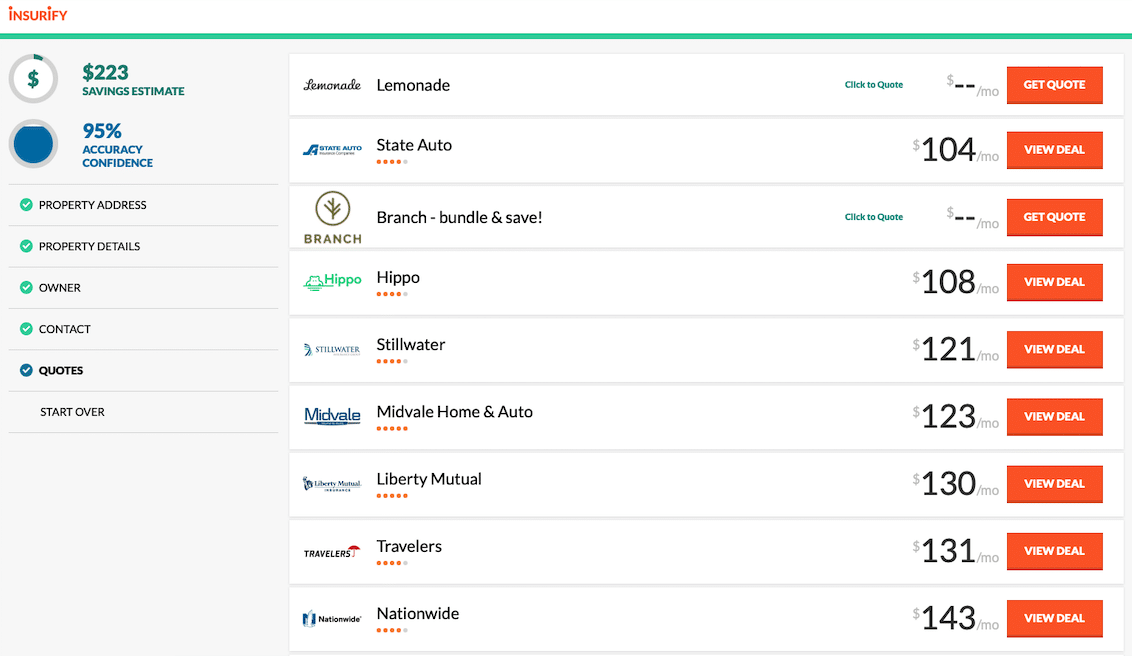 Compare Car Insurance Quotes Instantly
Personalized quotes in 5 minutes or less
No signup required
Data scientists at Insurify analyzed over 40 million auto insurance rates across the United States to compile the car insurance quotes, statistics, and data visualizations displayed on this page. The car insurance data includes coverage analysis and details on drivers' vehicles, driving records, and demographic information. With these insights, Insurify is able to offer drivers insight into how their car insurance premiums are priced by companies.