Does home insurance cover plumbing problems?
It depends on how the incident occurred. Your homeowners insurance policy may cover a plumbing issue through a loss of use clause, but it may be tricky.
A plumbing mishap or leaking pipe could leave homeowners in financial hot water. You might have a pipe burst due to cold weather or a leak that causes gradual damage over time. Either way, the repair costs can be high.
Does home insurance cover plumbing and pipe leaks? Your policy might cover the loss, but it depends on how the loss happened.
Insurify can help you sort through policy options to make sure you get the best homeowners insurance coverage for plumbing and pipe leaks. It's your one-stop shop to compare homeowners insurance quotes and coverage options, saving you time and money.
Will Homeowners Insurance Cover Plumbing and Pipe Leaks?
The Insurance Information Institute (III) lists water damage as one of the most common and costly hazards for homeowners. Fortunately, most standard homeowners insurance policies cover water damage from plumbing or leaky pipe disasters, such as:
a sudden burst pipe

a storm bringing wind-driven rain

ice dams forming on your roof
Your policy may cover sewer and drain backups, too. But many insurers require you to purchase this as additional coverage.
Homeowners policies can offer three types of protection:
Dwelling coverage insures the structure of your home. It can reimburse you for damage to your home's structure and built-in appliances, such as your roof, walls, and water heater.

Personal property coverage insures your personal property. It can pay for your clothing, TV, and furniture if a covered leak causes damage.

If the loss is significant, you may not be able to live in your home while repairs are being made. Standard homeowners insurance includes additional living expenses (ALE) coverage. Also called loss of use, ALE can reimburse you for hotel, travel, and food expenses if you need to find alternative housing.
When Damage from Plumbing and Pipe Leaks Isn't Covered
Home insurance policies don't cover every plumbing disaster or leaky pipe. That means you need separate insurance or savings in some situations. For example, a standard policy doesn't include:
Lack of maintenance

Sewer backup

Flooding
Normal wear and tear or maintenance issues can lead to plumbing mishaps that your homeowners policy won't cover.
Depending on your insurer, you may need an endorsement for water backup coverage or sewer line insurance. According to the III, insurance companies may charge about $50 more each year to add this endorsement to your policy.
Heavy rains, hurricane, storms, and melting snow can lead to flooding. If excess water causes your plumbing system to fail, your insurance won't cover it. That's because a standard homeowners policy doesn't cover flood damage.
If flooding is a concern in your area, consider a separate flood insurance policy.
Compare Car Insurance Quotes Instantly
Personalized quotes in 5 minutes or less
No signup required
How to Find a Leak: Checklist for Homeowners
Plumbing malfunctions and leaks are often obvious. But some could go on for days, weeks, or months before you notice. When that happens, it can cause significant and costly damage. To locate possible leaks, follow this checklist:
Check your utility bill for spikes in water use. If your water use is higher, it could be a sign of a leak.

Read your water meter when no water is being used. Check it again two hours later, without using any water in the meantime. You may have a leak if the meter doesn't read exactly the same.

Listen for running water from toilets, showerheads, faucets, and sprayers.

Look under the sink for pooling water and rust buildup around pipe joints and edges.

Inspect dishwashers, refrigerators with ice makers, washing machines, water heaters, and other appliances for pooling water.

Check outdoor spigots to make sure the connection is tight with the hose. Also, check in-ground sprinkler systems for broken nozzles.
Throughout the house, look for signs of moisture or mold damage. If certain rooms smell musty, it could be a sign of moisture buildup or mold on your walls, ceilings, or floors.
Filing a Homeowners Claim for Plumbing or Pipe Leaks
Once you have the leak under control and the puddles of water cleaned up, contact your insurance company as soon as possible to file an insurance claim. Many insurers have an online claims portal to streamline the process. You can also start the claims process by phone.
The insurance company may ask you to fill out forms and submit photographs. Then, you'll meet with an insurance adjuster to look at the damage. They'll ask you questions about the loss and the property conditions before the leak.
Your insurer will determine if you have a valid water damage claim. They'll decide a settlement amount based on the cost of repairs. If you disagree with their decision or claim amount, you can try negotiating a larger settlement, but be prepared to justify and document your position. Your state insurance commissioner can offer guidance or help you to file a complaint.
What to Do If You Find a Water Leak
If you have a leak, figuring out where the water is coming from and how to stop it should be a top priority.
Shut off your home's water supply to stop the leak from spreading. You may also turn off the electrical supply if you think the leak reached an electrical outlet.
Before you call the plumber, it helps to identify the source of the problem. A leak inside a wall, a broken pipe, or an overflowing toilet may require you to call the pros to handle repairs. In some cases, you may be able to repair the leak on your own or perform a temporary fix until a professional arrives.
However, make sure you document the damage with photographs and notes before making even temporary fixes. It can help you when filing a claim with your insurance company.
Because a plumber may not immediately show up, clean up the water to reduce the chance of mold and mildew. Move furniture and personal items out of the way and hang wet rugs or carpets to dry.
Then, grab a mop and a towel to remove the water from your surfaces. Fans, moisture absorber buckets, and portable dehumidifiers can also help if you have a larger leak.
Tips to Prevent Plumbing Damage for Homeowners
There are many ways a homeowner can protect plumbing and pipes:
Replace old plumbing systems as part of home maintenance.

Cut down invasive trees.

Insulate your plumbing.

Winterize your home during the winter months.

Install emergency pressure release valve to protect against frozen pipes.

Invest in a water leak detector system.
You can also take steps to minimize loss:
Consider storing off-season items in waterproof bins.

Keep your valuables and belongings away from areas prone to water destruction.

If you store belongings in a basement, use shelving to keep items off the floor.
Home Insurance and Plumbing Coverage – FAQs
Insurance coverage varies considerably. However, insurers generally cover many types of plumbing issues. Whether you have a covered loss depends on the types of water damage that caused it. For instance, your policy won't pay for the resulting damage of poor maintenance or flooding. Contact your insurance agent to discover what your policy covers.

Renters insurance typically covers water damage to your personal belongings from plumbing and pipe leaks. It does not include damage to the home or building. The landlord's insurance policy may cover the repair of a sudden burst pipe, leaky radiator, washing machine malfunction, or other sources of water damage.

After a plumbing disaster, you want to get the repairs done quickly. The sooner you file a claim, the sooner the insurance company can begin the settlement process. But the settlement may not happen as quickly as you'd like. How long it takes depends on the extent of the damage, the time it takes for the adjuster to inspect the property, and the decision to accept the insurance company's settlement. If you're not satisfied, don't hesitate to ask questions about the adjuster's findings.
Plumbing Coverage and Homeowners Insurance: The Bottom Line
Does home insurance cover plumbing and pipe leaks? Yes. Insurers cover many sources of loss related to plumbing and pipe leaks. However, there are policy limitations. Whether your claim is covered depends on the type of plumbing issue and the source of the water damage.
The best way to prevent water damage from plumbing and pipe leaks is to properly maintain your home and your plumbing system. Regular maintenance and inspections of your plumbing and appliances can help you find problems before they result in damage.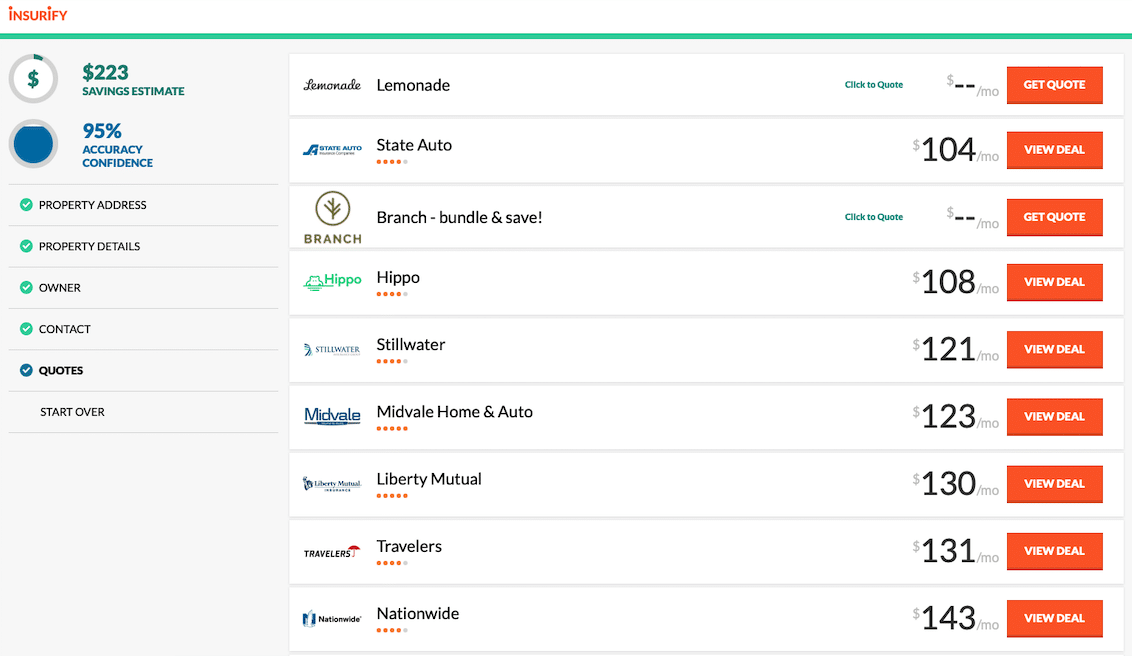 Compare Car Insurance Quotes Instantly
Personalized quotes in 5 minutes or less
No signup required
Data scientists at Insurify analyzed over 40 million auto insurance rates across the United States to compile the car insurance quotes, statistics, and data visualizations displayed on this page. The car insurance data includes coverage analysis and details on drivers' vehicles, driving records, and demographic information. With these insights, Insurify is able to offer drivers insight into how their car insurance premiums are priced by companies.