If you're a member of a condo association (COA) or homeowners association ( HOA ), then you're likely to run into loss assessments. What's more, if you're a member of an HOA or COA, those associations may pass on the costs of their HOA /COA insurance deductibles onto members.
So how can you make your homeowners insurance or condo insurance policy work for you to absorb these costs? The answer is loss assessment coverage.
Are you sure you're getting the best rate on your condo insurance? Compare condo insurance quotes now to see what low rates are available to you.
What Is Loss Assessment Coverage?
If you're a home or condo owner and part of a homeowners association, you will likely need loss assessment coverage. Essentially, this coverage works to help cover any shared losses or damages sustained to spaces considered to be shared areas available to all homeowners association members.
As is the case with practically every homeowners association, members pay dues to the HOA that cover a wide variety of things, such as:
HOA insurance

Maintenance and improvement of clubhouses, swimming pools, and tennis courts

Security and surveillance

Guest accident liability coverage
If any of the common areas are damaged or a guest is injured and the HOA is held liable, the HOA insurance policy (also known as a " master insurance policy ") will cover the loss, at least up to the master policy limits. Once the insurance claim amount exceeds those coverage limits, each HOA or COA member will be subject to loss assessments, requiring them to pay a share of the remaining loss amount. (This, of course, is dependent on each HOA or COA's bylaws, so be sure to check those to get a clear picture of what you might be required to pay.)
What Does a Loss Assessment Policy Cover?
Typically, home insurance and condominium insurance don't offer much loss assessment coverage, maxing out at $1,000. For coverage that exceeds $1,000, you'll need to add a loss assessment coverage endorsement to your policy, which can significantly increase the amount that your home insurance company will pay.
Loss assessment insurance commonly covers the following:
Damage to shared spaces or amenities

Liability assessments, or costs for injuries sustained on HOA /COA property

The HOA's master policy deductible costs
On the other hand, a loss assessment policy will typically not cover things like:
Damages from natural disasters, like windstorms, earthquakes, or floods (although you can consult an insurance agent to find policy coverage add-ons that will cover some of these events)

Costs of maintenance for individual condo units or homes

Costs of a condo building or property foreclosure/demolition
Compare Car Insurance Quotes Instantly
Personalized quotes in 5 minutes or less
No signup required
How Is an HOA Master Policy Deductibles Cost Passed on to HOA /COA Members?
HOA and COA master policies have notoriously high deductibles, and depending on the HOA /COA, those associations may pass the deductible costs onto their members.
Consider this scenario: $100,000 worth of fire damage occurs to shared property in an HOA, and the HOA master policy has a deductible of $30,000. While the policy will cover a portion of the cost (in this case, $70,000), the HOA will still owe $30,000 in deductible costs to the insurer and will likely require each member to cover an equal portion of the deductible. If there are 10 members in the HOA, then each member would be responsible for paying $3,000.
If you were in this scenario, then your basic loss assessment coverage would cover $1,000 of the $3,000 the HOA requires You would still have to pay $2,000 out of pocket.
Alternatively, you can bolster your loss assessment coverage with add-ons that increase the dollar amount your policy will cover. This extra coverage will add to your monthly cost, but can easily pay for itself in the event of a loss assessment.
See more: Compare Home Insurance Quotes
FAQ: Loss Assessment Coverage
Condominium or co-op owners can enroll in what's known as an HO-6 policy, which is specific to individual unit owners in a condominium building or co-op. Given that COA master policies tend to cover spaces outside of the building (or shared within the grounds), it would generally be a good idea to enroll in an HO-6.

An HO-6 policy could help you be more financially secure if your unit suffers damage, requires improvements, or is faced with a liability claim.

As mentioned previously, your HOA's master policy will typically cover the majority of damages to shared spaces. However, if your HOA reaches its coverage limit (or your HOA needs to pay for its master policy deductible), any subsequent costs will be passed on to members such as yourself.

The best thing to do in this situation is to pay a bit more each month to bolster your loss assessment coverage. This way, you'll find yourself being less liable for these overflow costs and paying less out of pocket.

There are a number of ways to avoid additional assessment costs. While they may not all apply to you, the following approaches may help you get a clearer picture of what you might be liable for:

Be sure to consistently update your homeowners insurance policy to expand your overall protection.
Assess the risk of perils like earthquakes or floods. If your HOA or COA is located in a region with increased earthquake activity, it would help to add earthquake protection to your policy
Be aware of sections of the HOA or COA property that is not covered by the master policy. Being aware of these areas can help you determine how much you'll need to increase your loss assessment coverage.
When in Doubt, Increase Your Loss Assessment Coverage
Being a homeowner or unit owner can be expensive as is, especially if you are part of an HOA or COA, so it's better to protect yourself against additional out-of-pocket costs from loss assessment. Do your homework by reading the association bylaws to determine what costs they're likely to pass on to members, and contact your homeowners insurance provider to expand your coverage as much as is necessary.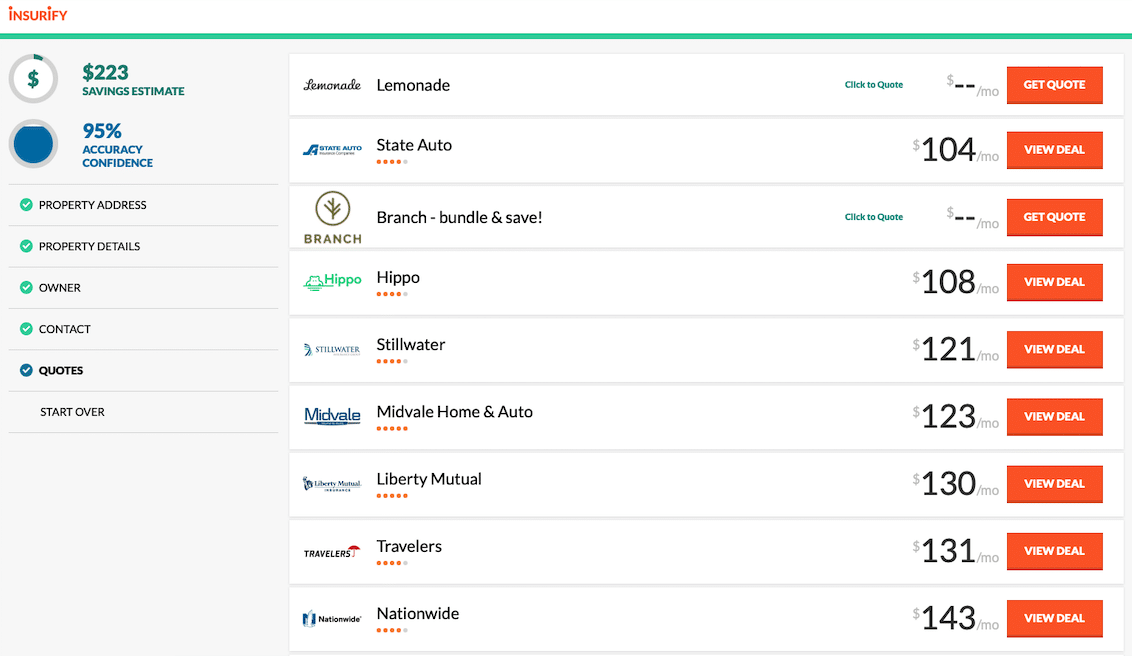 Compare Car Insurance Quotes Instantly
Personalized quotes in 5 minutes or less
No signup required
Data scientists at Insurify analyzed over 40 million auto insurance rates across the United States to compile the car insurance quotes, statistics, and data visualizations displayed on this page. The car insurance data includes coverage analysis and details on drivers' vehicles, driving records, and demographic information. With these insights, Insurify is able to offer drivers insight into how their car insurance premiums are priced by companies.