As anyone who lives in a coastal area knows, hurricanes can cause major damage to homes because of storm surge, high-speed winds, and flooding. Storm surge is also the leading cause of hurricane-related deaths in the U.S.
It's important to be prepared for these storms, which can happen at any time during the hurricane season (historically June 1–November 30 for the Atlantic and central Pacific areas and May 15–November 30 for the eastern Pacific region). Keep yourself, your loved ones, and your property safe with our hurricane preparation guide.
While you're prepping, check your home insurance to make sure it covers potential hurricane damage. The easiest way to compare insurance policies is with Insurify, an easy-to-use tool that makes it simple to compare quotes for home insurance.
Make Your Hurricane and Evacuation Plan
Good prep starts with a good plan. Your emergency plan should cover these five things, according to ready.gov:
How you will receive emergency alerts and warnings

A plan to shelter in place

Evacuation routes

How you and your family members will communicate in an emergency, including emergency phone numbers and other contact information programmed into everyone's phone

An emergency preparedness kit
Your plan should cover two potential outcomes: evacuation and staying at home. Emergency managers from your local government will tell you which is safer.
Staying at Home
It may be safest to stay home if road conditions are bad. If this is the case for you, keep your emergency kit in a place where you can grab it easily if conditions change. Monitor the radio or local TV for hurricane updates. Stay inside until you're notified that the hurricane is over—you don't want to go outside too early only to have the weather get bad again
Be sure to stay away from windows to keep yourself safe from flying debris that may break them. Stay in a room with no windows or duck into a closet if necessary.
Understand that the situation may change and you may have to evacuate later.
Evacuating
If you're in an evacuation zone, there's no time to waste. Grab your emergency supplies, unplug your appliances, and if you have time, turn off your gas, power, and water.
Always use the evacuation routes that emergency management workers recommend, even if they're busy. Never drive through floodwater.
Make plans to shelter with friends and family if you can. Check with emergency workers for information about public shelters if you need one, but know that because of COVID-19, this may not be the safest choice for you. Bring hand sanitizer, cleaning materials, and two masks per person to help mitigate the COVID threat.
Stock Up on Emergency Supplies
Prepare your disaster supply kit ahead of time so you don't have to deal with a rush on supplies at stores during the hurricane. The Insurance Information Institute recommends stocking up on these items:
Extra batteries

Candles or lamps and fuel

Matches

Heavy plastic sheeting, plywood, and other materials for home repairs

Basic tools, like wrenches and hammers

Prescriptions

Enough drinking water for three days

Nonperishable food that doesn't have to be refrigerated or heated

First-aid supplies

A portable NOAA weather radio

Flashlights
The Centers for Disease Control and Prevention advises adding your important documents, like medical information, wills, passports, and IDs, as well as a fire extinguisher and first aid kit. Bring chargers for your devices. Put these things in a "go bag" that you can bring with you if you need to evacuate.
The CDC also recommends preparing your car ahead of time in case you need to evacuate. Fill your car up with gas if there's a storm on the way—once the evacuation starts, there will be long lines at gas stations. Move your vehicles into your garage or under another cover if you can.
Compare Car Insurance Quotes Instantly
Personalized quotes in 5 minutes or less
No signup required
Secure Your Home
Get your home ready to weather the storm by first clearing your hard. Move lawn furniture, grills, and other items inside or under shelter. During a storm, they can become high-speed projectiles that can blow around and damage your home or hurt someone.
Cover up windows and doors with storm shutters or plywood nailed to the outside window frames. This can help protect you from shattering glass.
Move furniture and valuable items to higher floors in your home if you have time, the Red Cross advises. Clear loose and clogged rain gutters and downspouts, which will prevent flooding.
In the off-season, consider retrofitting your home to fortify it against hurricane damage. Many people think that the high winds are the most damaging part of hurricanes. But when it comes to homes, the Insurance Information Institute warns that much of the property damage is caused by rain entering through broken windows, doors, and roof openings. Shore up your home's defenses by:
Replacing gravel or rock with shredded bark. This won't cause as much harm when it blows around.

Trimming weak branches, trees, and shrubbery.

Installing hurricane-proof exterior doors with at least three hinges and a deadbolt that's at least an inch long.

Using sliding glass doors with tempered glass. This should be covered with shutters or plywood during a storm, just like windows.

Replacing old garage doors and tracks with doors that are approved for wind pressure and impact protection.

Sealing wall openings like vents, outdoor outlets, and any areas where cables or pipes penetrate the wall. Use high-quality urethane-based caulk to keep water out of your home.
Prepare for Power Outages
Power outages are a common occurrence during hurricanes and other natural disasters. It's a good idea to take some extra steps to prepare for losing power, like filling up your gas tank far in advance of the storm and having cash on hand in case ATMs aren't working. You should also:
Charge your cell phone and other devices before the storm hits.

Cover up windows on the inside to prevent light from entering and warming the house too much.

Fill your bathtub and large containers with water that you can use for washing and flushing.

Turn your fridge temperature down and freeze food and drinking water ahead of time. Fill a cooler with ice packs to help keep cold food cool if power is out for more than four hours. Be prepared to discard perishable foods if power is out for too long.
Stay Informed
The most important thing during a hurricane is to keep yourself informed. Keep tabs on how the storm is progressing and pay attention to alerts and updates from local emergency management officials.
You will probably hear two kinds of alerts from the National Weather Service relating to hurricanes. A hurricane watch means that hurricane conditions are possible in a certain area and are usually announced about 48 hours before tropical storm-force winds are expected to start. A hurricane warning, on the other hand, means hurricane-force winds are expected and is the more serious of the two alerts. Hurricane warnings are issued about 36 hours before tropical storm-force winds are expected, so you have a little time to prepare for the storm.
Frequently Asked Questions
Yes and no. Standard homeowners insurance policies will cover repairs and additional living expenses if you have to relocate temporarily. However, the standard policy doesn't cover flood damage. You need separate flood insurance for that. Coastal homes may also need separate policies for wind and wind-blown water damage.

Stocking an emergency kit with nonperishable food is more about nutrients than meeting specific tastes, Real Simple advises. Good things to have on hand include peanut butter, whole-wheat or whole-grain crackers, nuts and trail mixes, cereal, granola and protein bars, dried fruit, and canned meats and vegetables. Don't forget plenty of bottled water!

Before the storm hits, identify shelters, pet-friendly hotels, or out-of-town friends or family who can take your pet in if you need to evacuate. Local animal shelters may also have advice on how to help your pets during an evacuation. Prepare for this ahead of time because you likely won't have much time to plan for them when the storm hits.
Prepare Now to Stay Safe
You can ride out the hurricane and protect yourself, your family, and your property if you take the time to plan ahead. Start your hurricane preparation now to save yourself major headaches down the road.
Include home insurance shopping in your preparation plans. Coastal properties may have special insurance needs, so make sure your policy covers what you need and start shopping now if it doesn't. Compare insurance policies with Insurify, a simple tool that lets you find the best home insurance companies within minutes.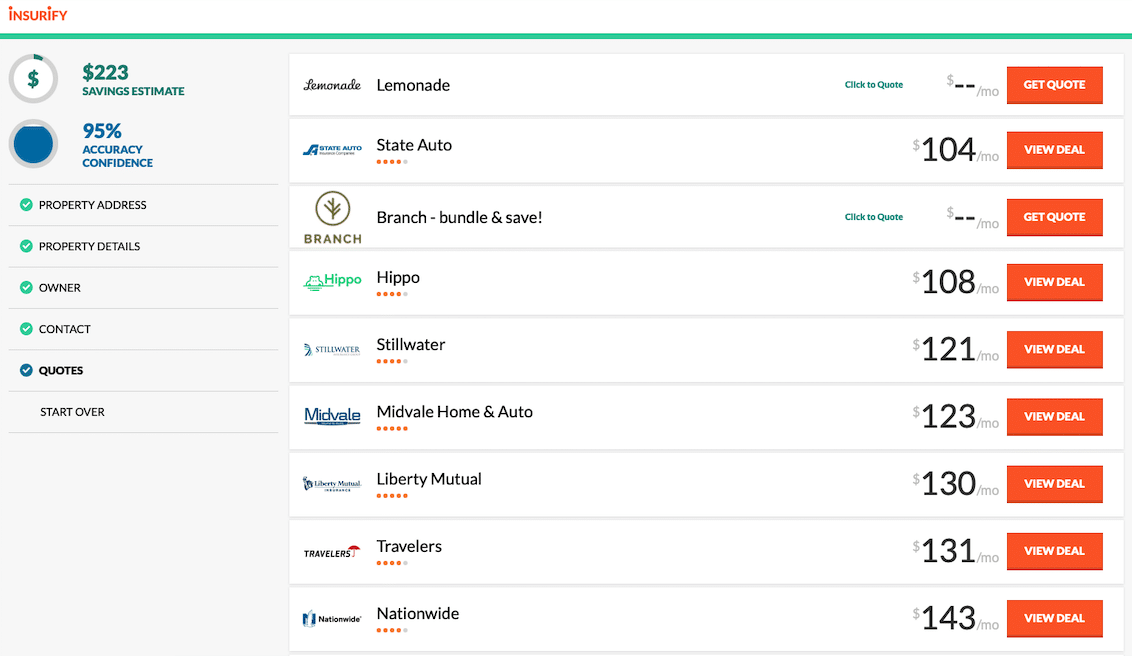 Compare Car Insurance Quotes Instantly
Personalized quotes in 5 minutes or less
No signup required
Data scientists at Insurify analyzed over 40 million auto insurance rates across the United States to compile the car insurance quotes, statistics, and data visualizations displayed on this page. The car insurance data includes coverage analysis and details on drivers' vehicles, driving records, and demographic information. With these insights, Insurify is able to offer drivers insight into how their car insurance premiums are priced by companies.