How do I file a home insurance claim?
Every homeowners insurance company has a different process when it comes to filing claims. No matter your insurance company, prior to filing a claim, make sure you've collected all the necessary documents you might need, this will save you time in the long run.
Homeownership is the beacon of financial independence and a pinnacle of the American dream… but it can come with an endless headache and a never-ending to-do list. After disaster strikes, whether that be a burglary, water damage from a storm, or property damage from an accident, your insurance company should have your back. But how, exactly, do you navigate the process of filing a home insurance claim after an incident. When emotions run high and stress levels abound, the smoother this process can be, the easier it is on you and your family in tough times. Home insurance claims processes don't have to be a nightmare, but you should think about the process before disaster strikes.
Before the Problem – Picking the Right Homeowners Insurance Policy
Purchasing a home will likely be one of the largest financial investments of your lifetime. With that investment, inevitably, comes risk. However, there are steps homeowners can take to minimize risk and protect their investment, including finding the right home insurance quote. Home insurance provides financial protection for your property and belongings from natural disasters or theft. Different coverage levels are available for different property types, locations, and other factors.
Shopping for homeowners insurance may not seem like the most glamorous of activities, but that's where you're wrong. Picking the right homeowners insurance is vitally important. After a disaster, the last thing you want to deal with is a second-rate customer service experience from the homeowners insurance company you rushed to sign with. Use an insurance quote comparison platform like Insurify to search through dozens of quotes in seconds. You'll even be able to customize your desired coverage limits and other customizations, like bundling options with your auto insurance and enhanced protection of your personal property. Lower your insurance rates by comparing quotes today.
Make sure you keep an up-to-date home inventory checklist with your personal property to ensure you're getting the payout you deserve. Also, make sure you've selected a reasonable deductible amount, since that's the amount of money you'll have to shell out prior to your insurance kicking in.
Disaster Strikes – Now What?
Homeowners across the nation face different challenges when it comes to the structure of their homes. If you're in the unfortunate position of dealing with the repercussions after something happens to your home, whether that be an incident of vandalism, a theft claim, or storm damage, you'll have to file a homeowners insurance claim. Clean up whatever you can without creating further damage to your property.
Prior to filing any claim with your insurance company, you'll want to completely read through your insurance policy. Ideally, you'll have already understood your insurance coverage before any kind of disaster. (To make sure you know exactly what you're paying for when you send in your monthly insurance premiums, use Insurify to compare quotes and policy options). Reviewing your policy before corresponding with the insurance company will help you understand any limitations or exclusions before spending hours on the telephone. Time limits on claim filing is another important element to understand. Before making a claim, ensure that you have proper documentation of every step you've already taken, including any and all issues you plan on addressing in the claim.
Compare Car Insurance Quotes Instantly
Personalized quotes in 5 minutes or less
No signup required
Filing a Home Insurance Claim
After familiarizing yourself with your unique policy and understanding your coverage offerings and limitations, you'll be ready to file a homeowners claim.
Step One: Alert Necessary Authorities
In the case of a burglary or vandalism to your property, alert local authorities and file a proper police report. This documentation will be vital in the later steps of filing a home insurance claim. In fact, some insurers require a police report to corroborate certain claims made by a policyholder,
Step Two: Call your Agent
Once you've reread your policy and contacted your local police department (when necessary), it's time to contact your insurance company. This step of the process should be done as soon as viably possible after an accident. As mentioned before, documentation and timing is important to insurance agents. Be sure to document the names and titles of anyone you correspond with from your insurance company. They will likely assign you a case number and insurance adjuster. This individual will assess damaged items and estimate the cost of repairs and replacement costs of damage to your home and personal belongings.
Hot Tip
It can't be stressed enough how important documentation is in the home insurance claim process. From the names of the representatives of those who you spoke with from your home insurance provider to the titles and contact information of appraisers, to the call center representative at the department of insurance- document everything. Hopefully, it never comes to this, but in situations where a claims process becomes convoluted or delayed, having this information will assist you. Future you will thank you.
*Keep those receipts!* Your policy covers additional living expenses. Make sure to keep a detailed list of your damaged property in order to get the most of your covered losses.
Step Three: Make Temporary Repairs
Especially if damage from an accident is interfering with your day-to-day life, it's important to understand that it's ok to make some temporary repairs to any damage done after an accident is okay. Making repairs here and there in the meantime to a leaky roof or broken windows after an accident should be fine. Be sure to keep all receipts to submit to your insurance company for reimbursement (documentation is everything!) If your home is deemed unlivable, your food and lodging expenses will also be considered for reimbursement, so keep those records, too.
Take Matters into Your Own Hands
There are a few different types of claims adjusters for your home insurance policy. This individual is integral to your claims-filing process, to ensuring they are up-to-snuff should be your top priority.  Whatever type of adjuster you decide to go with, make sure you establish your relationship as early in the claim process as possible. This way, they can fully understand the situation at hand in order to get the best and fairest payout on your behalf.
Company Adjusters
The most common type of adjuster you're likely to deal with during an insurance claims process is a company adjuster, also called a staff adjuster,  assigned to your case directly from your insurance company.
Independent Adjusters
Independent adjusters are contracted through an insurance company to handle your home insurance claim. During times of high-volume insurance claims, like after a natural disaster when huge swaths of policyholders are filing claims, insurance companies hire these adjusters to help with the high demand. Independent adjusters hired by a legitimate insurance company will always be licensed and reputable, so there's nothing to worry about on that front.
Public Adjusters
A public insurance adjuster works directly for the policyholder. A homeowners may hire a public insurance adjuster to work on their behalf throughout the claims process. As an extra service, you'll be paying more for a public adjuster, but you'll be able to have a hands-off experience throughout the claims process. A public adjuster will have their own fees for the services they provide you, either through a base pay or a percentage of the total settlement amount.
It may seem unnecessary to hire a public adjuster– why pay extra for a service you can get for free through your home insurance provider? Well, there are a lot of reasons policyholders opt to hire their own public adjusters to handle their correspondences throughout the claims process. When a policyholder feels their assigned company adjuster is not sufficient or doesn't have their best interest in mind, hiring a public adjuster is a sure-fire way to avoid that, as they work directly for the homeowner. It is also a way to get a second opinion of replacement costs or actual cash value a claim is filed. For more complex insurance policies, like those for commercial or rental properties, a public adjuster can take the lead on the claims process, from documentation to negotiation. They're the expert and they can take that responsibility off the policyholder's shoulders.
FAQs- How to File a Home Insurance Claim
In times of high-volume calls to insurance companies, like after a natural disaster, for instance, phone lines may be clogged and it might be difficult to get through to your home insurance company. Be sure to document all of your attempted and successful correspondences with your insurance company, that way, when you finally get through, they will understand any potential time lapse between the incident and your correspondence might be due to their lack of ability to answer your requests.

Yes. As a property owner and policyholder, you have the right to hire your own public adjuster to assess the damage on your property. This adjuster can handle all communication and documentation between you and your homeowners insurance policy. Since you've hired them directly, they have your best interest in mind, and generally get you the highest possible payout from a claim. Hiring a public adjuster can save you time and headaches, plus, you might get the highest payout this way.

In the case that your home is deemed uninhabitable after an accident, your homeowners policy will likely cover additional living expenses other than simply replacement costs of your personal property or and repairs. If you need to stay in a hotel while your claim is being processed or your home is being repaired, save all your receipts, for your food costs too-- these can be processed as part of your home insurance claim and be reimbursed by your insurance company.
Filing Home Insurance Claims: The Bottom Line
After you and your neighbors suffer from home-destroying accidents or natural disasters, the last thing you want to do is have a subpar claims-filing process. The first step to ensuring this doesn't happen is picking the best homeowners insurance provider with excellent customer service reviews. Follow this guide, and don't forget to document every step of the way. This too shall pass! And don't forget, your claims history may impact your future home insurance rates, so don't file them all willy nilly!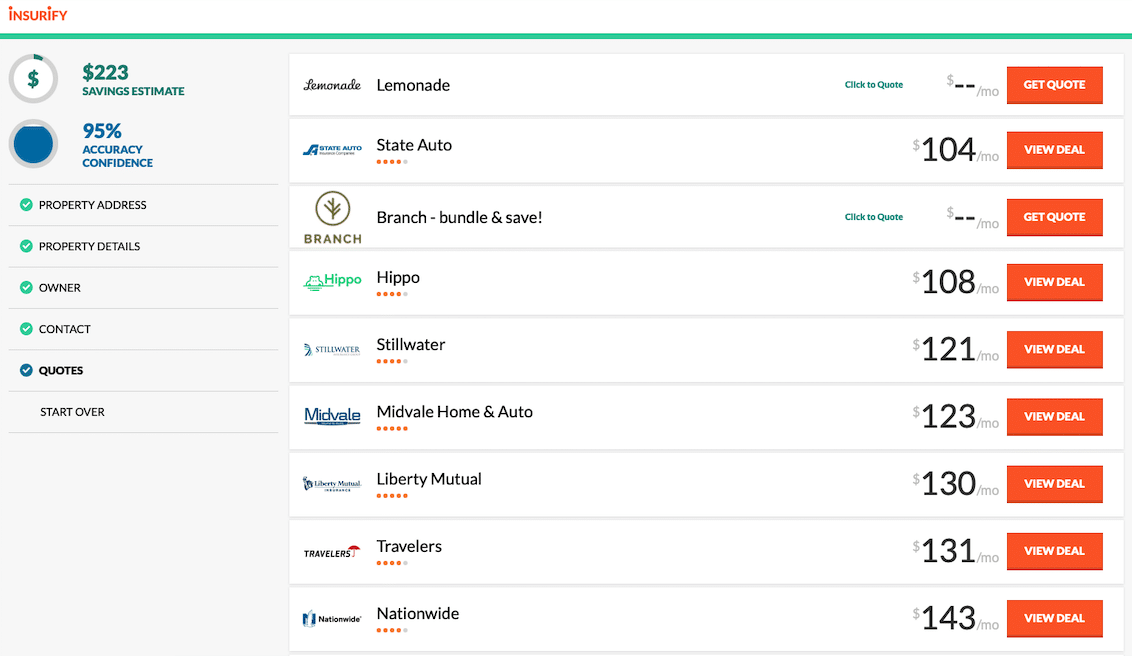 Compare Car Insurance Quotes Instantly
Personalized quotes in 5 minutes or less
No signup required
Data scientists at Insurify analyzed over 40 million auto insurance rates across the United States to compile the car insurance quotes, statistics, and data visualizations displayed on this page. The car insurance data includes coverage analysis and details on drivers' vehicles, driving records, and demographic information. With these insights, Insurify is able to offer drivers insight into how their car insurance premiums are priced by companies.