Do you need a lawyer to dispute a home insurance claim?
You don't need to hire a lawyer to file or dispute a homeowners insurance claim, but you may want to consult one if you haven't made any headway with your insurance company.
Homeowners insurance is supposed to relieve financial stress after damage to your home. If the insurance company denies your claim or your settlement offer is less than expected, it can leave you feeling frustrated and overwhelmed.
But all is not lost. When you know how to dispute home insurance claims, you can effectively deal with the situation.
Before you start, make sure you get everything in writing. Jot down information throughout each step of the claims process. This includes names of the people you talked to, dates you called, and any notes from conversations.
Now, here's a step-by-step guide to dispute your denied claim and get results.
Step 1: Know What Your Homeowners Policy Covers
After you file a home insurance claim, getting your claim settlement from the insurance company isn't always easy. Your insurer could deny your claim for several reasons.
But even if the home insurance company approved your claim, there's no guarantee the settlement amount will meet your expectations.
In this case, your first step is to review your insurance policy. Read the policy carefully so you understand it in detail.
Your coverage may exclude the cause of your claim. For instance, many homeowner's policies don't cover earthquake damage. If your policy doesn't protect against earthquakes, the cost for repairs or replacement is likely your responsibility.
Step 2: Ask Your Insurance Agent or Representative for Clarification
If you're not sure why the company denied your claim, or if your settlement was lower than you thought, ask.
Sometimes, settling a claim dispute is as easy as contacting your agent or insurance representative to get clarification.
If they say your policy doesn't cover it or the amount was more than your coverage limit, ask them to point to the specific section of your policy that excludes that coverage.
Make sure to document everything the insurer and claims adjuster tell you. Even better, send a follow-up email to your insurance representative to confirm what you heard if you get information by phone or in person.
Compare Car Insurance Quotes Instantly
Personalized quotes in 5 minutes or less
No signup required
Step 3: Take Photos and Extensively Document Your Loss
Policyholders expect their insurance provider to take care of everything. Between the agent, appraiser, and insurance adjuster, you may think all of your bases are covered.
But sometimes, the home insurance claim denial could be because of insufficient evidence of your loss.
Take pictures of everything and capture the damage from multiple angles. It can also help if you describe the time, date, and circumstances around when and how the loss occurred.
You may also submit documentation—receipts, appraisals, and home inventories—to prove the extent of your loss.
Step 4: Appeal the Decision
Negotiation is an integral part of the claims process, whether you work with a claims adjuster directly or with your insurer 's agent.
That's why writing a letter to your claims adjuster is an excellent first step to appealing the decision.
Your letter should explain your point of view, including:
Details about the date, time, and damage you experienced

Evidence you've prepared that supports your side of the story

A request that the adjuster review your claim
At this point, it won't help if you threaten legal action. Even if you're beside yourself with frustration and anger, take a polite tone.
Keep in mind that some homeowners insurance companies have a specific appeal form. They may ask you to complete the standard form, and you can include that in addition to your letter and documentation.
Step 5: Get Help from Your State's Department of Insurance
If you aren't getting anywhere with your provider, file a complaint with your state's department of insurance.
Because insurance is regulated at the state level, every state has a state insurance department. The National Association of Insurance Commissioners has an interactive tool to find your state's department of insurance.
They can offer advice, free resources, and guidance on the next steps. Some even offer to investigate your claim or provide mediation to help you and your insurer reach an agreement.
With any luck, you can get a resolution about your claim denial at this stage without involving a lawyer.
Step 6: Start a Lawsuit Against Your Insurance Company
If you haven't already, now is the time to consult an attorney about the denial of your claim.
However, bringing a lawsuit against an insurance company should be your last resort. It can be a long and expensive process.
If you pursue this option, choose an attorney who specializes in home insurance claims.
Many law firms offer free consultations to review your claim. Take advantage of this free meeting to get legal advice about whether you have a case worth pursuing.
A lawsuit might be a reasonable option if you have a high-value claim. But the attorney fee is often 33 to 40 percent of a settlement, so it may not be worth the cost for smaller claims.
Frequently Asked Questions
Yes. You can dispute a home insurance claim denial if you're unhappy with the outcome. Review your home insurance policy to become familiar with the insurance coverage you have. You may consider getting a second opinion, such as an independent appraisal to appeal your property insurance claim.

No single homeowners insurance policy covers every type of disaster. A common reason insurance claims get denied is that the property damage isn't covered under your policy.

If your claim is denied or the payout was less than you expected, ask your insurer for clarification. You may be able to negotiate a better settlement by working with your insurance adjuster and providing additional documentation to support your point of view.

If you've tried negotiating with your insurer and they still deny you, you may need to get outside help. Your state department of insurance can step in to help if your insurance provider refuses to pay a claim. They can offer advice, free resources, and next steps in the process. You can also consult a lawyer to discuss your options.

It depends. Filing a lawsuit against your insurance company is a time-consuming process that can drain your bank account. Consult with a law firm to ask about a free consultation where you can get legal advice about whether a lawsuit is worth it.
Home Insurance Claim Disputes: The Bottom Line
Disputing a home insurance claim can feel overwhelming. Following the steps outlined here can help you navigate the process.
Be sure to review your insurance policy to understand what is and isn't covered in the event of a storm, an accident, or another disaster.
Remember: Even with an understanding of your insurance coverage, you may face problems with an insurer denying your claim. When that happens, you may want to appeal the denial or even consider filing a lawsuit against an insurer if it makes sense for your situation. And if you are left unsatisfied, start considering other options like how to compare home insurance quotes.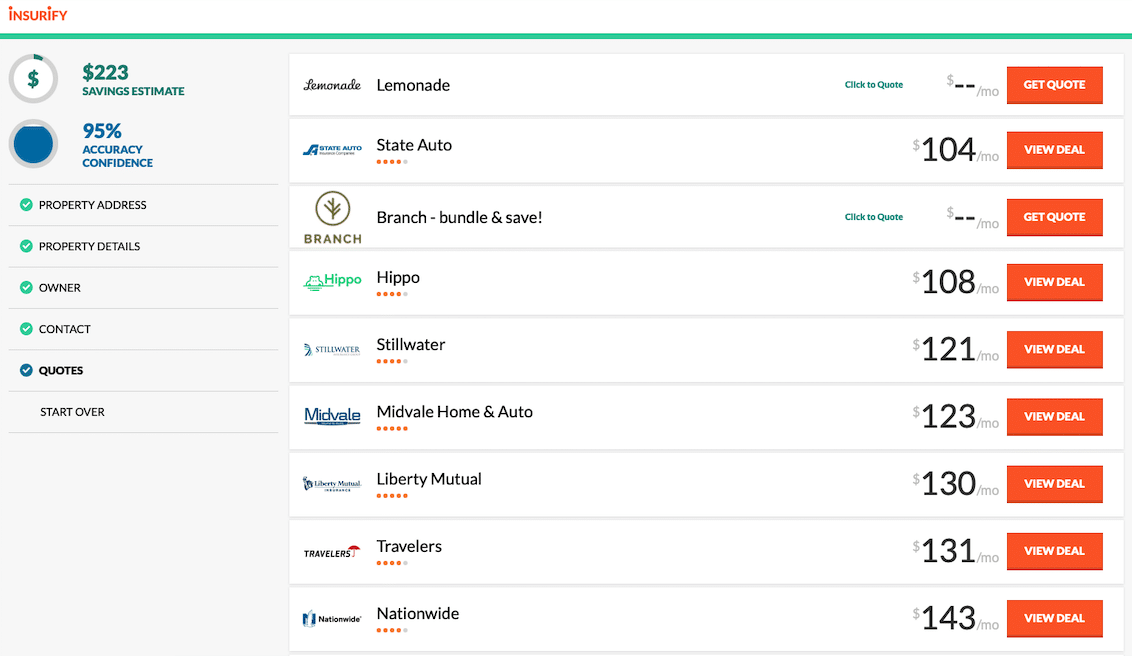 Compare Car Insurance Quotes Instantly
Personalized quotes in 5 minutes or less
No signup required
Data scientists at Insurify analyzed over 40 million auto insurance rates across the United States to compile the car insurance quotes, statistics, and data visualizations displayed on this page. The car insurance data includes coverage analysis and details on drivers' vehicles, driving records, and demographic information. With these insights, Insurify is able to offer drivers insight into how their car insurance premiums are priced by companies.