What's a home insurance broker?
Insurance brokers are professional experts, often third-party individuals, who act as a connection between homeowners and insurance companies.
Making financial decisions can feel overwhelming. Finding the right homeowners insurance policy may be especially daunting since it entails searching for the best coverage that fits all your insurance needs, from reliable companies and at the best price.
Before Insurify and other price-comparison sites, insurance shoppers usually had to either spend hours manually getting quotes from different insurance companies and decide on the best option or pay a home insurance broker to do all the work for them. While using a comparison site is much more common these days for finding the best insurance rates and coverage for your specific needs, some people still prefer to use insurance brokers.
While having an insurance broker certainly isn't necessary for considering insurance products or buying a policy, it may give you peace of mind to work with an experienced professional to find the right coverage for you at the best rates. Ultimately, home insurance brokers work with you to help you save time when looking for coverage options and home insurance quotes.
After considering your budget and specific needs, they'll go through the list of insurance carriers to find the best insurance coverage for the best price. Insurance brokers are here to help you choose the right insurance policy for you.
Don't know where to start? No problem. Insurify has you covered. There shouldn't be limits to making an informed decision. As the leading insurance price-comparison site, we have tools to help you compare insurance quotes from top home insurance companies in only minutes. Searching for the best rates can be easy and affordable!
What's the Difference Between a Home Insurance Broker and an Insurance Agent?
Terminology can get confusing, but ultimately, both insurance brokers and insurance agents are here to help with insurance services. They work to support their clients' needs to find the best home insurance policy for them from the best homeowners insurance companies. The main difference to keep in mind is that brokers and non- captive agents usually represent an insurance shopper (you) and captive agents usually represent a single insurance company. This means that home insurance brokers and non- captive agents can sell policies from multiple insurers, while captive agents can only sell policies from the one company they work for.
Home insurance brokers are similar to and can be categorized as non- captive agents. Essentially, this means that they do not belong to a single insurance agency. They work with multiple insurers across the industry to provide the best liability coverage for someone looking to buy homeowners insurance. Choose a home insurance broker or non- captive agent if you are shopping around for the best insurance policy at the best rate across different insurance companies. They can help you evaluate policies from a variety of insurers.
Alternatively, captive agents are controlled by and work for a single insurance agency. This means that they are limited to only selling insurance plans and policies from that company and might only be searching for the best price within their company. When buying a policy or considering your options from a captive agent, it can also be helpful to keep in mind that they may try to sell insurance products to help them reach specific internal goals. The best time to speak with a captive agent is if you need more details about a policy with a specific insurer because some insurers may only sell policies through their own captive agents.
Types of Home Insurance Brokers
In addition, there are two types of home insurance brokers: retail and wholesale. If you as a buyer want to work directly with a home insurance broker, go for retail. This type of broker communicates with their clients and submits applications to multiple insurance agencies on their behalf. Essentially, they act as a middle man and an extra pair of eyes throughout the process. Alternatively, wholesale brokers work with retail brokers and insurance companies to perform a risk assessment when providing coverage to interested buyers.
Independent agents, either captive or non-captive, usually cannot provide temporary insurance to their clients. For this, you can turn to a managing general agent (MGA), a specialized type of agent or broker. Insurance companies grant MGAs underwriting authority so that they can negotiate contracts between the insurer and the buyer. This means that they can settle claims, underwrite policies, and provide temporary insurance policies until a client's policy is in motion.
What Are the Pros and Cons of Working with a Home Insurance Broker?
Before Insurify, people relied on brokers to help them save time researching the best rates and best companies for auto insurance, home insurance, and more. Today, this isn't as relevant, because insurance comparison websites can help people find the best deductible and policies for them without consulting a professional.
Insurify consolidates all the information, prices, and quotes you need to make an informed decision. It's easy and takes only a few minutes because Insurify can offer you dozens of insurance quotes with a few clicks.
Pros
The benefits of home insurance brokers are human interaction and a personalized customer relationship. Brokers are well connected and have access to certain contacts and deals that may lead to you getting better prices on your home insurance policy. And while home insurance is one category, knowing a broker may mean having access to other insurance services and resources if you are considering getting other coverage.
This can include car insurance, life insurance, health insurance, add-ons to your property insurance like flood insurance, and even your child's renters insurance. In addition, brokers can be helpful if you end up needing to make a claim in the future. They can provide information and customer service to help guide you through the process, which may alleviate some stress and overwhelmed feelings.
Cons
On the other hand, it can be pricey to use brokers and rely on their expertise. Typically, brokers don't cost the interested buyer anything, but in some cases, it may come with an additional fee for their services.
Before committing to any contracts or consulting a broker, we advise you to be clear about how much you will be charged, if anything. In most cases, interested buyers do not even need to pay brokers for their help when researching policies, making it an affordable option when considering buying insurance.
Compare Car Insurance Quotes Instantly
Personalized quotes in 5 minutes or less
No signup required
How Do I Find a Good Home Insurance Broker?
Insurance brokers exist in essentially every city across the United States, so there are plenty of options to choose from. It may feel overwhelming to find a single broker to help you make big financial decisions. But the most important thing to keep in mind is to decide on one who you trust is qualified to find you a home insurance policy that fits your budget and provides all your coverage needs.
When choosing a broker, it may be helpful to reach out to any personal connections, like family and friends, for recommendations on a broker they trust. Relying on firsthand experience from trusted sources is ideal, but you can also read reviews to make sure you are working with a reliable, professional service.
Additionally, it is highly recommended that you confirm their credentials and licenses are valid. Be very careful about ghost brokers. This is when a broker makes up your details in order to get you a cheaper policy, resulting in a fake policy and you still having to pay a fee for their help. Always make sure that you have a valid insurance policy and that you are covered, especially when paying any type of charge for seemingly professional services.
Other tips for narrowing down to the right broker for you are to search for one that:
Has a credible license and a reliable number of years of relevant professional experience

Is willing and able to help guide you if you need to make an insurance claim in the future

Can provide a risk assessment and makes sure you get all the right coverage for your needs

Has many positive reviews, testimonies, and references from previous clients
Home Insurance Broker FAQs
Brokers must be licensed in their state if they intend to sell any kind of insurance, either to individuals or businesses. This is not limited to just home insurance but applies to auto insurance, life insurance, and other types of coverage.

The process to get licensed can be quite rigorous and extensive, requiring brokers to take accredited courses and pass exams. It is a broker's full responsibility to understand their client's specific needs, budget, and situation to help them make an informed decision when choosing a policy from several different insurers.

As mentioned, not all brokers will charge a fee when buyers choose to use their services. Most of the time, brokers make money through commissions based on their sales.

This is why interested buyers should be careful when working with captive agents because they push some policies to meet internal goals. In addition, when you pay a premium cost, a percentage of this may be going to commissions. Brokers can also get an additional commission when you renew your insurance policy, which ensures that buyers are happy with their coverage.

Both insurance brokers and insurance agents are here to help with insurance services. Typically, brokers (and other non-captive agents) are not restricted to representing a single insurance company. Instead, they represent an insurance shopper, which would be you.

On the other hand, captive agents represent a single insurance company. This means that home insurance brokers (and non-captive agents) can offer policies, quotes, and prices from multiple insurers, while captive agents can only sell policies from the one company they work for.
Home Insurance Brokers: The Bottom Line
Finding the right home insurance broker for you can be time-consuming. While brokers may be beneficial in providing customer service and specialized connections or deals, it may be an additional step in the process before securing the best insurance policy for you. This is where Insurify can help. We can compare dozens of quotes all in one place, in a matter of minutes. You can also use our tools to get a better understanding of how much coverage you actually need in your policy before comparing quotes.
Finding the right home is one of the most important decisions you'll ever make, and so is choosing the right homeowners insurance. You want to make sure your policy provides the amount of personal property coverage you need. Insurify's home insurance comparison tool simplifies things by helping you compare home insurance quotes from top insurers. Save money today!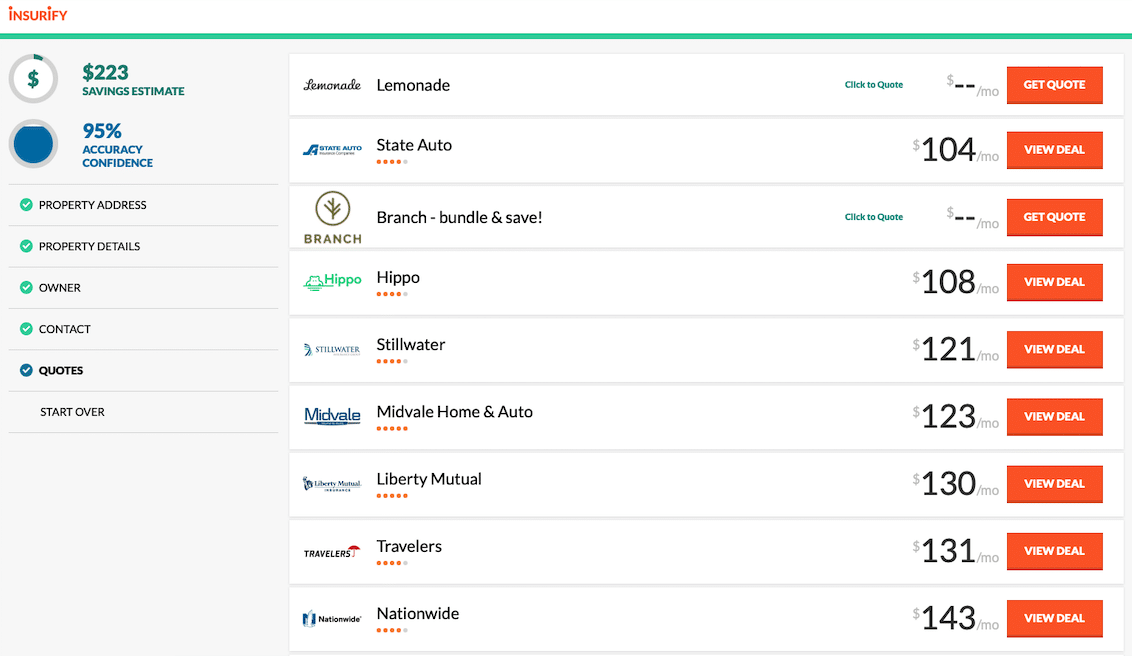 Compare Car Insurance Quotes Instantly
Personalized quotes in 5 minutes or less
No signup required
Data scientists at Insurify analyzed over 40 million auto insurance rates across the United States to compile the car insurance quotes, statistics, and data visualizations displayed on this page. The car insurance data includes coverage analysis and details on drivers' vehicles, driving records, and demographic information. With these insights, Insurify is able to offer drivers insight into how their car insurance premiums are priced by companies.