AIG homeowners insurance could be your future home insurance company.
AIG has been a longtime industry leader when if comes to home insurance. But every homeowner has unique needs when it comes to their insurance policy. Insurify can help you decide if AIG is the right insurance company for you.
Protecting your home, personal belongings, and loved ones can be a daunting task, and finding the right protection is even harder for high-end properties and expensive possessions. Luckily, some insurers specialize in just that—high-value protection for high-value homes.
American International Group, Inc., (AIG) has been a leader in the insurance industry since 1919, when Cornelius Vander Starr opened the first location in Shanghai, China. AIG has since expanded to offer financial and insurance services to policyholders in over 80 countries. Now based in New York City, AIG's insurance products are split into divisions, including AIG Direct, AIG Life & Retirement, and AIG Private Client Group, which collectively provide high-value home, auto, business, travel, health, and life insurance coverage to high-income customers.
AIG Private Client Group has been handling AIG's individual insurance services since 1999, underwriting the insurance company's homeowners, luxury auto, and yacht policies. The insurer also offers coverage options for private aviation, valuable collections, excess flood and liability, and workers' compensation for household staff. AIG's insurance products are meant to meet the coverage amounts and protection needs of its wealthy clientele, and its homeowners policies come with the insurance quotes to match. But some customers say AIG falls short in customer service and claims handling, making the high-value policies unworthy of the cost.
Before you buy an AIG home insurance policy, compare your options with Insurify. Whether you're looking for a home, auto, or life insurance policy, Insurify's comparison tools make sure you're getting the coverage you need at a cost you can't beat.
Keep reading for a comprehensive AIG insurance review.
Here at Insurify, we also make it easy to compare coverage and quotes so you get an excellent policy at the best price. Check out our insurance comparison tool to see rates from half a dozen or more home insurance companies without compromising your personal information.
AIG Home Insurance Coverage
AIG offers a range of property casualty protection services designed for high-income homeowners. But before you rush into an AIG home insurance policy, you should know the company doesn't typically issue stand-alone homeowners coverage. That means you'll need to bundle home with another policy, like your car insurance.
The insurance company offers plenty of policies, so you're sure to find a different coverage option that fits your needs. But before you start bundling, remember that AIG's luxury auto, excess liability, and life insurance rates add up quickly.
Still, AIG's coverage amounts should make up for the cost. AIG offers higher-than-average coverage limits. And as insurance companies offer reimbursement only for damages up to your coverage limits (minus the deductible), this is especially useful for high-value property owners. The company's homeowners policies come with comprehensive coverage, which includes:
Basic dwelling coverage

Coverage for other structures coverage

Personal property protection including for fragile items

Personal liability coverage

Protection for landscaping

Coverage for property damage caused by pets

Additional living expenses (ALE)
AIG only offers one type of homeowners insurance policy, but the coverage stands out because of its "additional policy provisions," including:
On-site rebuilding after catastrophic home damage (even if the cost is higher than your policy limit)

Optional cash settlement for insurance claims (and no need to use the settlement to rebuild or replace your belongings)

Replacement cost coverage with no depreciation deductions
Optional Coverages for Your AIG Home Insurance Policy
AIG specializes in meeting high-net-worth individuals' insurance needs, and the company's additional homeowners coverage options provide protection like no other.
AIG Private Client Group's optional coverages include:
Excess liability coverage up to $100 million

Excess flood

Private collections

Multi-national policy options for those with international properties

Loss prevention services to make sure your home is prepared for fires, hurricanes, and water damage

Background check services for domestic staff

Personal security consultations

Family CyberEdge to protect your online activity

Engineering services

Specific prevention and restoration services for historical homes

Smart Build Services for construction safety

Infrared inspections to detect your home's hidden risks
Compare Car Insurance Quotes Instantly
Personalized quotes in 5 minutes or less
No signup required
Available Discounts
AIG does not list any discounts on its website but assures "even if you can afford to pay a lot for insurance, you shouldn't have to." That being said, policies are typically lower for:
New homes

Homes located in gated communities

Homes with safety features like a sprinkler system or burglar alarm

Homes located in areas with low rates of natural disasters
To find out more about AIG pricing and discounts, you'll need to speak with an AIG insurance agent about your specific insurance needs.
AIG Home Insurance Reviews: Customer Satisfaction
J.D. Power Customer Satisfaction Rating: 2 out of 5

A.M. Best Rating: A

Moody's Financial Strength Rating: A2

Better Business Bureau Rating: F

NAIC Complaint Index: 0.59
AIG has multiple insurance divisions, so there are different ratings for its life insurance company and its property and casualty insurance company. When considering only AIG Private Client Group, which underwrites high-value property policies, the company garners some pretty good ratings.
AIG's 0.59 National Association of Insurance Commissioners complaint index signifies a low number of complaints. This is good for prospective customers since current AIG policyholders cited few complaints in 2019.
The company's A.M. Best A rating indicates excellent credit standing with a stable outlook, meaning the company should have no issues paying out claims.
Moody's recently placed AIG (as a parent company) on review for downgrade after the company announced plans to turn its Life and Retirement division into its own separate company. Still, Moody's affirmed the AIG property division's A2 financial standing, signifying the company's low credit risk and ability to pay off short-term debts.
AIG home insurance may be financially sound, but the company has room for improvement in areas like claims and customer overall satisfaction. The company has fallen below the industry average in J.D. Power's Property Claims Satisfaction Study for the last four years.
Multiple customer reviews noted complications and delays in the claims process, leaving policyholders frustrated after AIG kept them waiting for a payout when they needed it most.
Other policyholders are completely satisfied with their comprehensive coverage, as well as AIG's preventive services, which help homeowners stay prepared for the worst.
AIG's worst rating comes from the BBB, with an F rating for the company's "failure to respond to 19 complaints filed against the business."
Still, most of the policyholders filed complaints about AIG life insurance and travel insurance policies.
Although no homeowners filed BBB complaints with the company last year, the volume of travel and term life insurance policyholders who couldn't get a hold of their AIG agents or receive insurance payouts doesn't reflect the "white glove service" that AIG boasts.
Frequently Asked Questions - AIG Homeowners Insurance
Since AIG property insurance is meant to meet the specific needs of individual high-value homes and families, the cost of your policy will vary greatly depending on the type of coverage you need. AIG doesn't offer online quotes, so you'll need to contact your local insurance agent to get a quote.

AIG home insurance is best suited for luxury and high-value homes, as well as homeowners with properties in multiple countries. When purchasing AIG home insurance, you may also be required to purchase auto insurance, excess liability insurance, or life insurance products since AIG typically doesn't issue homeowners policies on their own.

AIG policies include replacement cost coverage, and the company's website states, "damaged personal property can be repaired or replaced with new items, without deductions for depreciation."

In September 2008, the U.S. government loaned AIG $85 million to help the company out of its financial fallout. AIG has completely repaid the debt and remains financially secure today.

Just because you need high-value property coverage doesn't mean you should pay high premiums. Compare your home, auto, and life insurance options with Insurify to find big savings in no time.
AIG Insurance Overview
For some, AIG offers peace of mind in that it specializes in high-value properties and working with the people who own them. But for others, the value of working with regular insurance providers is in the premium savings and better track record of customer reviews.
It's hard to appreciate the finer things in life when you're worried about protecting your assets. AIG insurance policies can meet just about any high-net-worth individual's needs, from comprehensive home coverage to hiring household staff and even preventing hurricane damage to your home. Still, AIG insurance reviews show a pattern of the company's inability to meet its travel insurance and life insurance policyholders' customer service needs.
Before buying an AIG home insurance policy, use Insurify's comparison tools to make sure you're getting a policy with the best coverage, company, and cost for you.
AIG Home Insurance Contact Information
| Department | Contact |
| --- | --- |
| Claims Services | 1 (888) 760-9195 |
| Website | www.aig.com/ |
Use Insurify to compare homeowners insurance premiums for your property in your area.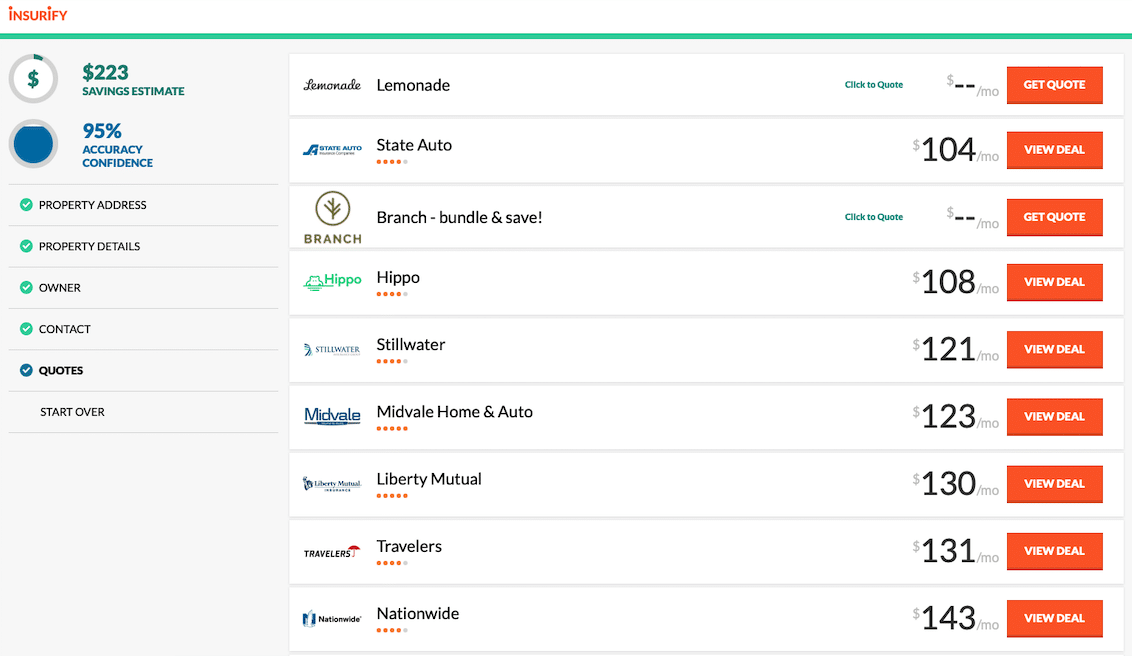 Compare Car Insurance Quotes Instantly
Personalized quotes in 5 minutes or less
No signup required
Data scientists at Insurify analyzed over 40 million auto insurance rates across the United States to compile the car insurance quotes, statistics, and data visualizations displayed on this page. The car insurance data includes coverage analysis and details on drivers' vehicles, driving records, and demographic information. With these insights, Insurify is able to offer drivers insight into how their car insurance premiums are priced by companies.