Whether you're still in the research phase of your car-buying process or you've already found the right new-to-you vehicle, read on to find ways to save time and money. Depending on where you live, how you bought your vehicle, and what tasks you've already completed, the order of the steps could change. Here are six things to do after buying a used car.
One of the most important ways to save after buying a used car is to make sure you're finding the right deals on car insurance. Try Insurify, the country's best-rated and most-rated insurance comparison site to compare car or home insurance. Compare dozens of insurance quotes from the country's leading insurers: in just a few minutes, and for free.
1. Get Your New Ride Checked Out at the Auto Shop
Before buying the car, you may have done a test-drive, pre-purchase inspection, and vehicle history report from CARFAX or AutoCheck. First-time shoppers and veteran car buyers alike can then use the info to negotiate down to Kelley Blue Book pricing, a tip that's especially helpful if you first saw the car on Craigslist, Autotrader, or a similar website.
Whether you bought your vehicle from a private seller or a dealership, you'll want to take it to a trusted mechanic. You can discuss the maintenance schedule for more extensive repairs and a tune-up, including an oil change, tire rotation, and fluid refill. Hopefully, the previous owner kept maintenance records to add insight into the car's history. If not, a smart place to start is to refer to the owner's manual, and if that's missing, you can download it online.
Emissions Testing and Other Required Inspections
Depending on your state, emissions tests (also called smog tests) and safety inspections may be done by state-approved repair shops, the Department of Motor Vehicles (DMV ), or other government facilities. You should also check for safety recalls by entering your vehicle identification number (VIN) into the National Highway Traffic Safety Administration database.
Typically, safety recall repairs are free at the dealership for your specific make. For example, if you drive a Toyota, a Toyota dealership would perform the safety repair.
2. Transfer the Title of Your Used Car
If you bought the vehicle from a private party, you and the seller should have signed the title at the time of purchase. You would have wanted to check:
The VIN on the title matched the one on the vehicle.

The title is clean, meaning it's without liens or outstanding loans.

All the previous owners on the title signed for the transfer, such as spouses or a parent and child.
Some states require a notary public to sign at the time of transfer, so review your state's laws before purchase.
If you bought from the dealership, the process is a lot easier than from a private seller. The dealership should take care of the title transfer for you. If you financed the vehicle, your lender, also called a lienholder, will hold the title until you pay off the loan. In some states, you may receive the title with both you and the lender listed on the document.
Compare Car Insurance Quotes Instantly
Personalized quotes in 5 minutes or less
No signup required
3. Register Your Used Car with Your State DMV
Did you find your vehicle at the dealership? You might be happy to skip the drive to the DMV because your salesperson or finance specialist did this step for you. Your paperwork from the dealer should tell you the applicable tax, title, and license fees.
If you purchased from a private seller, usually, you'll have to go down to the DMV. But your state may allow authorized third-party tag/driver license offices to provide these services. Depending on your state, to register, you'll need:
A bill of sale with the purchase price

A completed emissions test

A completed safety inspection

Multiple forms of ID

Proof of address

Proof of insurance

Proof of paid sales tax or money to pay sales tax

The odometer reading

The title with signatures from the previous owner and new owner

The VIN
You'll want to call the DMV office or check its website for your state's specific requirements, taxes, and registration fees.
Temporary Tags
Typically, the dealership gives you temporary tags that expire after 30 days. Within that time, your new license plate should arrive, or you'll have to make the trip down to the DMV or an authorized third-party office. And along with the tags, the dealer should give you temporary registration, which helps if you get pulled over.
4. Pay Your Used Car Sales Tax and the Bill of Sale
Once again, if you bought from the dealership, they have likely taken care of this step. When you buy from a private seller, you'll want a bill of sale even if your state doesn't require one. The bill of sale is a legal document, like a receipt, which confirms the transaction and acts as proof of purchase. A bill of sale usually includes:
Name, address, phone numbers, and driver license numbers of buyer and seller

Nature of the sale or agreement

Vehicle make, model, year, and VIN

Odometer reading

Signatures of buyer and seller

Purchase price
The purchase price is what the state will use to calculate your sales tax. You would pay the sales tax to the state and not the seller unless the seller was a dealership. If you traveled to another state to buy your car, your sales tax is based on where you register, not where you purchase. The five states with no sales tax are Alaska, Delaware, Montana, New Hampshire, and Oregon, but they may assess other fees to register your vehicle, so contact the DMV.
5. Consider a Vehicle Service Contract (VSC)
A vehicle service contract, also called an extended warranty, covers your used car for certain services and repairs. A VSC works in addition to the manufacturer warranty on a new vehicle or certified pre-owned (CPO) vehicle. Unlike manufacturer or CPO warranties, VSCs cost extra and are sold by dealerships and third-party companies.
If you prefer added peace of mind or have doubts about how well the previous owner maintained the vehicle, a VSC might make sense. You should consult your trusted mechanic for likely repairs and verify if your VSC will cover these future expenses. Before buying, ask:
Does the dealer fulfill the VSC, or does a third party service it?

Does the VSC require the dealer to perform all repairs and routine maintenance?

Does the VSC duplicate the manufacturer warranty coverage?

What parts and systems are covered?

Is there a deductible?

What are the refund and cancellation policy and potential fees?

Can you transfer the VSC if you sell the vehicle?

How much will it cost?
The last question might be the most important. You could spend anywhere from a few hundred dollars to $1,500. The price tag could be equal to 10 percent or more of your purchase price, so don't let the salesperson pressure you into buying, especially if you haven't talked to a mechanic.
6. Get Insured! Save on Used Car Insurance with Insurify
Before you put the key in the ignition and hit the gas pedal, you'll have to find the right insurance company for your new car. This could be anywhere from your first to last step, but either way, you can avoid headaches and hassle while you cut costs. Common discounts you may qualify for as a used car owner include:
Driver History/Characteristics Discounts:

Defensive driving discount

Driver training discount

Good driver/Safe driver discount

Group- and Membership-Based Discounts:

Military service discount

Organizational discount

Professional discount

Policy-Based Discounts:

Automatic payment discount

E-discount

Early signing discount

Vehicle-Based Discounts:

Anti-theft device discount

Multi-vehicle discount

Safety features discount
If you're ready to save, head over to Insurify, compare auto insurance and enter some quick information to find the best deal. Soon, you'll be looking at up to 20 quotes for top insurers, all customized to your location, vehicle, and unique driver profile.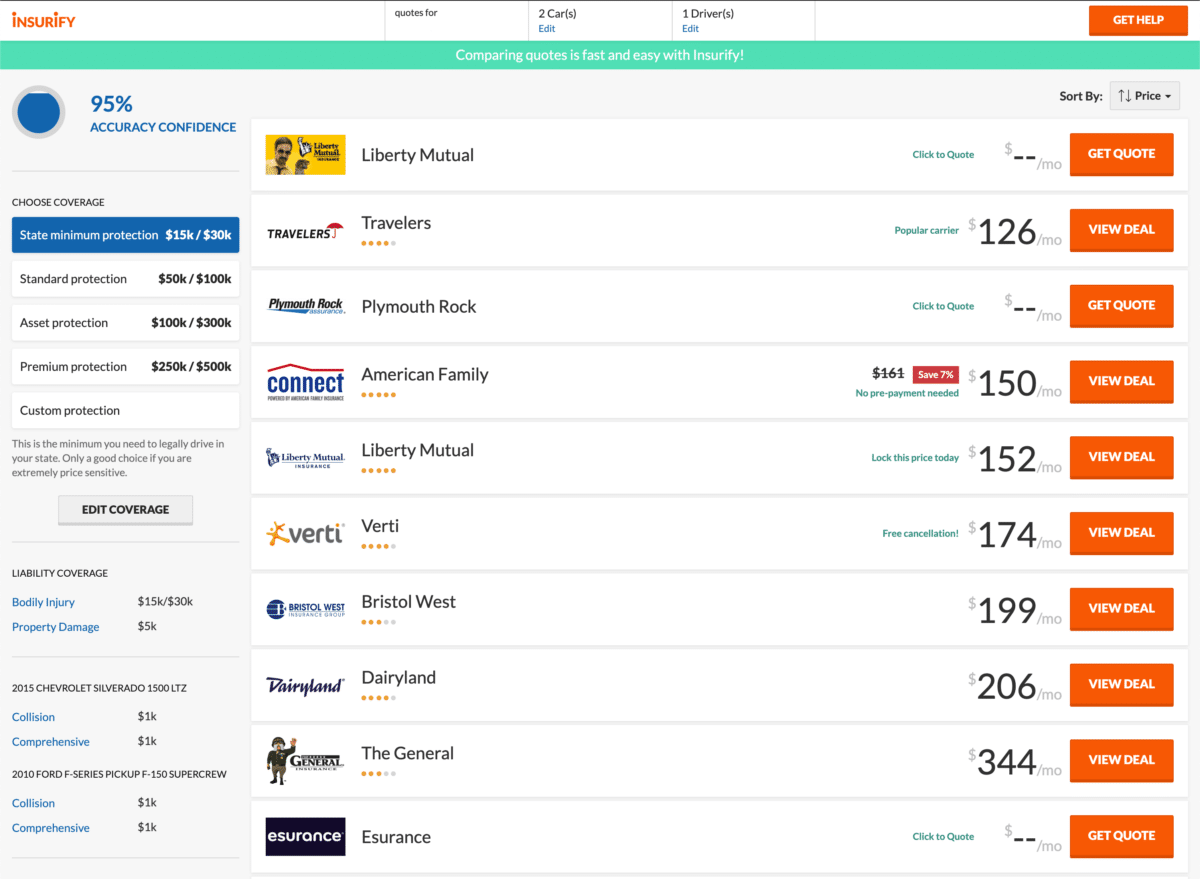 Get fast, free, and finance-friendly quotes for your used vehicle and discover the best rates at Insurify.
Compare Car Insurance Quotes Instantly
Personalized quotes in 5 minutes or less
No signup required
Data scientists at Insurify analyzed over 40 million auto insurance rates across the United States to compile the car insurance quotes, statistics, and data visualizations displayed on this page. The car insurance data includes coverage analysis and details on drivers' vehicles, driving records, and demographic information. With these insights, Insurify is able to offer drivers insight into how their car insurance premiums are priced by companies.